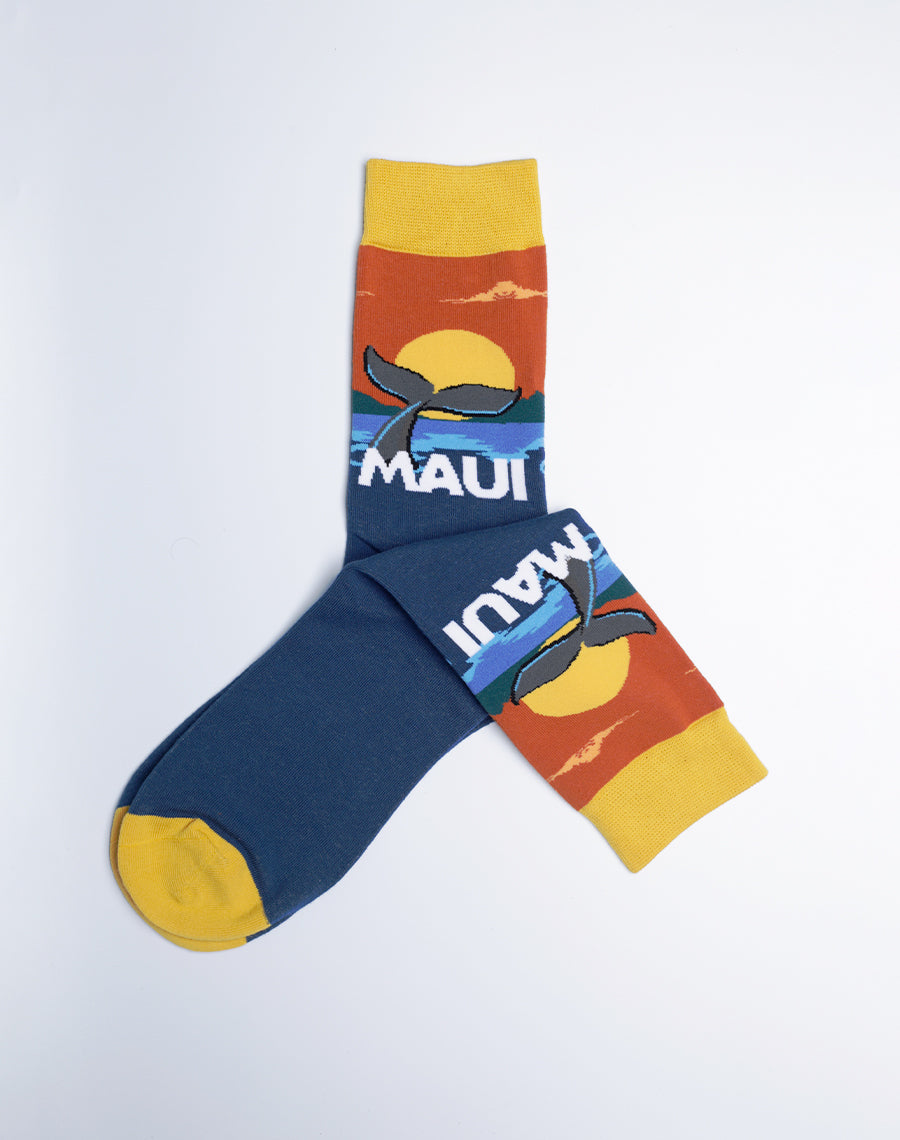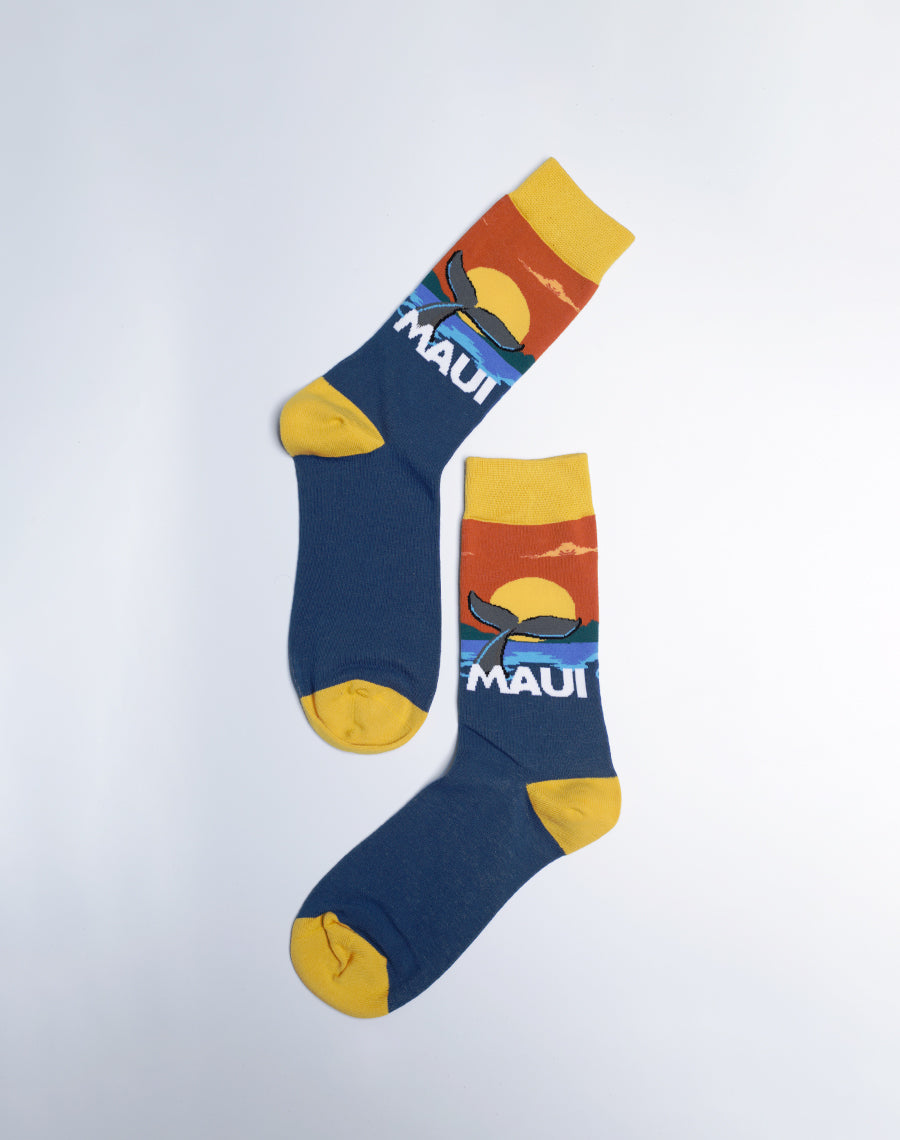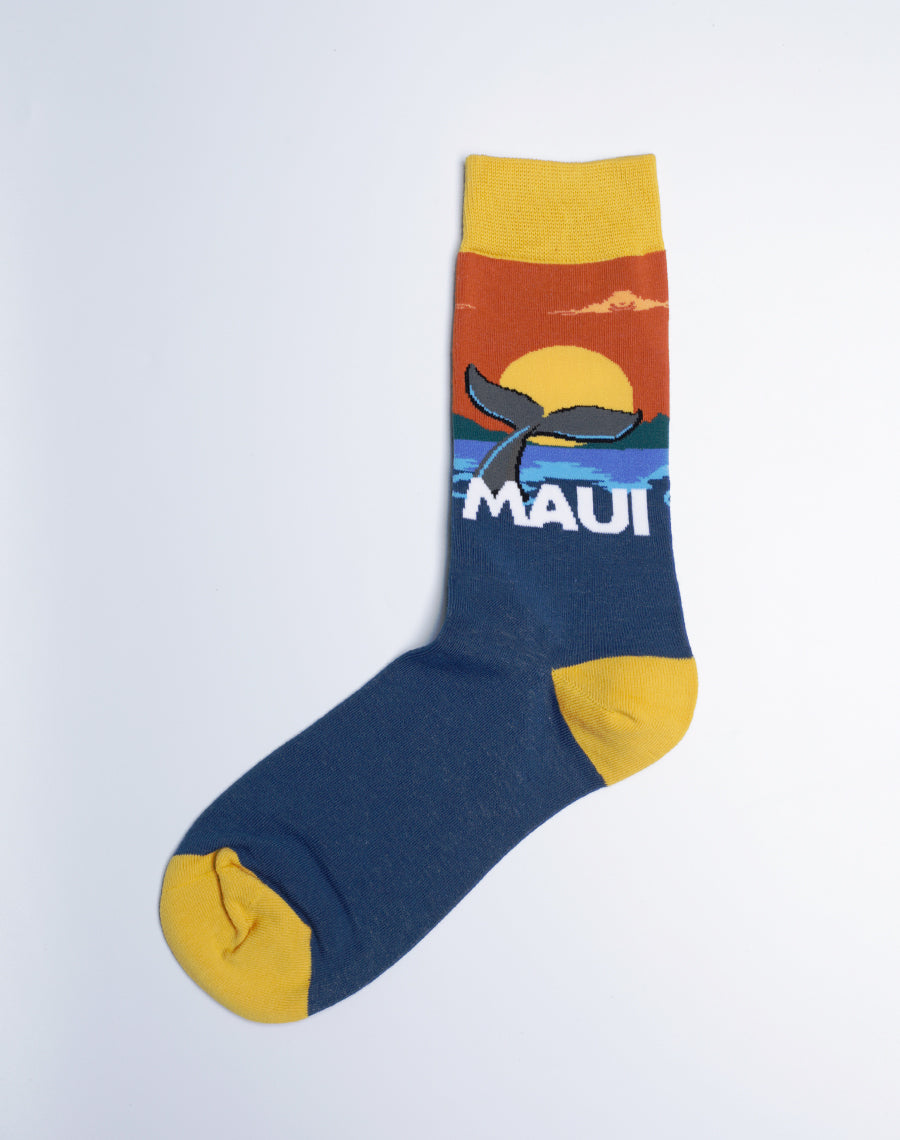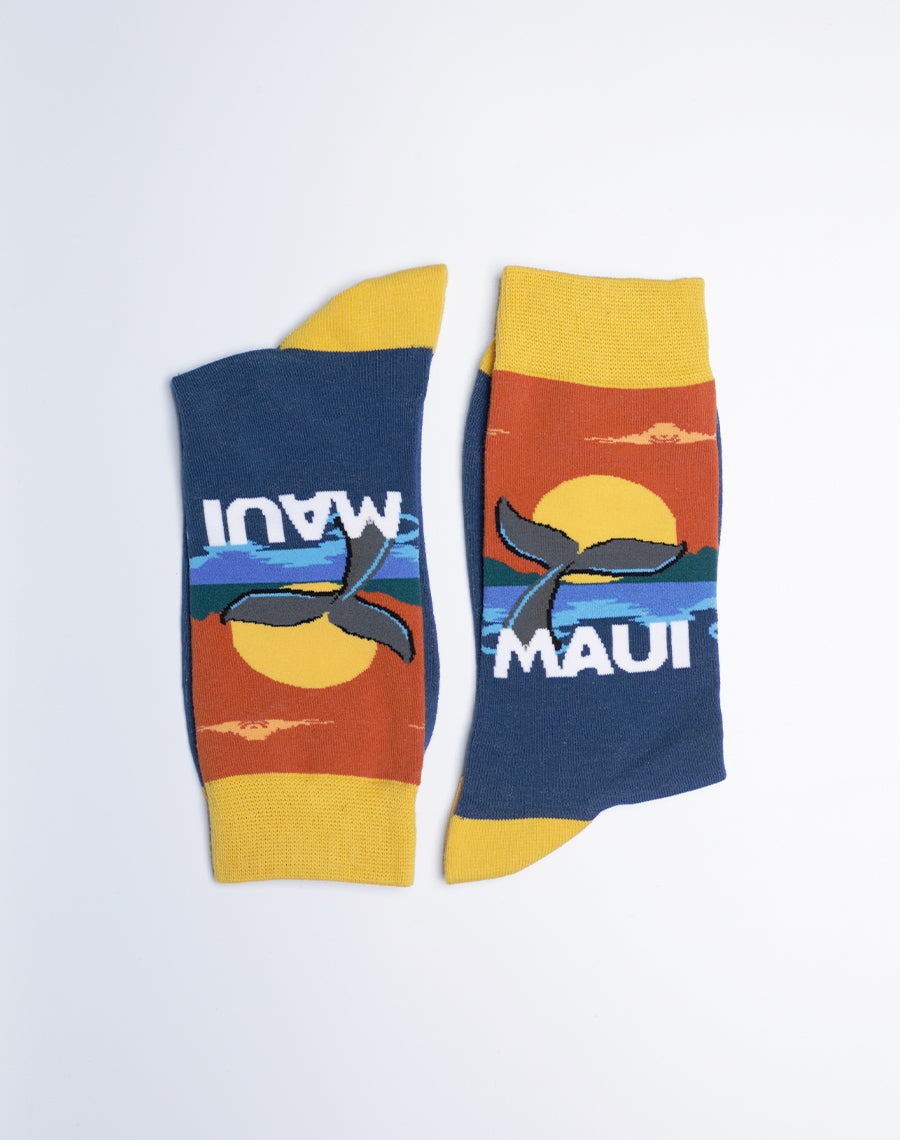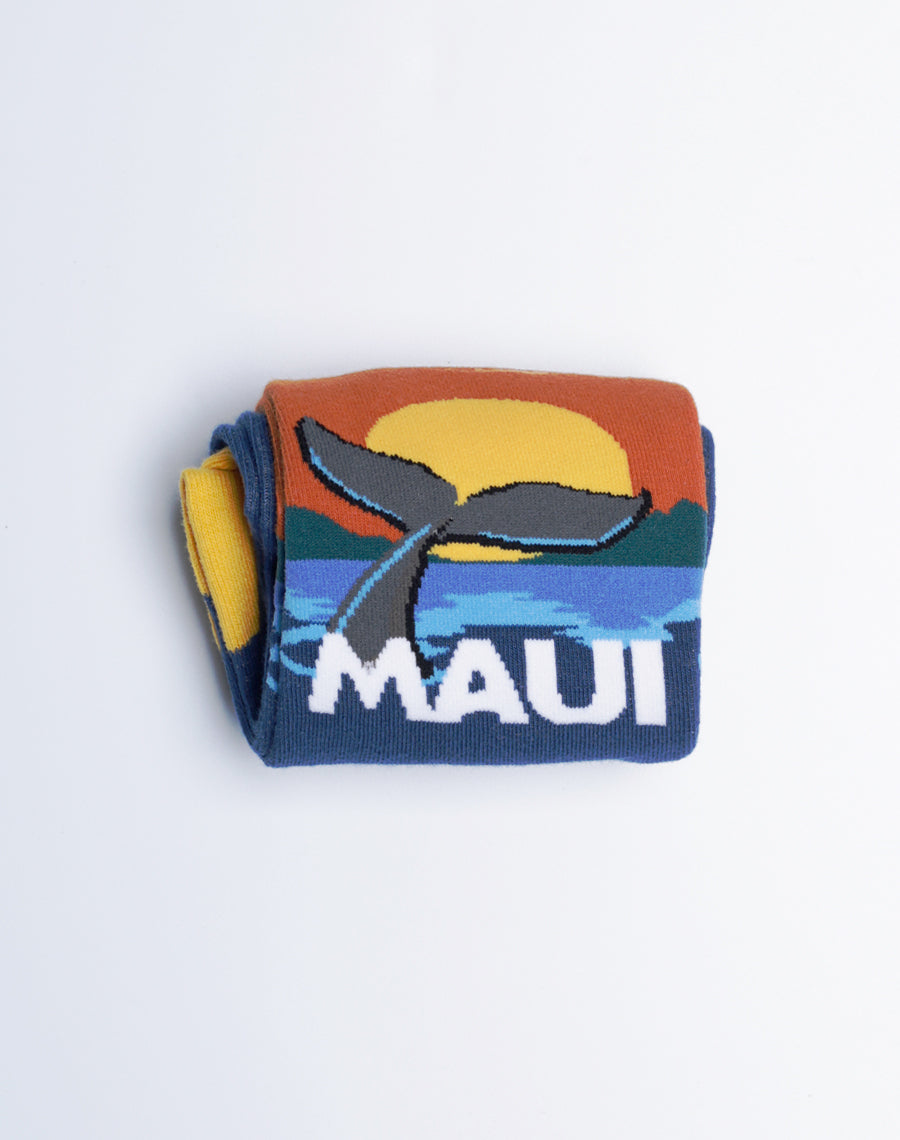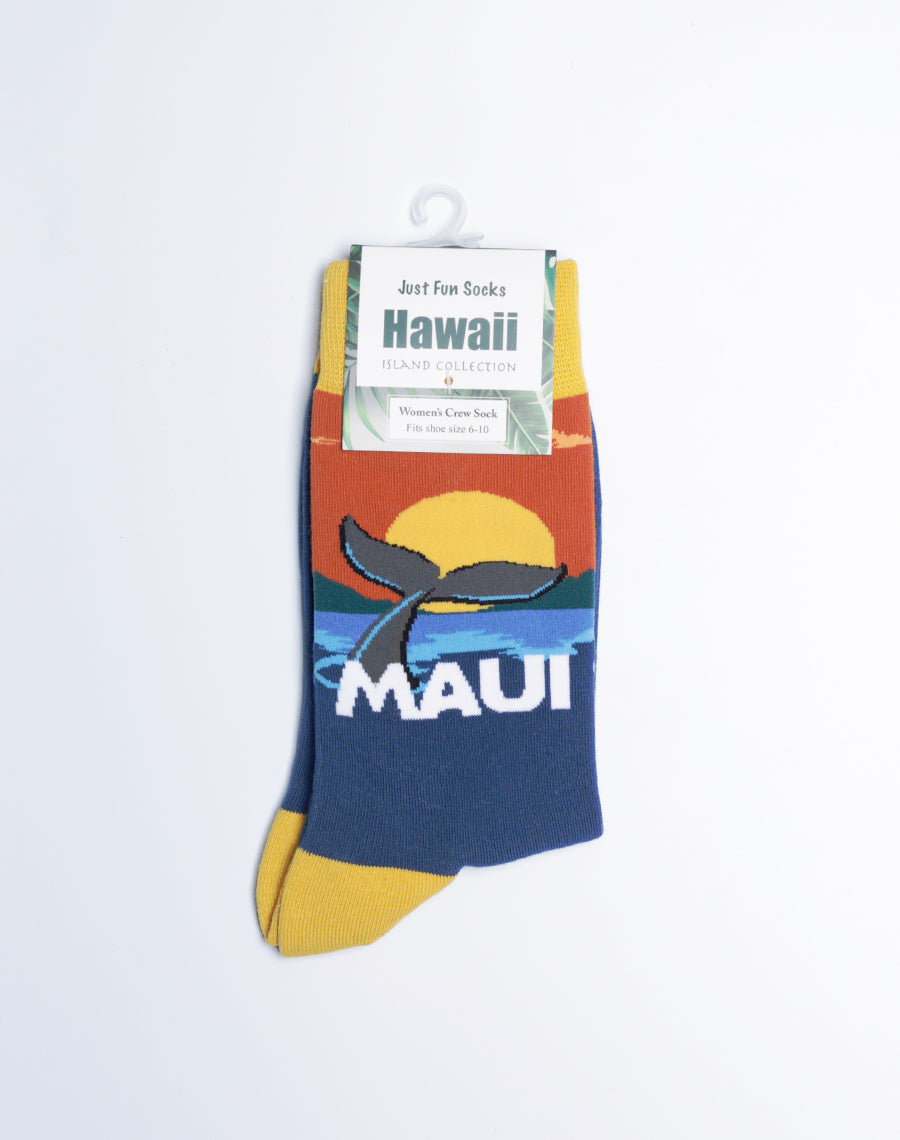 Men's Maui Sunset Whale Fluke Crew Socks
Experience the magic of a Hawaiian sunset with every step you take in our Maui Sunset Whale Fluke crew socks. Immerse yourself in the deep navy blue and burnt orange hues that paint a serene picture of the evening sky. The highlight? A majestic whale tail breaching the water, capturing the essence of Maui's natural beauty.

Tailored specifically for men, these tropical socks are more than just a piece of clothing; they're a journey to the Hawaiian shores. The picturesque Hawaiian sunset combined with the silhouette of a whale tail offers a visual treat, transporting you to the tranquil beaches of Maui.

Made from premium materials, these cotton socks are designed for both comfort and durability, ensuring they remain a favorite in your collection for years to come. Crafted for the male foot, they provide a snug fit, making them suitable for various occasions, from a day at the office to a relaxed evening out. Additionally, with their stunning design and connection to Maui, these whale socks make for a thoughtful gift, especially for those who cherish the beauty of nature or have fond memories of the island.

With the word "Maui" elegantly scripted, these Hawaiian socks are a tribute to the island's breathtaking sunsets and rich marine life. Choose Just Fun Socks' Maui Sunset Whale Fluke crew socks and let your feet take you on a Hawaiian adventure, even if you're miles away from the beach.

Also available in a matching women's size. Exclusively from the Just Fun Socks Hawaii Island Collection. 

Features of Maui Sunset Crew Socks:

Ultra-comfortable & breathable material blend
200-needle stitching for advanced detail & design
Reinforced heel & toe for additional wear-resistance
Non-slip, 'stay-up' cuff
Seamless toe to prevent rubbing and blistering
Comfortable thickness, suitable for every season
Exclusive and unique patterns
Machine washable
Fits men's US shoe size 9, 10, 11, 12 & 13
Blue and orange color socks

Why Choose Maui Socks from Just Fun Socks?

Dive into the enchanting allure of Maui with our Sunset Whale Fluke crew socks. Designed for the discerning gentleman, these tropical socks blend style, comfort, and a touch of Hawaiian magic. With our 30-day return and exchange policy, rest easy knowing your satisfaction is our priority. Pair these with other captivating designs like Hawaii Sunset and Sunshine Girl and enjoy free shipping on orders over $35.

These fun socks for men are more than just a visual treat. Made from premium materials, they promise durability and day-long comfort. The intricate woven pattern, combined with a reinforced heel and toe, ensures a design that remains as vibrant as a Maui sunset. Thanks to our 4-way stretch fabric, they offer a snug fit for most sizes. And with our no-slip crew cuff, you can be confident they'll stay in place, no matter where your day takes you.

At Just Fun Socks, we believe in bringing joy with every pair of colorful socks. From humorous sayings to scenic designs, vibrant colors to cool patterns, our fun socks have got it all. Slide into our Maui Sunset Whale Fluke socks and let the spirit of the island accompany you. Order socks online and let our dedicated team handle the rest, ensuring you a shopping experience as majestic as a blue whale. 
SIZING:

Women - Fits U.S. Shoe Size 6-10

Men - Fits U.S. Shoe Size 9-13

Kids - Fits Shoe Size 1-5, Ages 6-10

MATERIALS

Woven - Cotton, Nylon & Spandex Blend

Printed - Cotton & Polyester Blend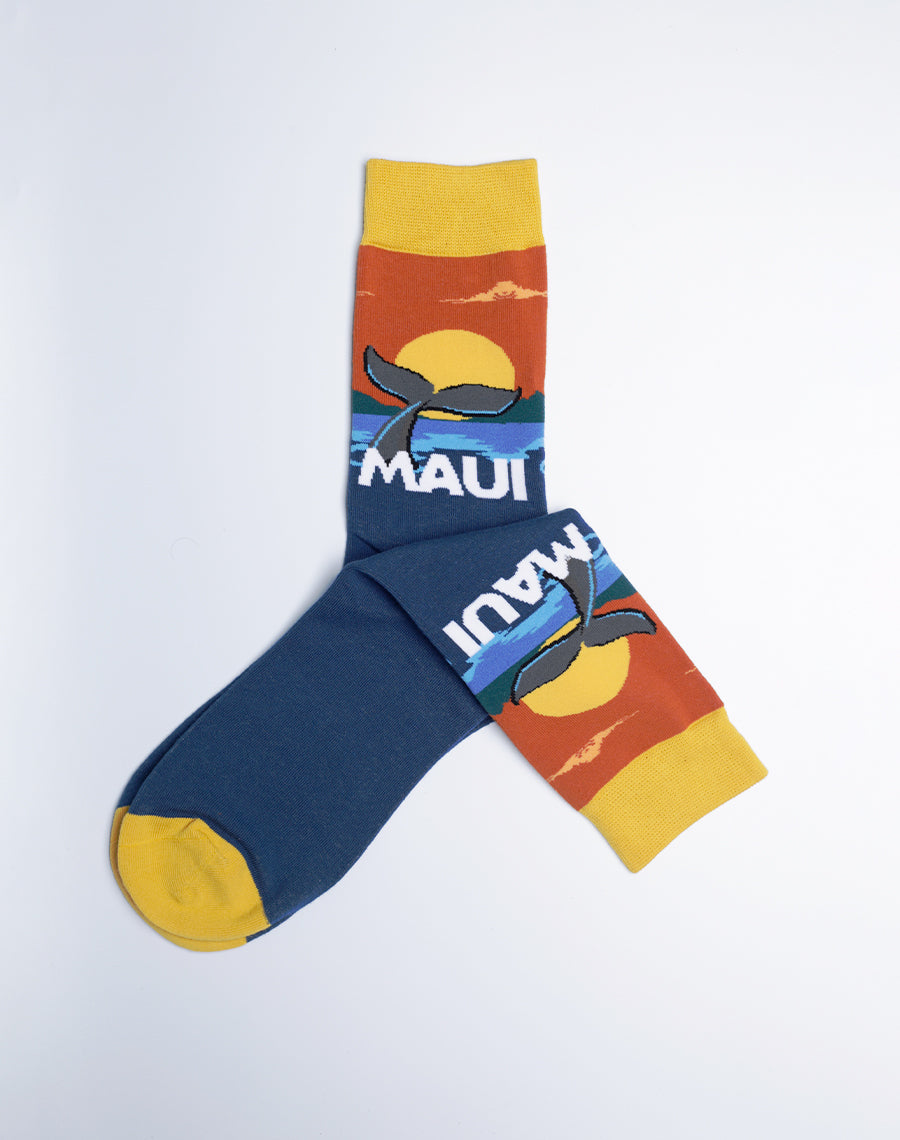 Testimonials
Great selection of socks. Variety of sizes and colors that you don't see at other shops!
I love the socks! They're super comfy and have creative designs. If you're looking for socks as gifts, this is the perfect place.
I purchased the Cowprint and the Corgi Love socks. So cute and comfy!
Such an amazing experience. Definitely coming back.
Not just funny socks, but funny socks that fit very, very well.
Tons of options... Found exactly what I was looking for!
Yes, it's just socks and they are fun! I found a pair for each of my family of four as stocking stuffers.
I can't wait to come back and get more socks