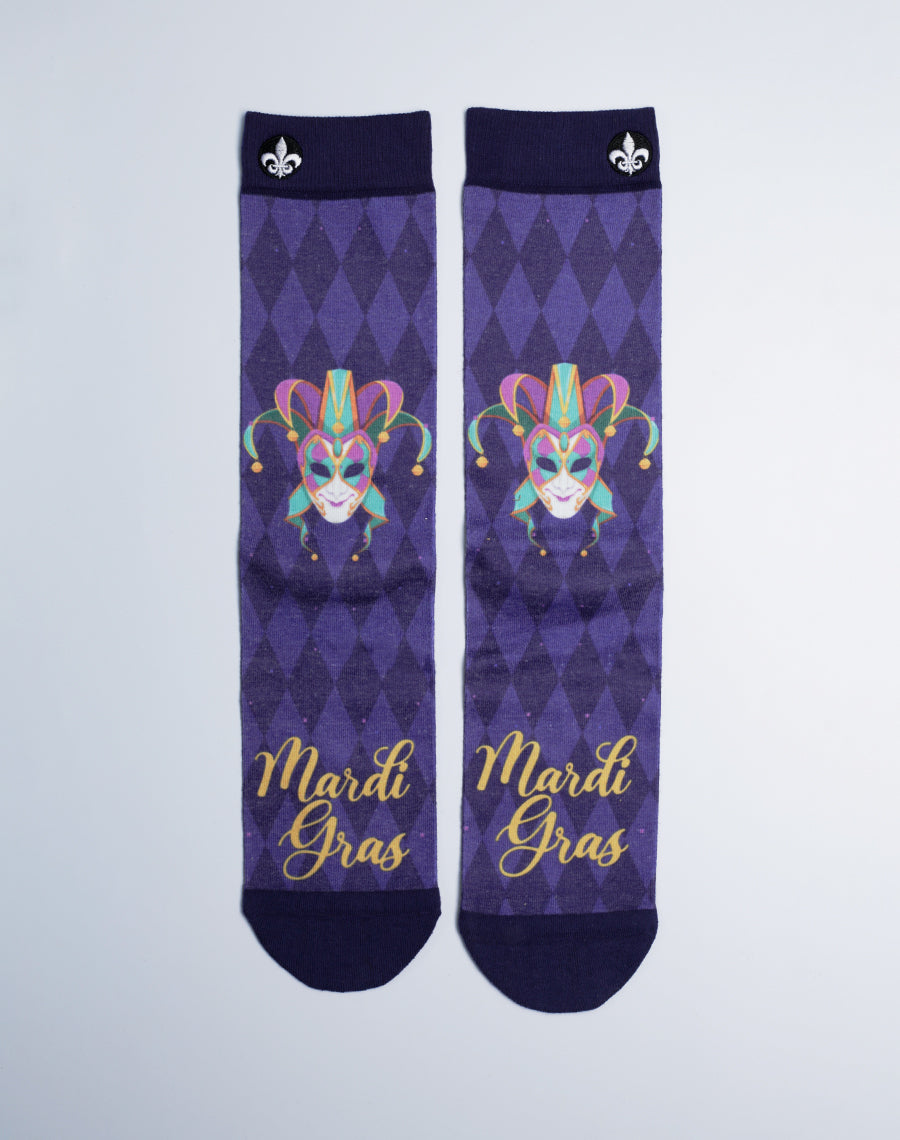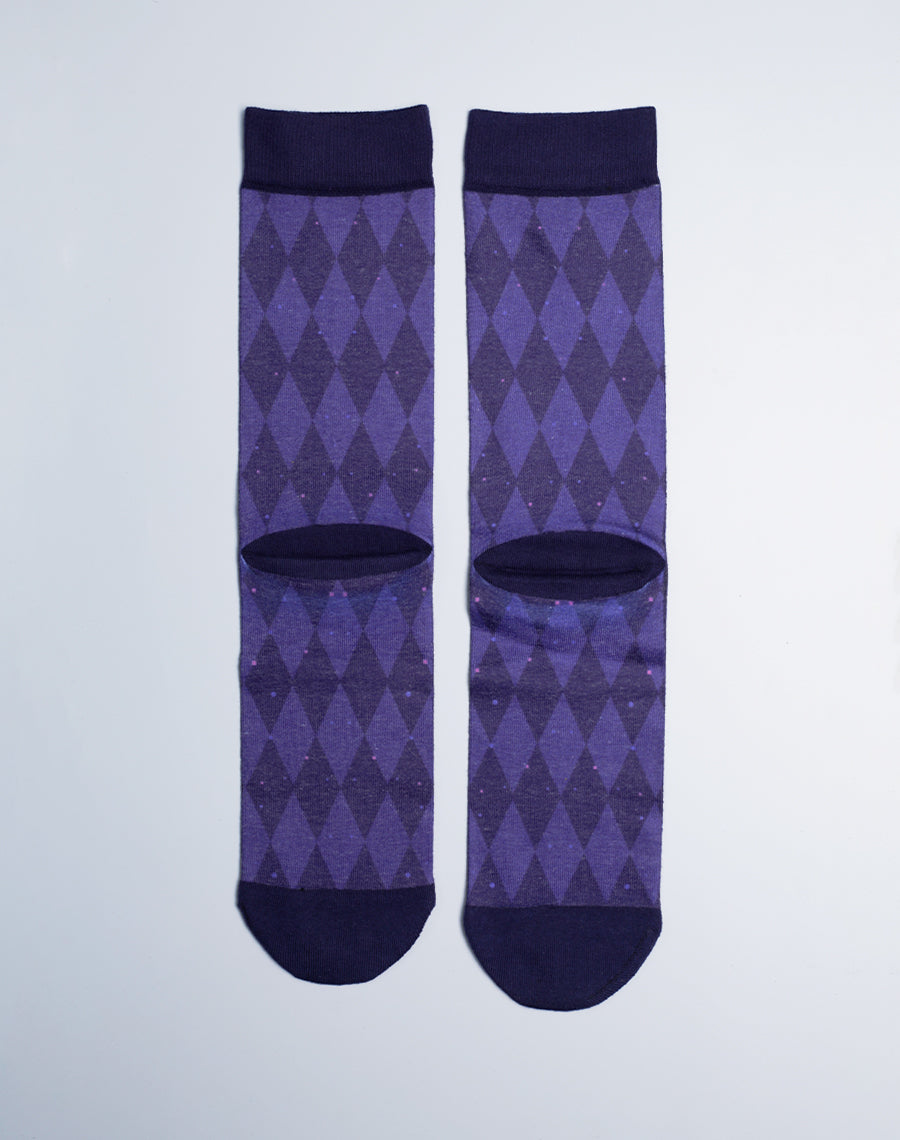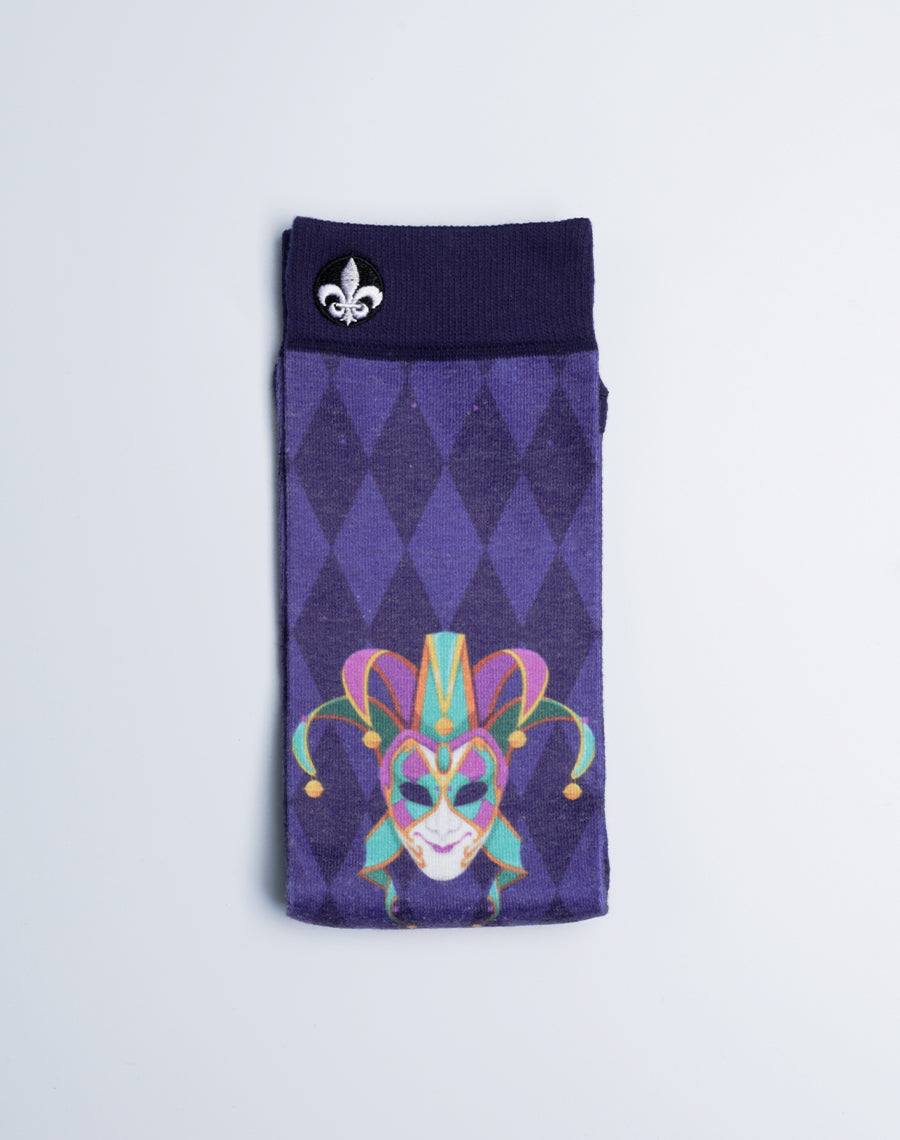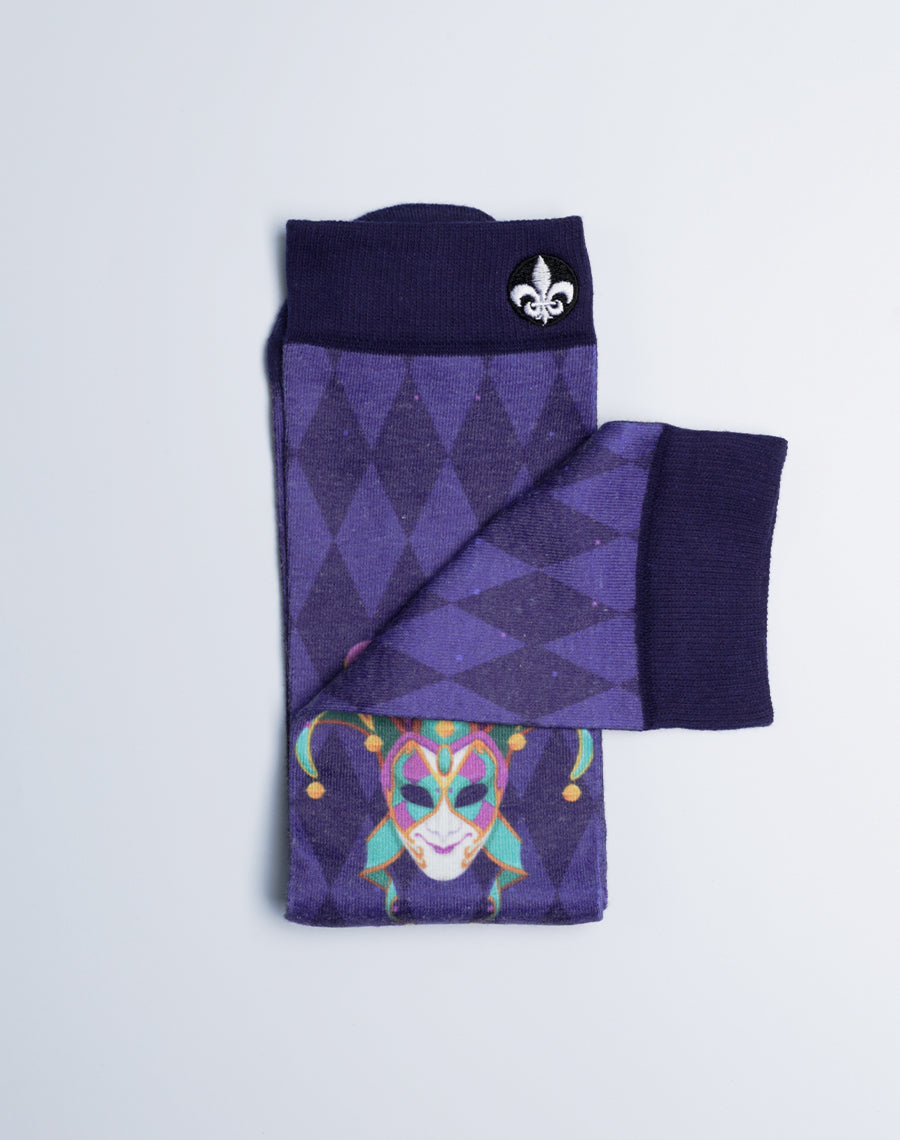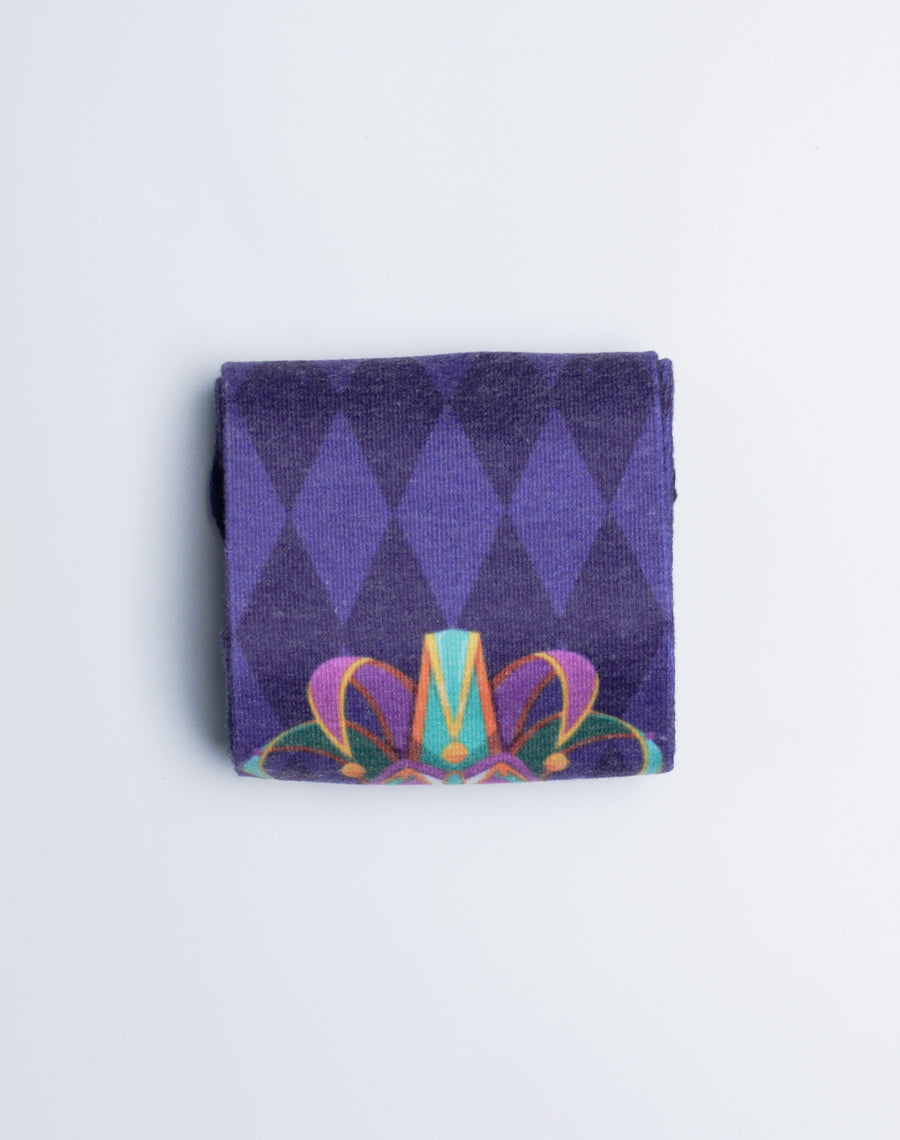 Unisex Mardi Gras Mystique Mask Purple Printed Crew Socks
Celebrate the vibrancy of New Orleans every day with our Mardi Gras Mystique Mask Printed Crew Socks, a special edition from Just Fun Socks' NOLA Big Easy Collection. These lively socks encapsulate the essence of Mardi Gras, radiating a contagious energy that is sure to jazz up your wardrobe.

Every pair of these printed socks is designed with a striking purple base, with a subtle light and dark checkerboard pattern. This captivating pattern adds a layer of depth and visual interest, enhancing the overall design without overshadowing the star elements.

Taking center stage is the image of a playful Jester, prominently displayed on the crew part of the sock. This spirited illustration is perfectly paired with the words "Mardi Gras" inscribed on the top of the foot, embodying the exuberant spirit of this iconic festival.

Adding a touch of traditional New Orleans charm is the Fleur de Lis embroidery on the purple sock's ribbed cuff. This elegant detail, along with the ribbed cuff, not only contributes to the aesthetic appeal but also ensures a secure fit for comfort throughout the day. These breathable socks feature a reinforced heel and toe. This added reinforcement provides superior durability, promising to stand up to daily wear and tear.

Our Mardi Gras Mystique Mask Printed Crew Socks are unisex, offered in a M/L size and are best suited for men and individuals with larger feet, delivering a perfect balance of comfort and style.

With the Mardi Gras Mystique Mask Printed Crew Socks from our NOLA Big Easy Collection, you'll get more than just a piece of clothing. You'll carry with you the festive spirit and rich culture of New Orleans, adding a dash of Mardi Gras merriment to every step.

 

Features of Unisex Premium Printed Crew Socks:

Ultra-soft and comfortable material blend
Lightweight for any season
Moisture wicking to keep feet dry and blister free
Premium pineapple embroidery on cuff
Reinforced heel and toe for added durability
Ribbed, stay-up cuff
Machine washable
Exclusive printed design
Fits men's shoe size 8, 9, 10, 11, 12, 13
Fits women's shoe size 9+
Purple color socks

 

Why choose Mardi Gras Premium Printed Crew Socks from Just Fun Socks?

Why choose Printed Crew Socks from Just Fun Socks? These colorful crew socks are designed for everyday wear, making them the perfect comfort accessory for any outfit. With our 30-day refund and return policy, you can be confident that you will love your new socks. If you are shopping for more premium socks for yourself or for others, check out other favorites like New Orleans Skyline and Back Beat Jazz and receive free shipping on your order over $35!

Not only are these socks stylish, but they are also durable and easy to care for. The material is breathable, ensuring your feet stay cool and comfortable throughout the day. They are machine washable, making them perfect for everyday wear. The ribbed cuff keeps them up, and the 4-way stretch design allows one size to fit most!

Just Fun Socks creates premium socks, casual socks, party socks, and New Orleans socks, but all our socks are fun socks. Shop for socks online with us today, and we march these parade socks to your door ASAP!
SIZING:

Women - Fits U.S. Shoe Size 6-10

Men - Fits U.S. Shoe Size 9-13

Kids - Fits Shoe Size 1-5, Ages 6-10

MATERIALS

Woven - Cotton, Nylon & Spandex Blend

Printed - Cotton & Polyester Blend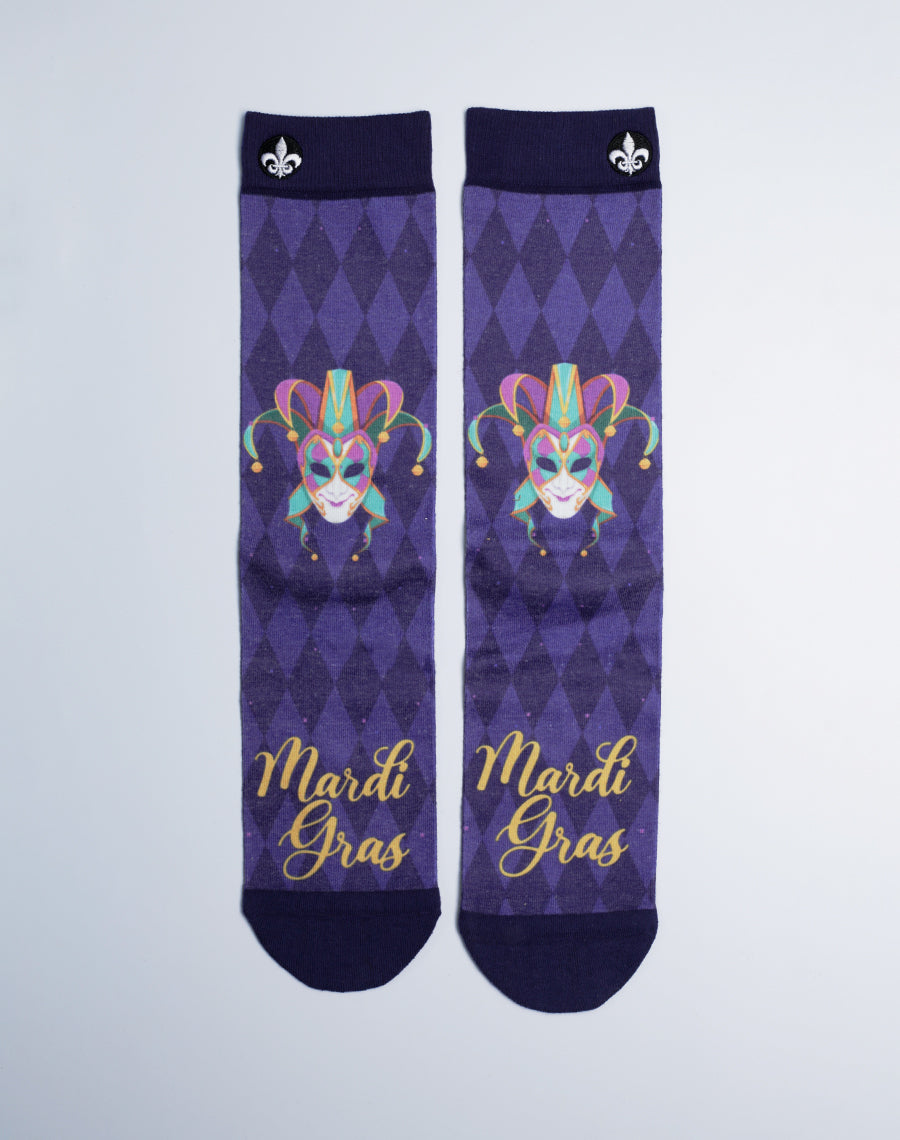 Testimonials
Great selection of socks. Variety of sizes and colors that you don't see at other shops!
I love the socks! They're super comfy and have creative designs. If you're looking for socks as gifts, this is the perfect place.
I purchased the Cowprint and the Corgi Love socks. So cute and comfy!
Such an amazing experience. Definitely coming back.
Not just funny socks, but funny socks that fit very, very well.
Tons of options... Found exactly what I was looking for!
Yes, it's just socks and they are fun! I found a pair for each of my family of four as stocking stuffers.
I can't wait to come back and get more socks