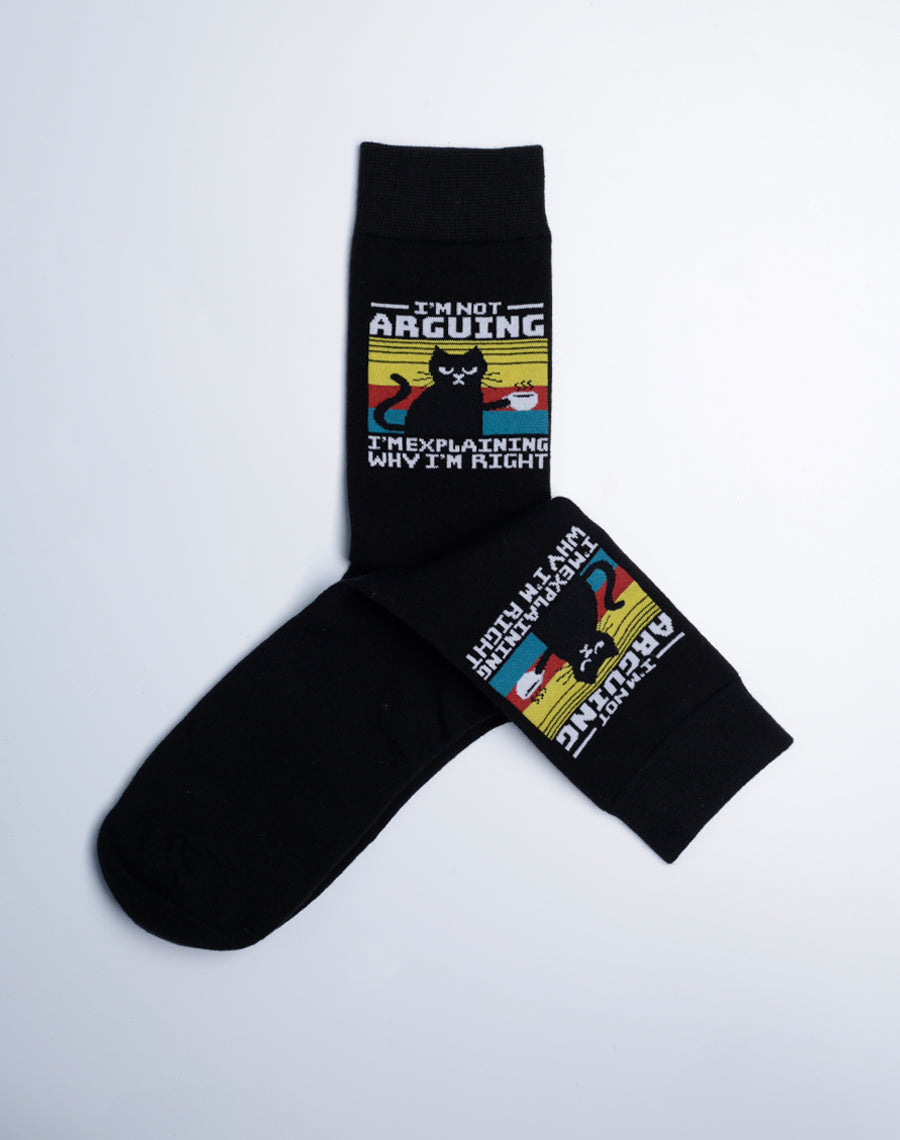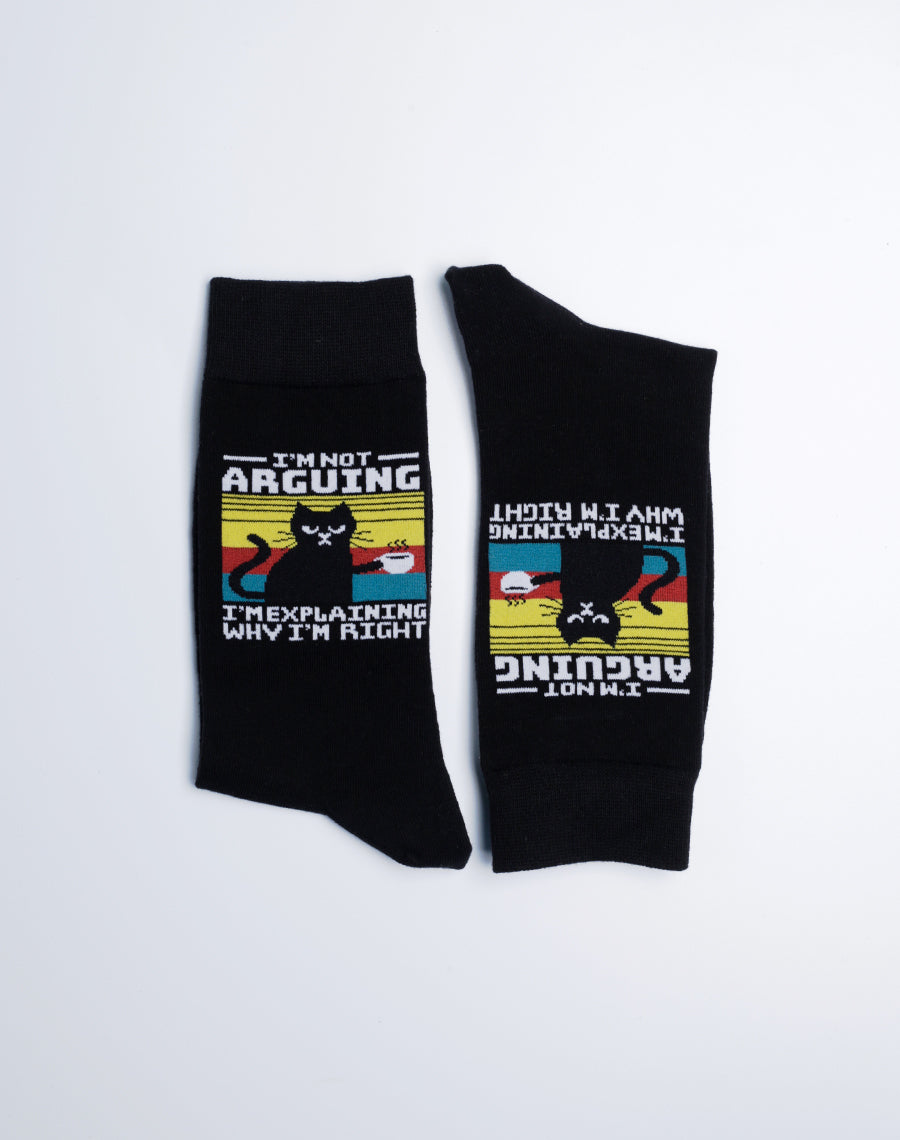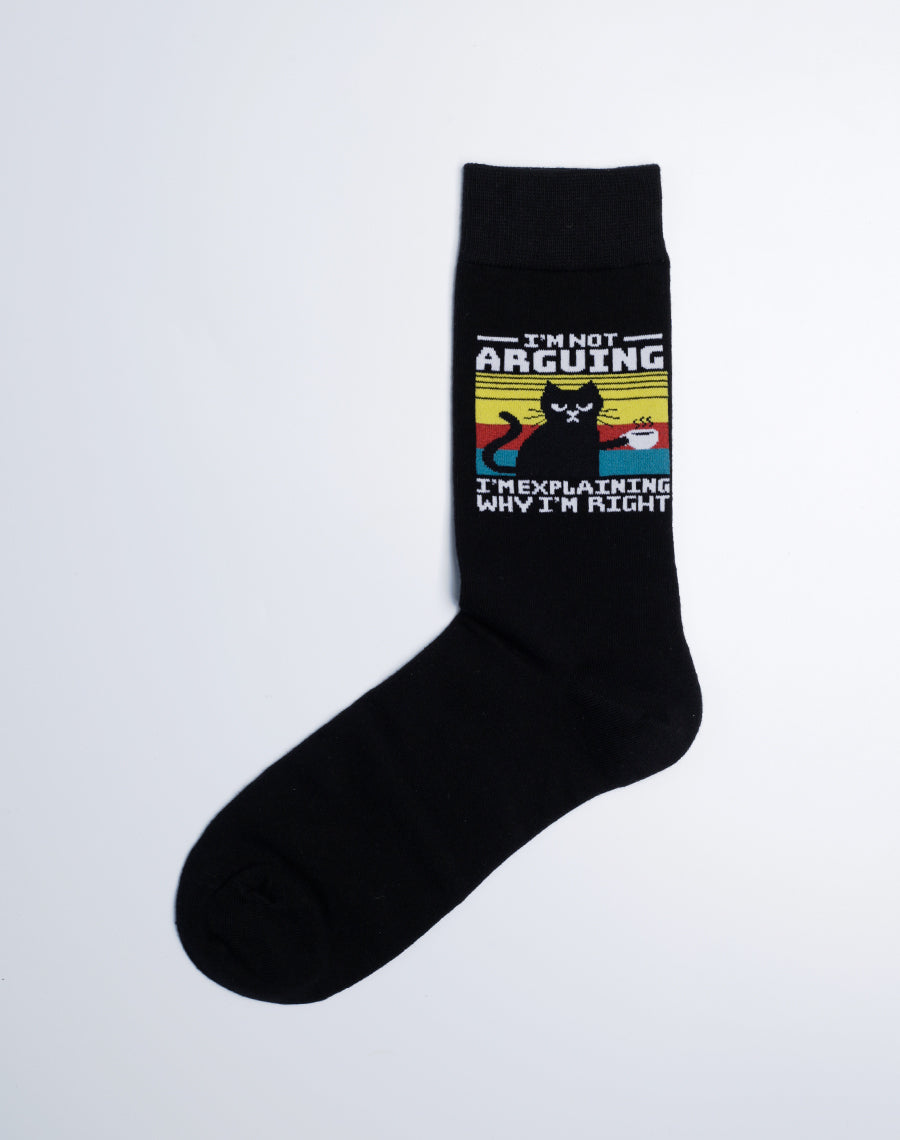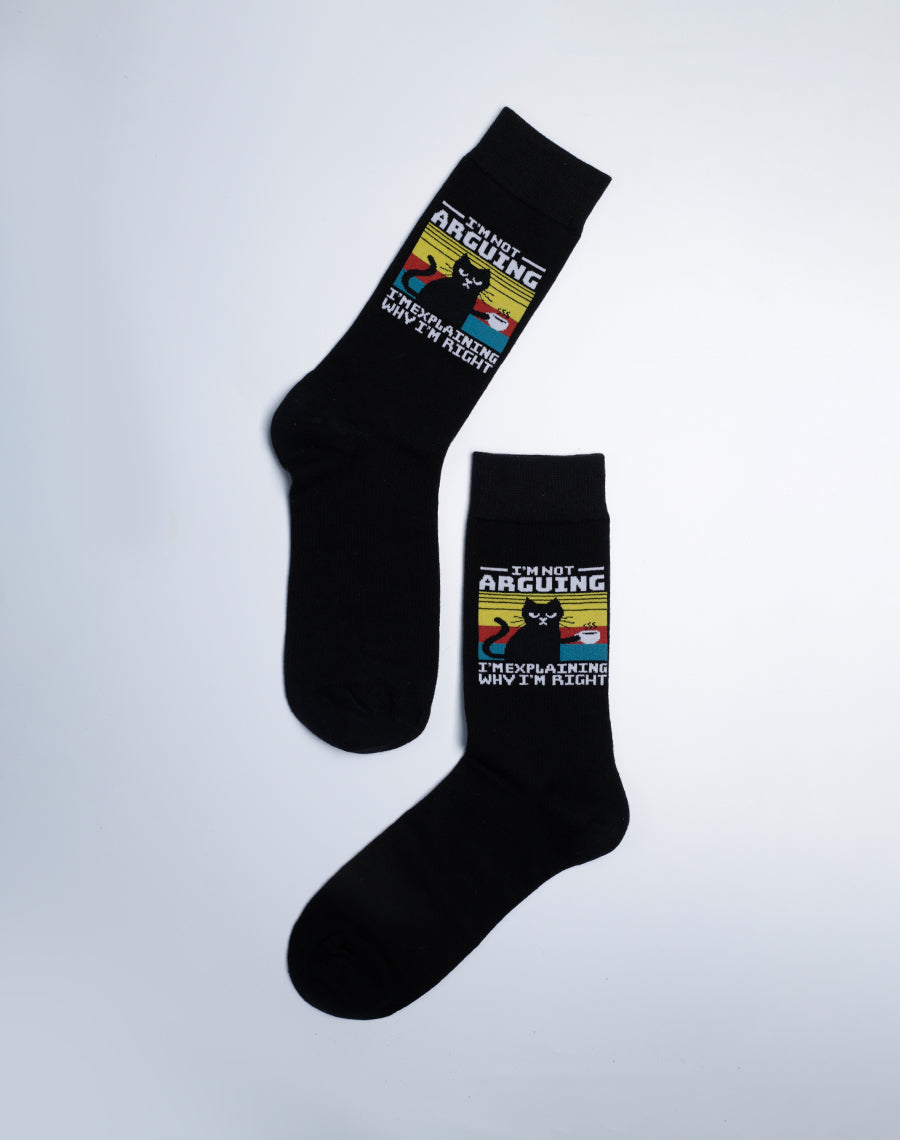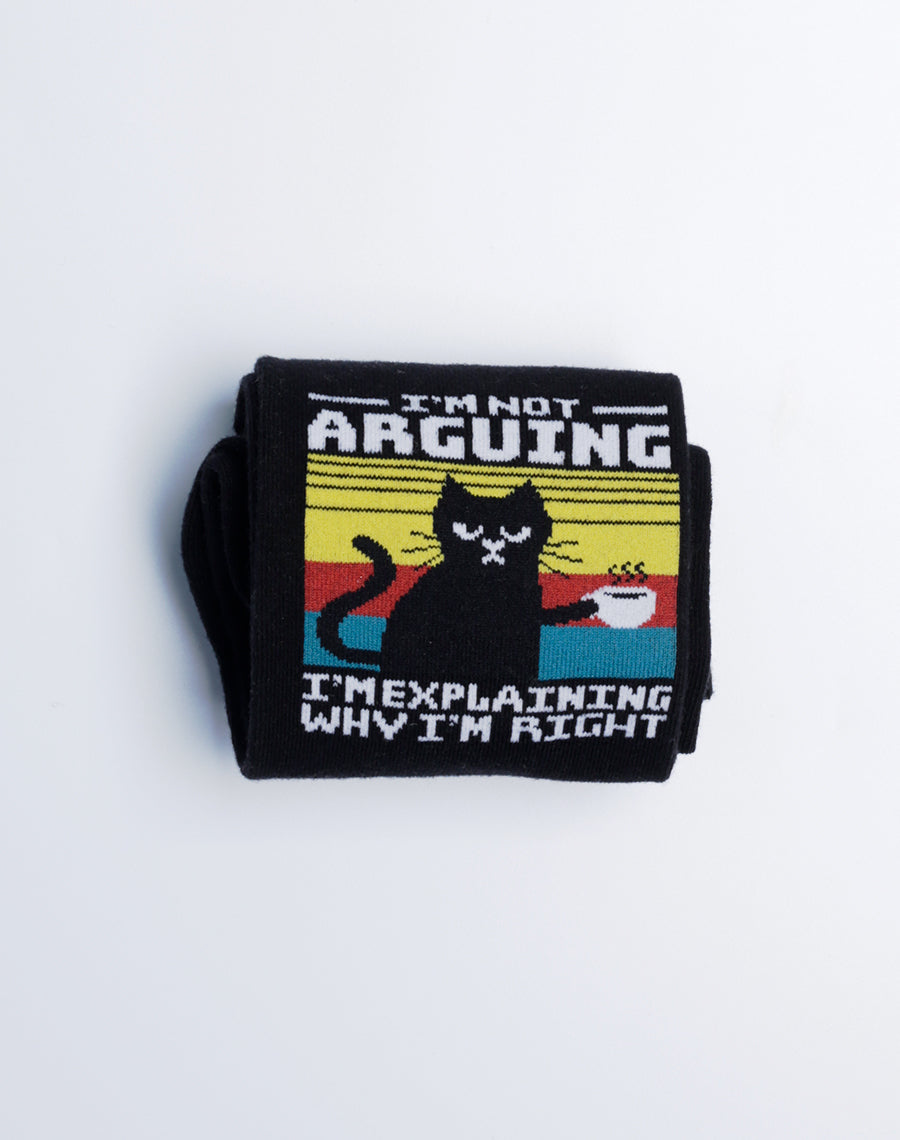 Men's I'm Not Arguing I'm Explaining Funny Cat Crew Socks
Introducing the I'm Not Arguing I'm Explaining Funny Cat Crew Socks from Just Fun socks - the perfect pair for the confident and opinionated man who likes to make a statement with his socks.

Let's be honest, sometimes you're just right, end of story... or, you're too far along now to turn back.. either way, now your socks can do the talking. These comfortable and stylish men's crew socks feature a classic black color and a standout design of a 'right' cat having himself a cup of coffee. The bold text reading "I'm not arguing, I'm explaining why I'm right" makes a point and gets a laugh. You're confident in your opinions, passionate about the subject, and often, you're right... so why hide it?

Made with high-quality materials, these funny crew socks are comfortable and durable making them great for all day wear. So, what are you waiting for, order a pair or two of men's socks today and let your feet do the talking. End of discussion. 

Features of I'm Not Arguing Funny Crew Socks

Ultra-comfortable & breathable material blend
200-needle stitching for advanced detail & design
Reinforced heel & toe for additional wear-resistance
Non-slip, 'stay-up' cuff
Seamless toe to prevent rubbing and blistering
Comfortable thickness, suitable for every season
Exclusive and unique patterns
Machine washable
Fits men's US shoe size 9, 10, 11, 12 & 13
Black colored socks

Why Choose I'm Not Arguing Funny Cat Crew Socks from Just Fun Socks?

Looking for funny socks with sayings that look and feel great? These black crew socks are for you. With our 30-day return and exchange policy, you can be sure you'll love these men's socks. Plus, order over $35 by adding some other best selling men's socks like Zero Fox Given and Overthinking and get free shipping!

Crafted with a premium blend of cotton, nylon and spandex, these casual crew socks offer both style and comfort. The soft and stretchy fabric will embrace your feet like a hot cup of coffee on a winter morning while the seamless toe ensures your toes stay blister-free. The colorful pattern is woven directly into the sock fabric for a long-lasting design, and the non-slip cuff keeps your socks in place during even the most heated 'explaining' sessions.

At Just Fun Socks, we specialize in colorful socks, puny socks, casual socks, and silly socks - and these fun socks for men are no exception. So order your socks online today and our team will stop their talking and get to packing up your order and delivering it to your door ASAP!
SIZING:

Women - Fits U.S. Shoe Size 6-10

Men - Fits U.S. Shoe Size 9-13

Kids - Fits Shoe Size 1-5, Ages 6-10

MATERIALS

Woven - Cotton, Nylon & Spandex Blend

Printed - Cotton & Polyester Blend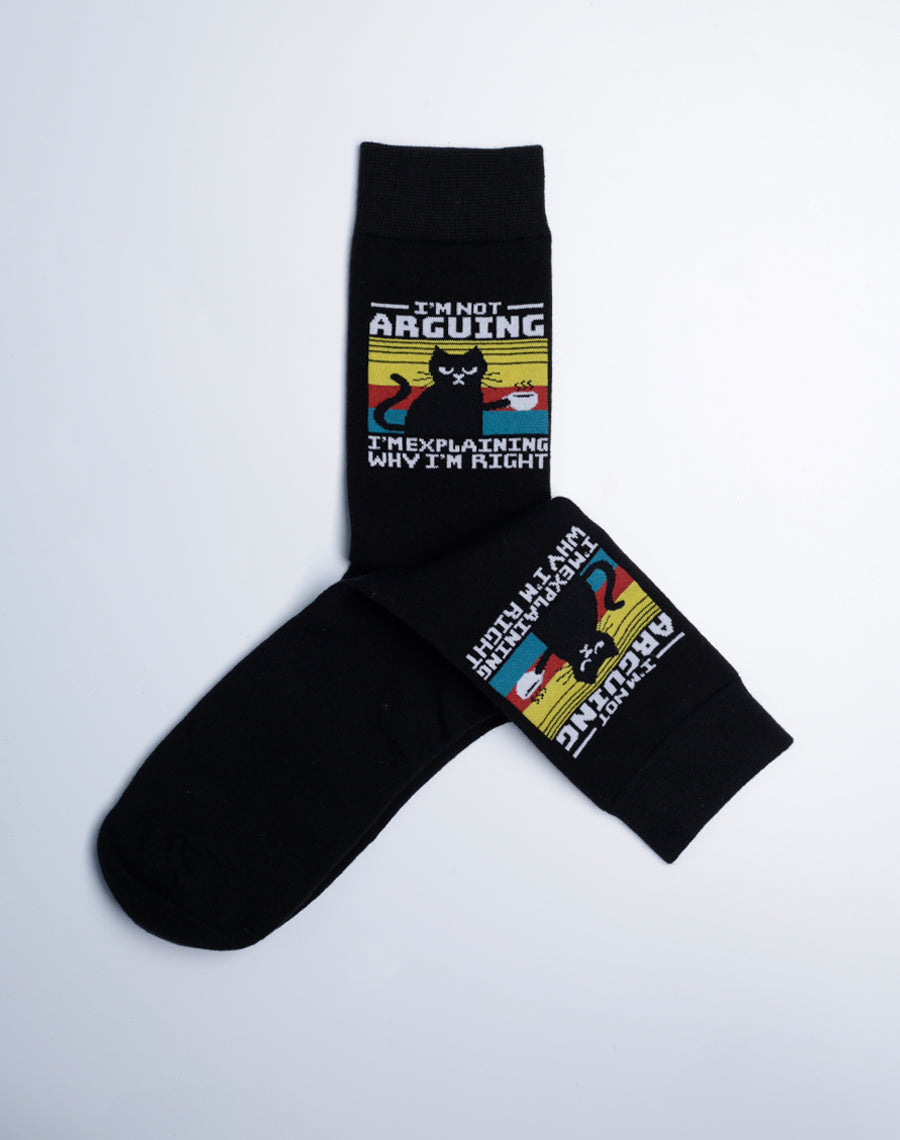 Testimonials
Great selection of socks. Variety of sizes and colors that you don't see at other shops!
I love the socks! They're super comfy and have creative designs. If you're looking for socks as gifts, this is the perfect place.
I purchased the Cowprint and the Corgi Love socks. So cute and comfy!
Such an amazing experience. Definitely coming back.
Not just funny socks, but funny socks that fit very, very well.
Tons of options... Found exactly what I was looking for!
Yes, it's just socks and they are fun! I found a pair for each of my family of four as stocking stuffers.
I can't wait to come back and get more socks