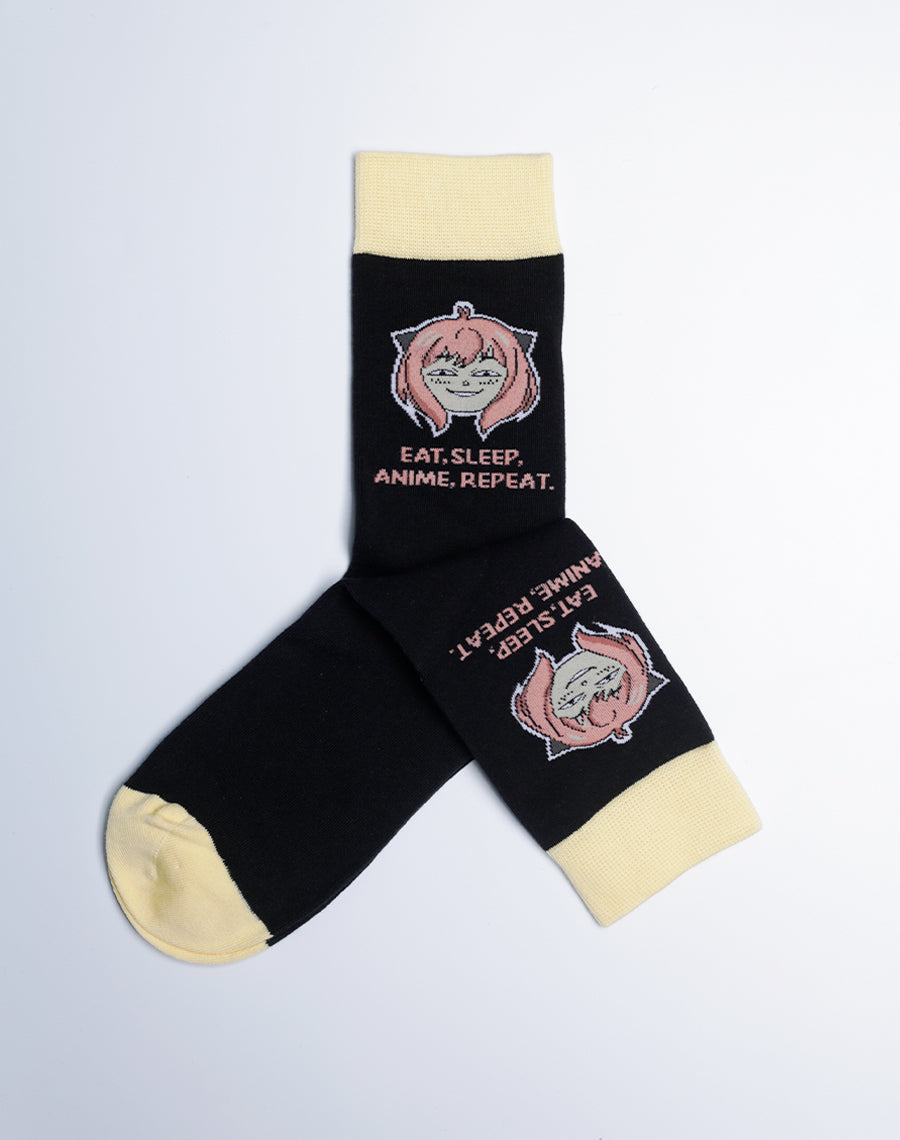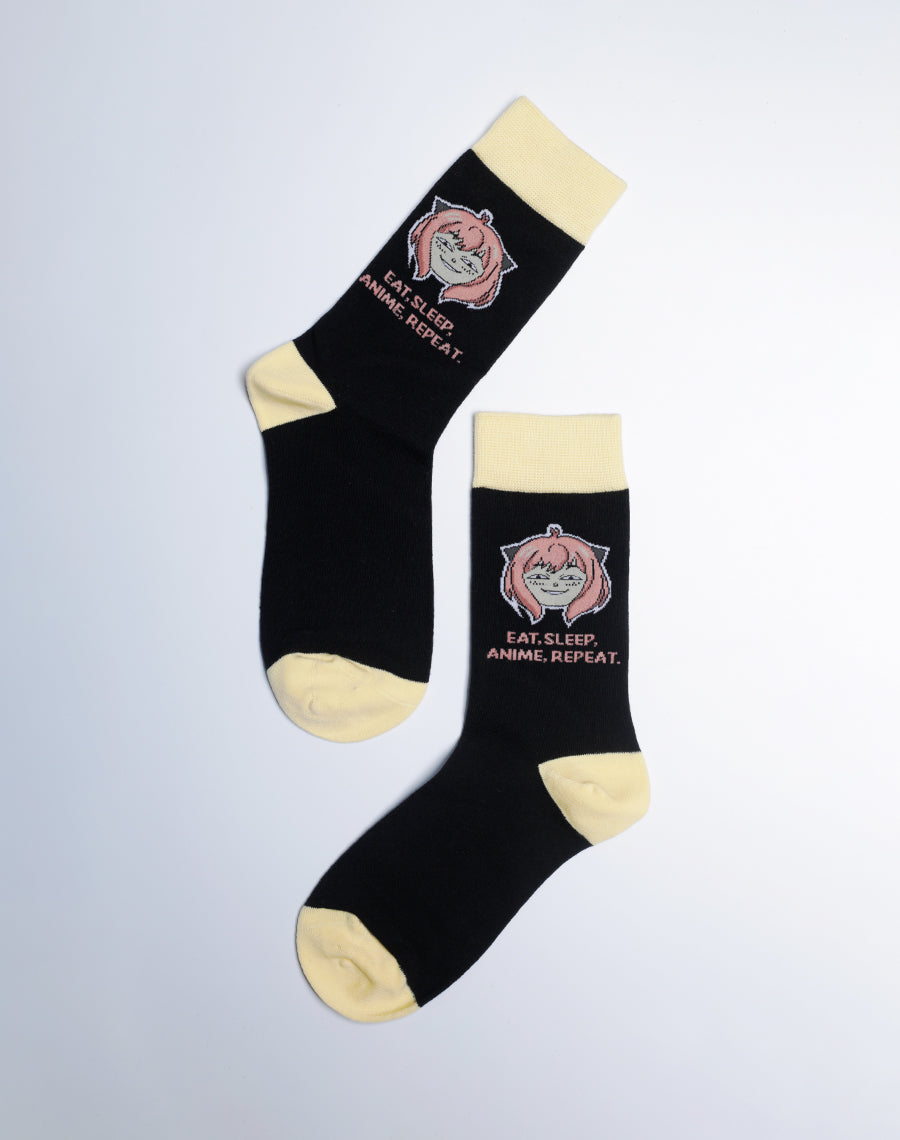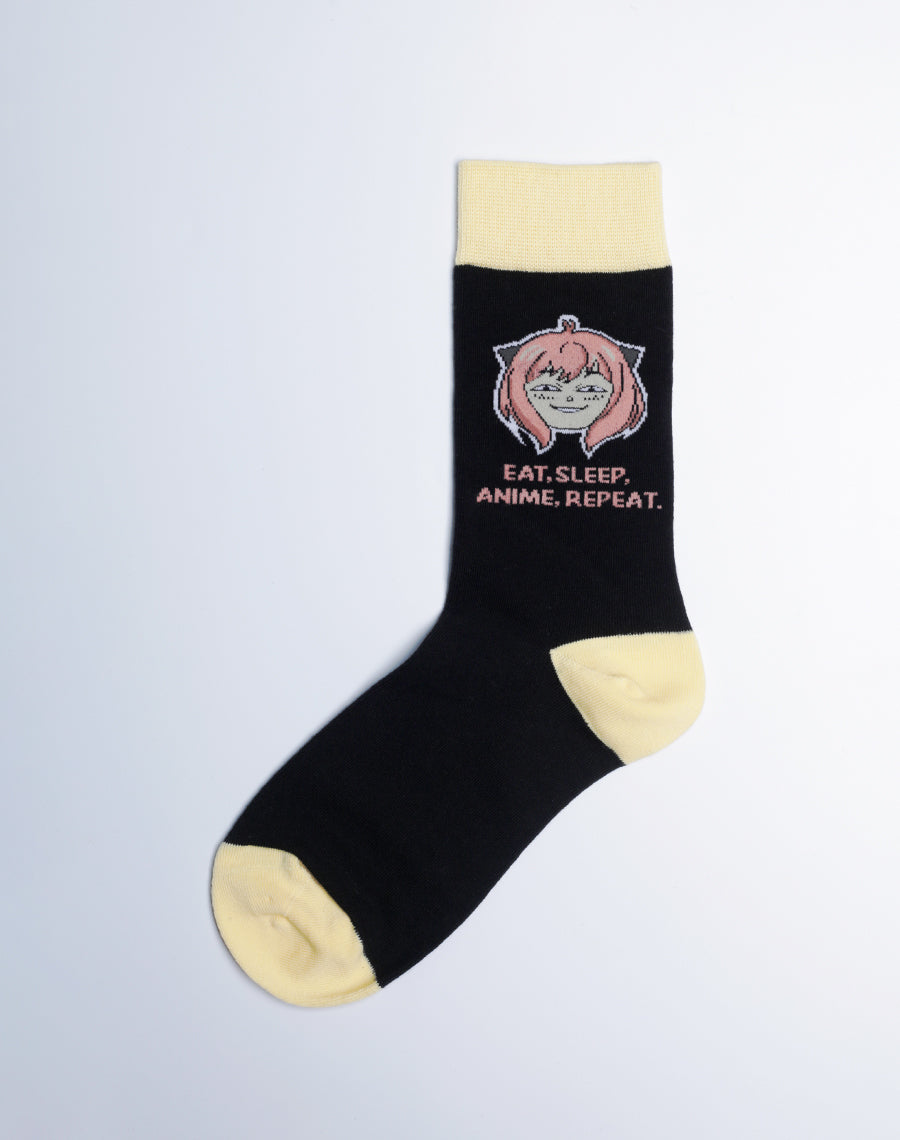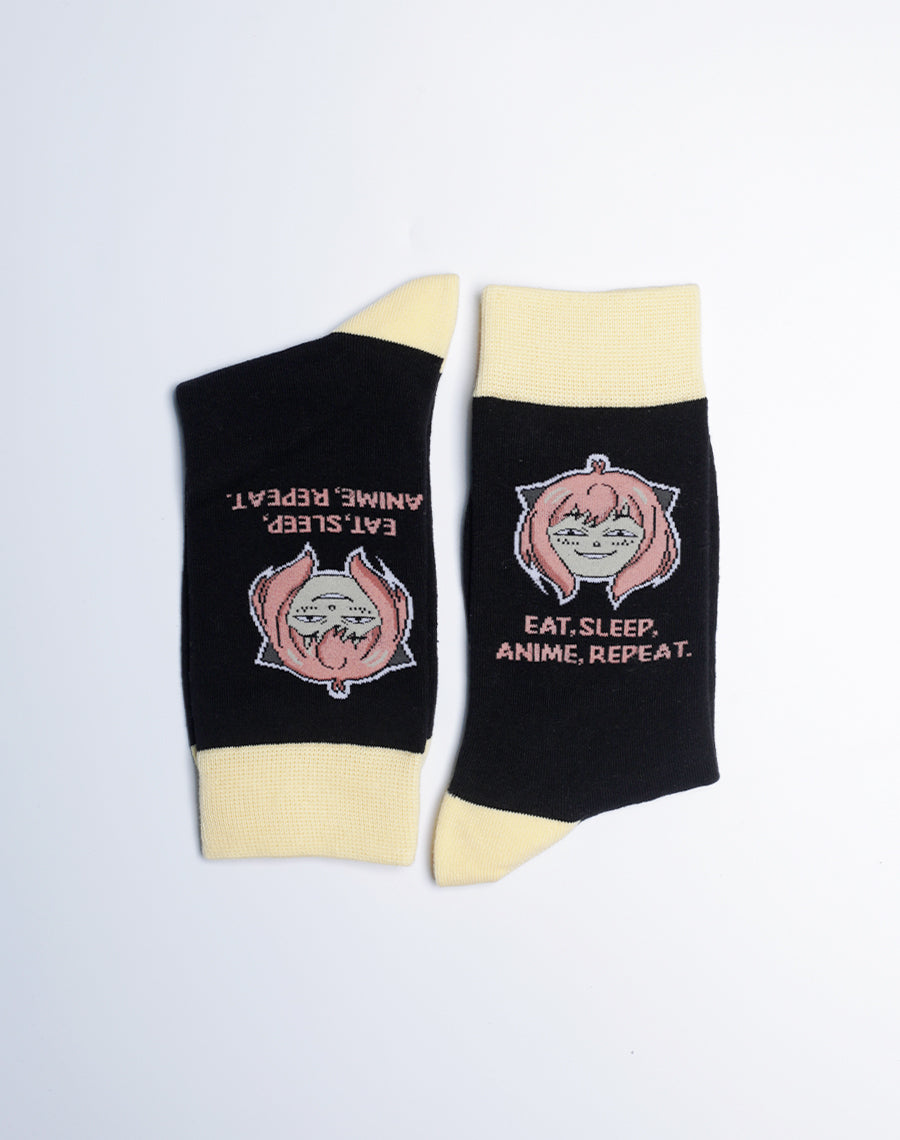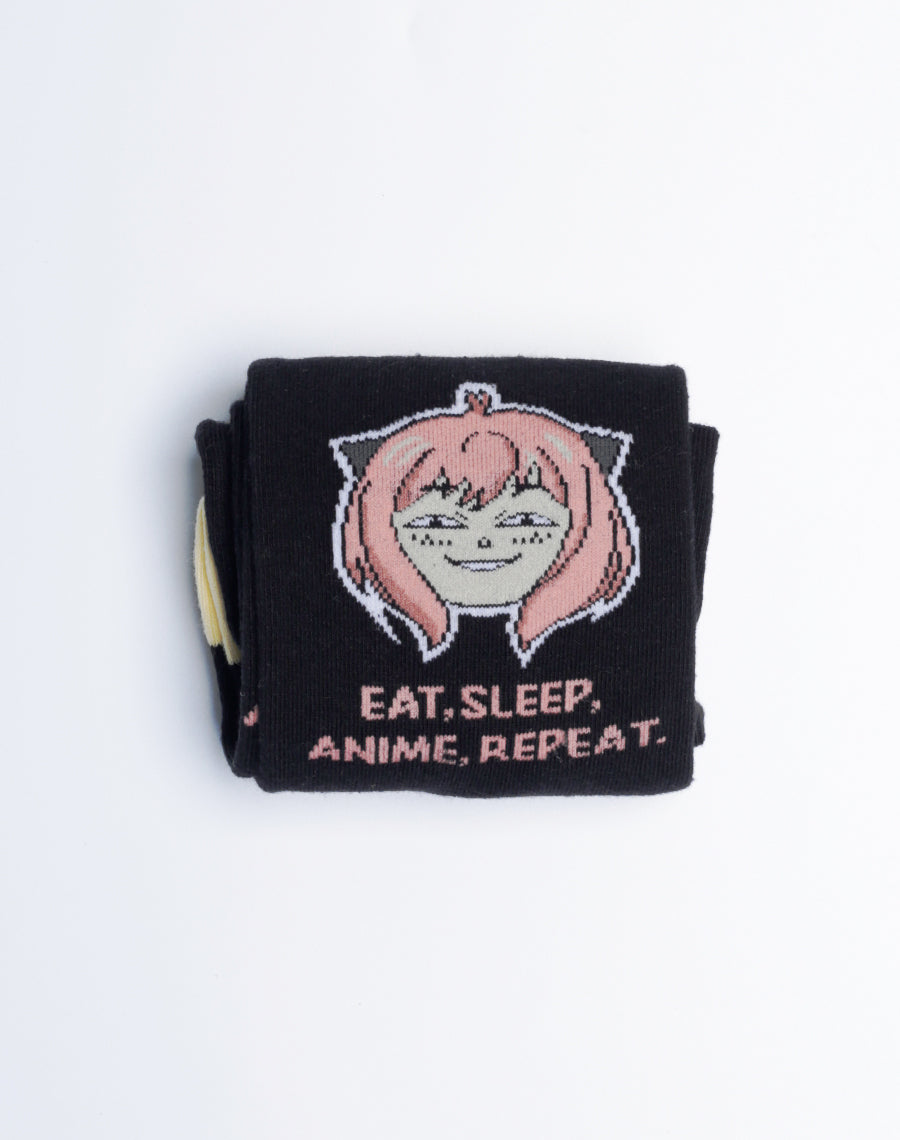 Women's Eat Sleep Anime Repeat Manga Crew Socks
Dive into the vibrant world of anime with our "Eat Sleep Anime Repeat" Crew Socks. Designed for the ultimate anime enthusiast, these playful socks are a perfect blend of style and fandom, capturing the essence of the anime culture.

Set against a sleek black canvas, these women's socks come alive with the mantra "Eat, Sleep, Anime, Repeat" in bold lettering. Complementing the text is a striking image of a pink-haired anime-loving girl, embodying the spirit of passion and dedication to the craft. The gold heel, toe, and cuff add a touch of elegance, making these anime socks a standout piece in any collection.

Beyond their dynamic design, these socks for women promise unparalleled comfort and durability. Crafted from premium materials, they're tailored to offer a snug fit, ensuring you can enjoy your anime marathons without a hitch.

The Women's Eat Sleep Anime Repeat Crew Socks are more than just a fashion statement. They're a declaration of love for the world of anime, taking you on a journey through epic tales, iconic characters, and unforgettable moments. So whether you love Spy x Family, One Piece or any other manga or anime series, these cute socks are for you! 

Features of Eat Sleep Anime Repeat Crew Socks:

Ultra-comfortable & breathable material blend
200-needle stitching for intricate design detail
Reinforced heel & toe for added durability
Non-slip, 'stay-up' cuff
Seamless toe to ensure maximum comfort
Perfect thickness for all seasons
Exclusive and unique anime-inspired patterns
Machine washable
Fits women's US shoe sizes 5, 6, 7, 8, 9, 10
Stylish black color with gold accents

 

Why Choose Anime-Themed Crew Socks from Just Fun Socks?

Our Women's Eat Sleep Anime Repeat socks are a celebration of the rich tapestry of anime storytelling. With our 30-day return and exchange policy, you're assured of a risk-free, fun sock purchase. Add these cute socks for women to your collection along with our Go Away Anime Crew Socks for men and get free shipping on your order over $35!

At Just Fun Socks, we believe in crafting memories, one pair of fun and crazy socks at a time. From bold statements to vibrant graphics, our men's and women's socks are a gateway to worlds both real and fictional. So, slip into our Eat Sleep Anime Repeat Crew Socks and let your feet whisk you away to the captivating realms of anime.
SIZING:

Women - Fits U.S. Shoe Size 6-10

Men - Fits U.S. Shoe Size 9-13

Kids - Fits Shoe Size 1-5, Ages 6-10

MATERIALS

Woven - Cotton, Nylon & Spandex Blend

Printed - Cotton & Polyester Blend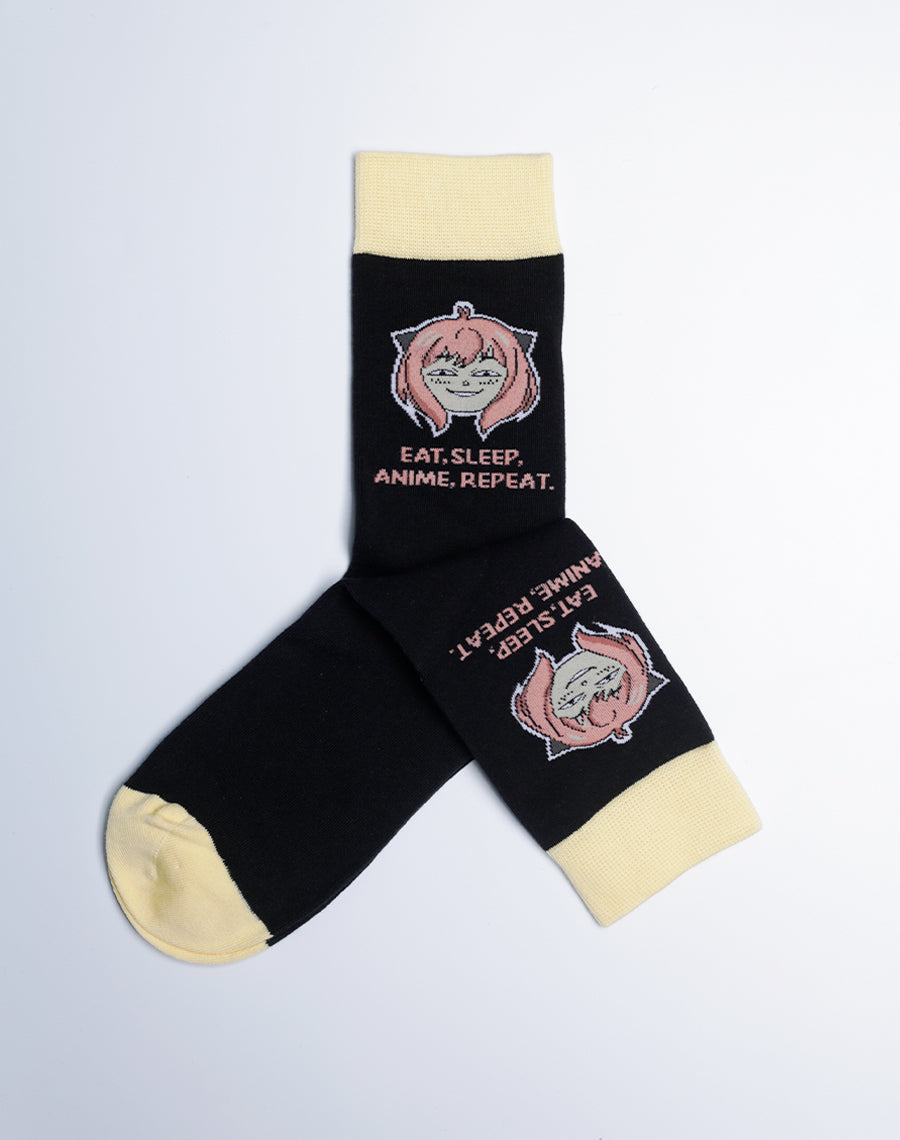 Testimonials
Great selection of socks. Variety of sizes and colors that you don't see at other shops!
I love the socks! They're super comfy and have creative designs. If you're looking for socks as gifts, this is the perfect place.
I purchased the Cowprint and the Corgi Love socks. So cute and comfy!
Such an amazing experience. Definitely coming back.
Not just funny socks, but funny socks that fit very, very well.
Tons of options... Found exactly what I was looking for!
Yes, it's just socks and they are fun! I found a pair for each of my family of four as stocking stuffers.
I can't wait to come back and get more socks