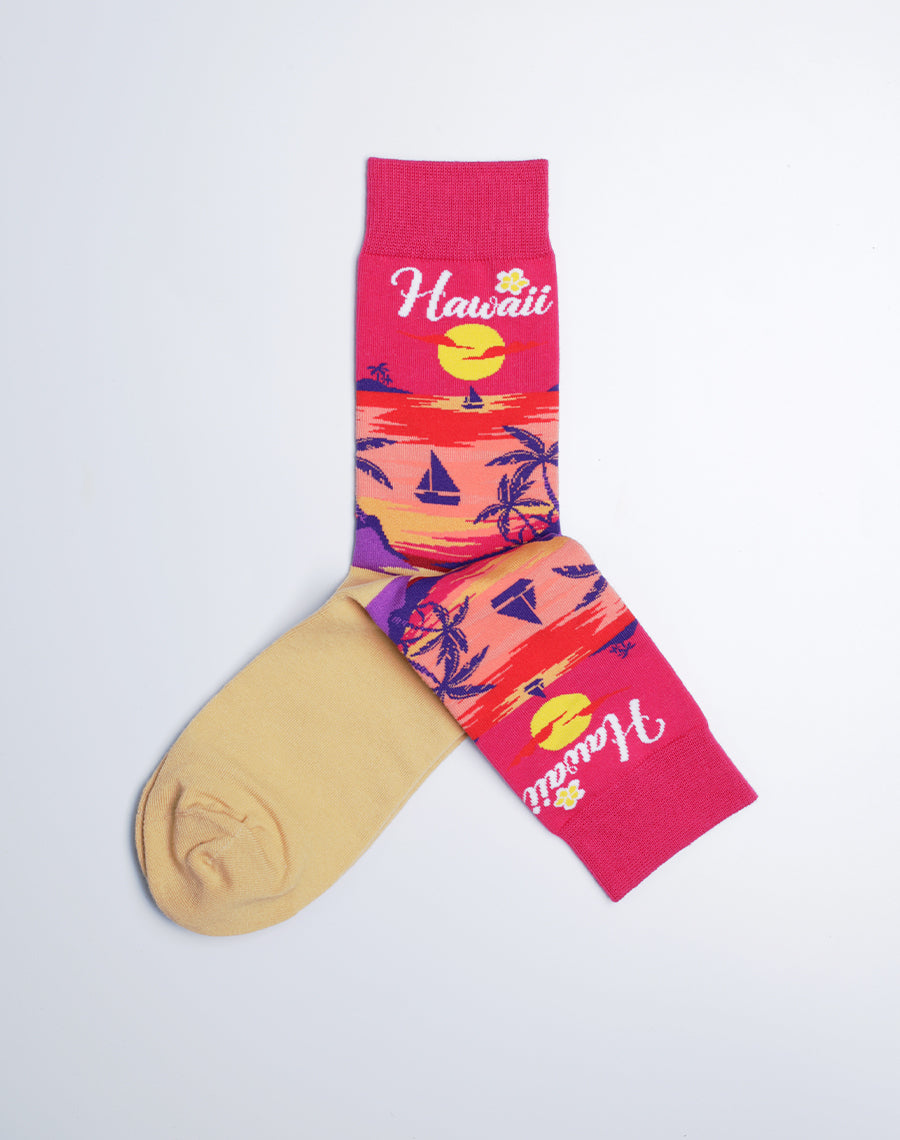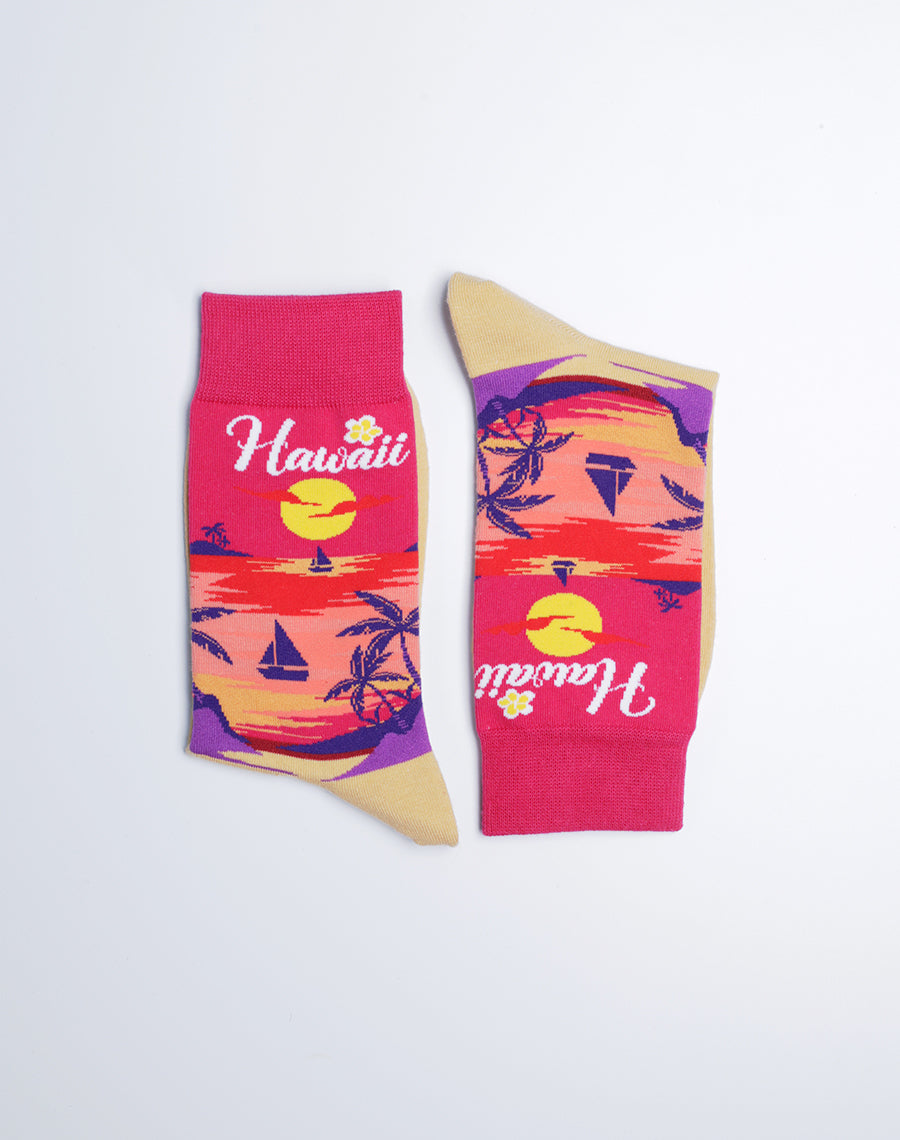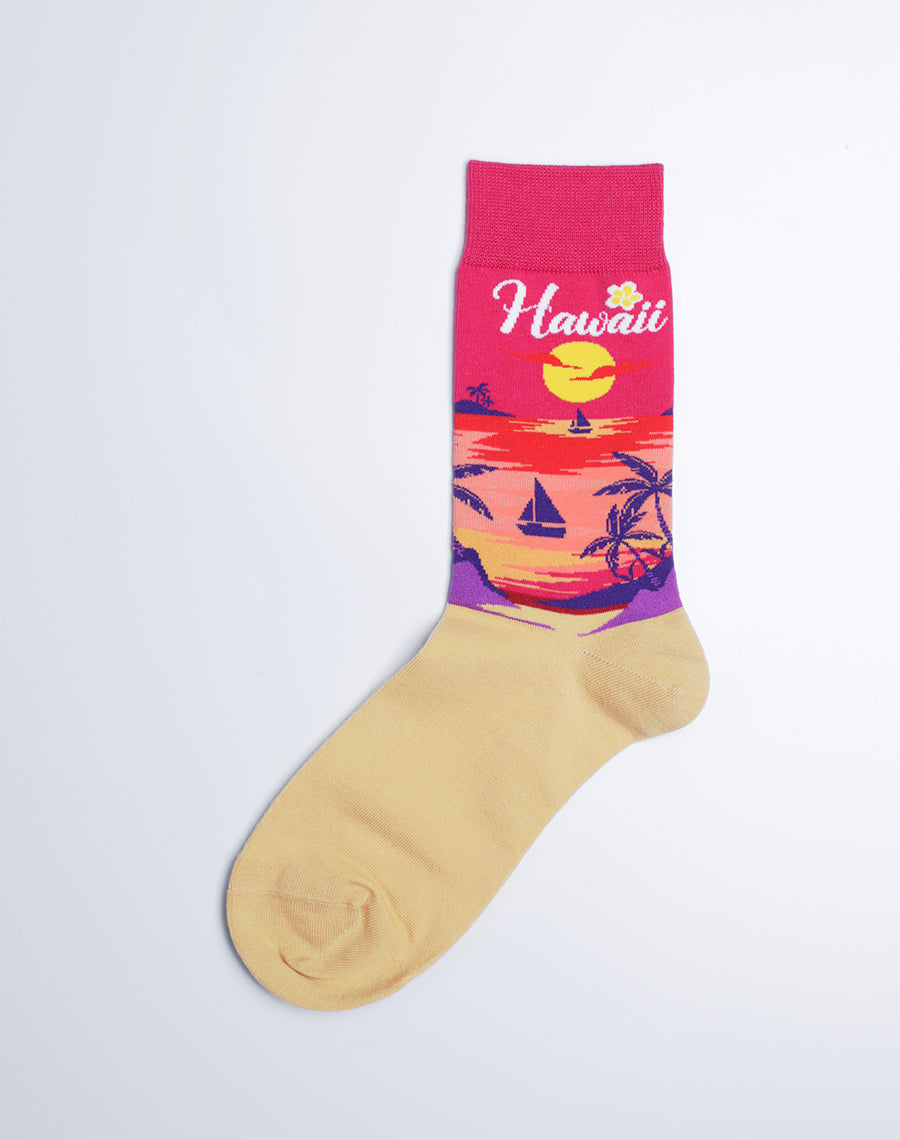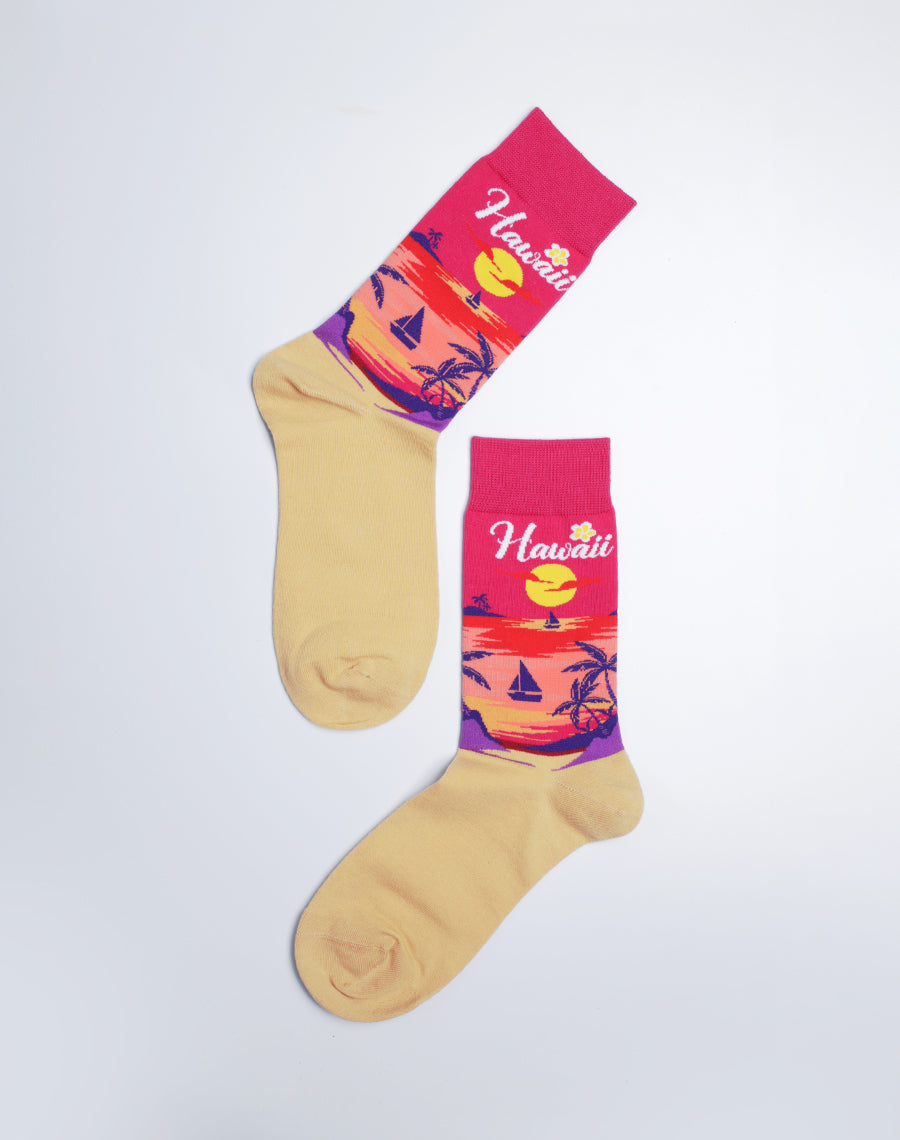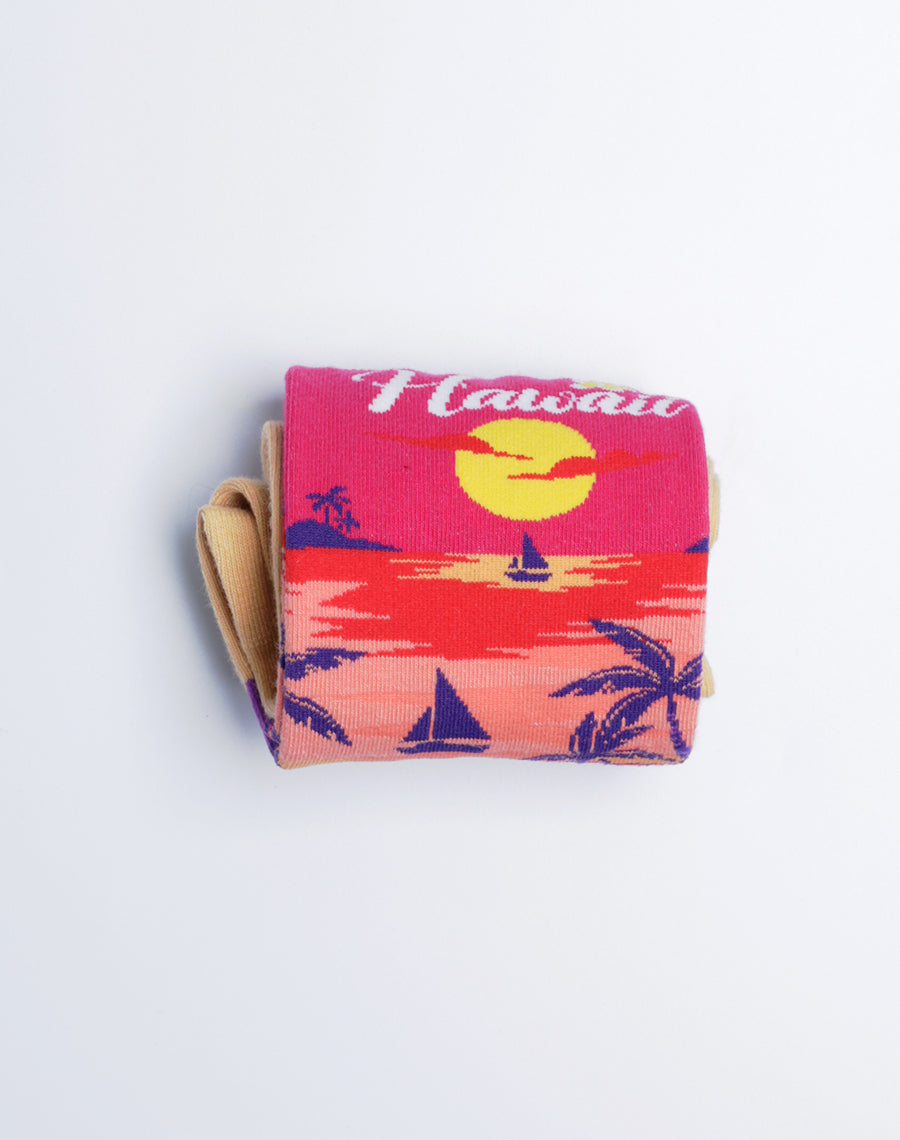 Women's Sunset Beach Hawaii Crew Socks
Step into a serene island sunset with our Sunset Beach Hawaii Crew Socks from Just Fun Socks, an exquisite piece from our Hawaii Island Collection. These socks are designed to combine comfort and style with the mesmerizing beauty of Hawaii's idyllic beaches.

Each sock is woven with care, featuring a delicate blend of pink and sand colors that recreate the soothing hues of a Hawaiian beach at dusk. The design captures a picturesque sunset beach scene, whisking you away to the island's tranquil shores with every glance.

The design extends into the ribbed cuff, which not only adds to the aesthetic appeal but also provides a secure, comfortable fit, ensuring your socks stay snugly in place throughout the day.

Understanding the importance of quality and durability, these socks are designed with a reinforced heel and toe. This attention to detail strengthens these high-wear areas, providing longevity and reliable comfort with each wear.

Our Sunset Beach Hawaii Crew Socks are specifically designed to fit women, adding a touch of tropical charm to your wardrobe while ensuring a perfect fit.

Immerse yourself in the tranquil beauty of a Hawaiian sunset with these enchanting socks from our Hawaii Island Collection. They're more than just a piece of clothing; they're an expression of style, a touch of comfort, and a mini escape to the islands with each step you take.




Features of Hawaii Palm Tropical Crew Socks:

Ultra-comfortable & breathable material blend
200-needle stitching for advanced detail & design
Reinforced heel & toe for additional wear-resistance
Non-slip, 'stay-up' cuff
Seamless toe to prevent rubbing and blistering
Comfortable thickness, suitable for every season
Exclusive and unique patterns
Machine washable
Fits women's US shoe size 5, 6, 7, 8, 9 & 10
Pink and sand color socks with purple, red and orange stitching

 

Why Choose Hawaii Palm Tropical Crew Socks from Just Fun Socks?

These multicolor socks are sure to satisfy your style and comfort needs, and with our 30-day return and exchange policy, you'll be sure to love your socks almost as much as you love a Hawaiian Sunset.  Add these and other women's socks to your bag like Hawaii Palm and Honolulu Reflection and receive free U.S. shipping on your order over $35. 

Made with ultra-soft and breathable material, these socks provide comfort and support, while the crew length ensures they stay put throughout the day. Not to mention, the 4-way stretch makes for a perfect fit that is one-size-fits-most.

Just Fun Socks makes casual socks, vacation socks, playful socks, and colorful socks, but one thing is for certain, all our socks are fun socks.  You're sure to make friends at any resort or beach with these tropical favorites.  Order online now and our team of beach-goers will be sure to drop these funky women's socks at your door ASAP!
SIZING:

Women - Fits U.S. Shoe Size 6-10

Men - Fits U.S. Shoe Size 9-13

Kids - Fits Shoe Size 1-5, Ages 6-10

MATERIALS

Woven - Cotton, Nylon & Spandex Blend

Printed - Cotton & Polyester Blend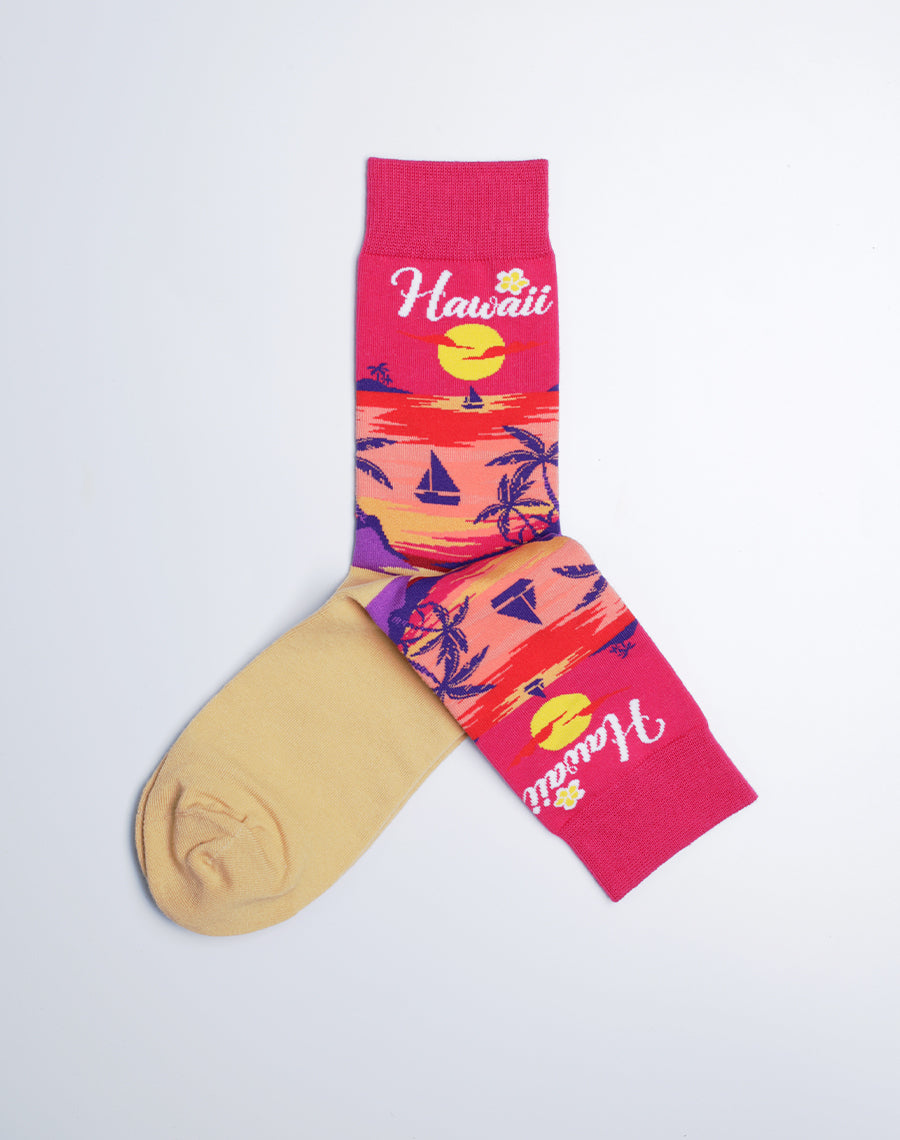 Testimonials
Great selection of socks. Variety of sizes and colors that you don't see at other shops!
I love the socks! They're super comfy and have creative designs. If you're looking for socks as gifts, this is the perfect place.
I purchased the Cowprint and the Corgi Love socks. So cute and comfy!
Such an amazing experience. Definitely coming back.
Not just funny socks, but funny socks that fit very, very well.
Tons of options... Found exactly what I was looking for!
Yes, it's just socks and they are fun! I found a pair for each of my family of four as stocking stuffers.
I can't wait to come back and get more socks