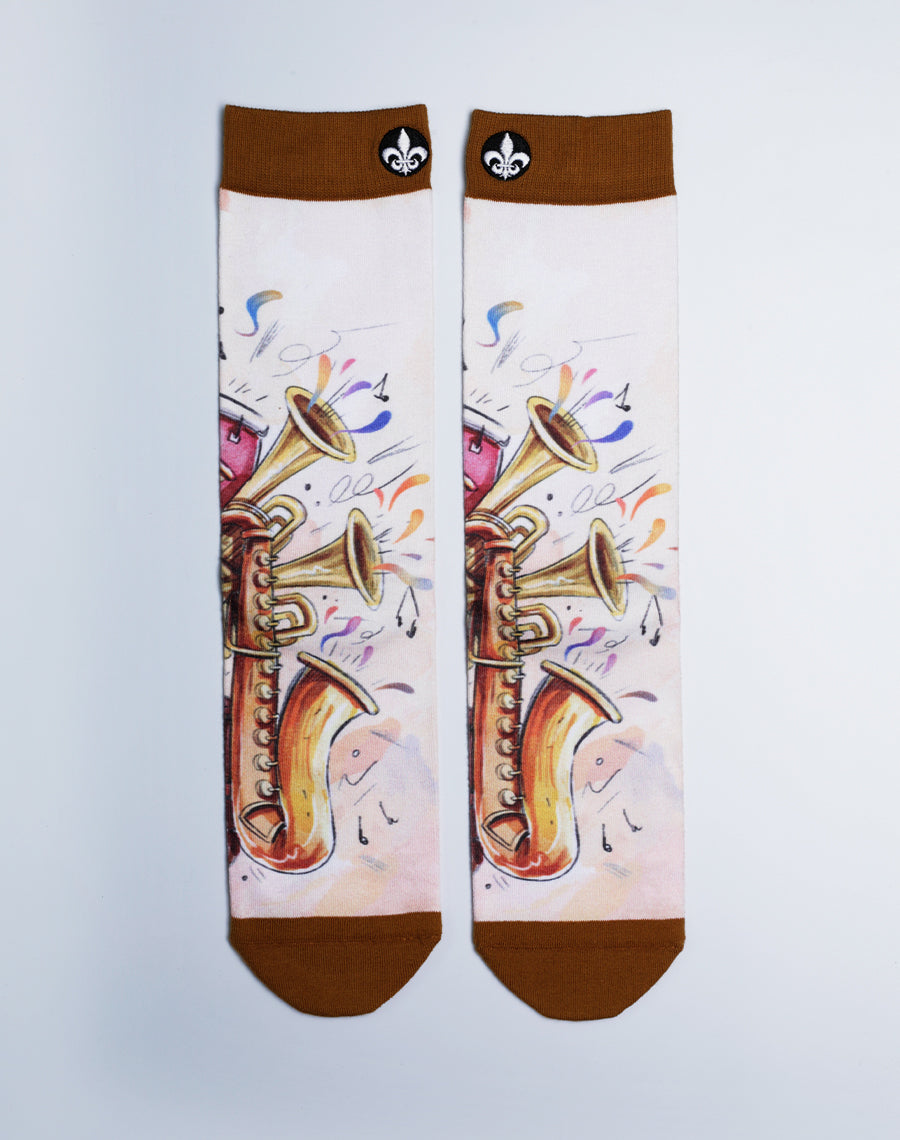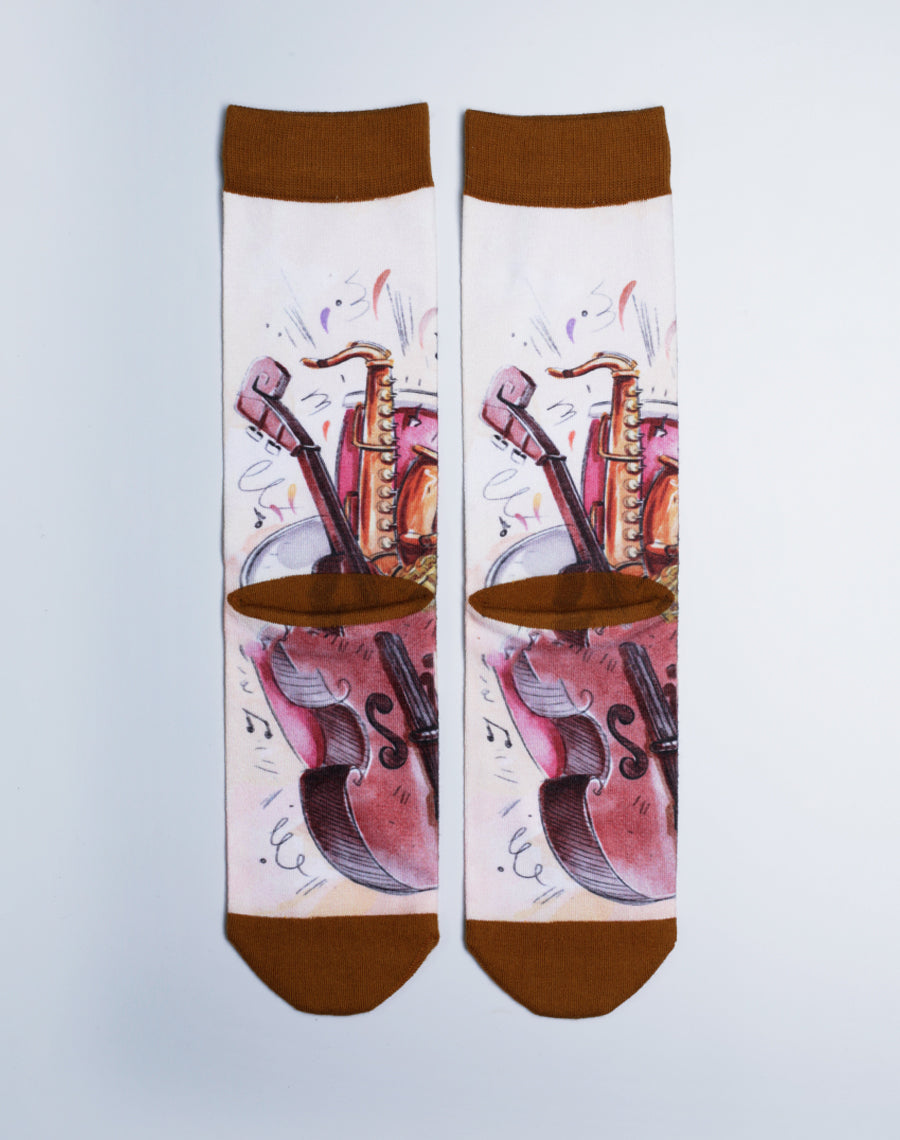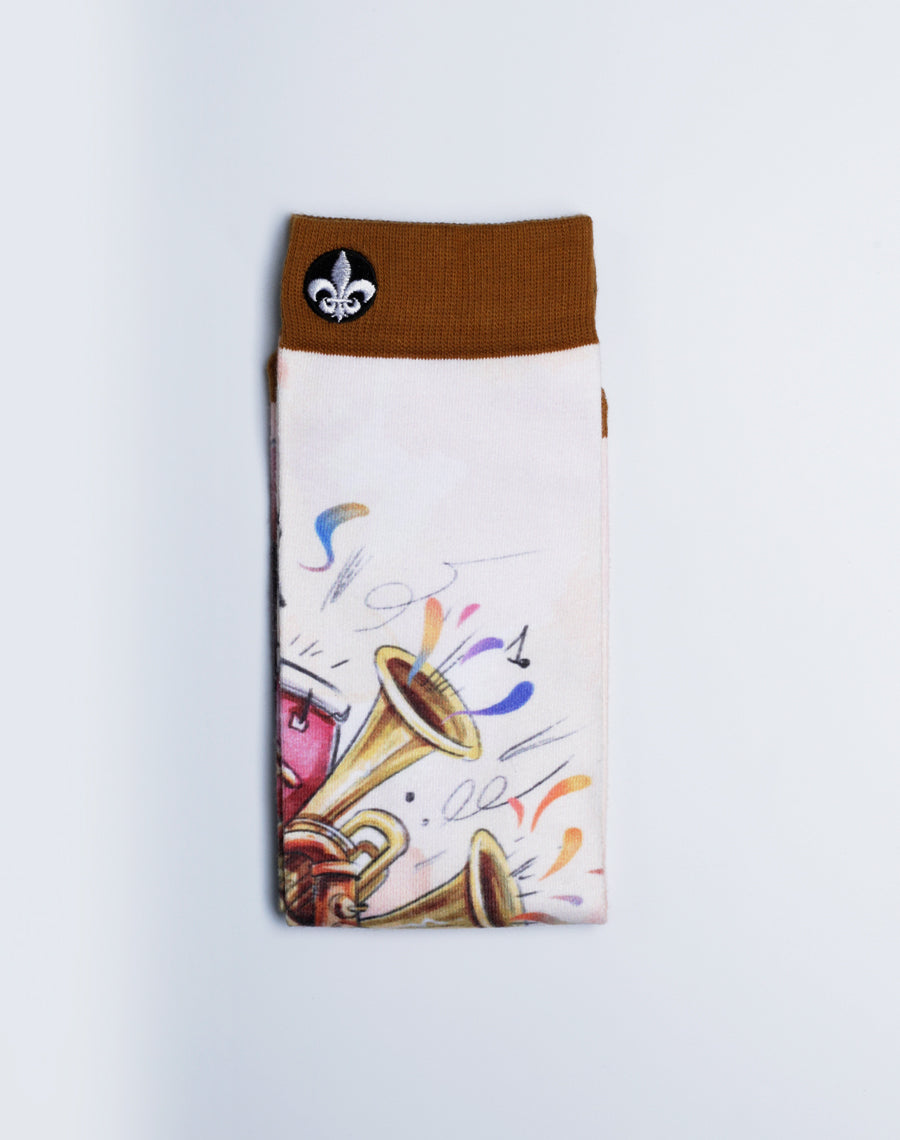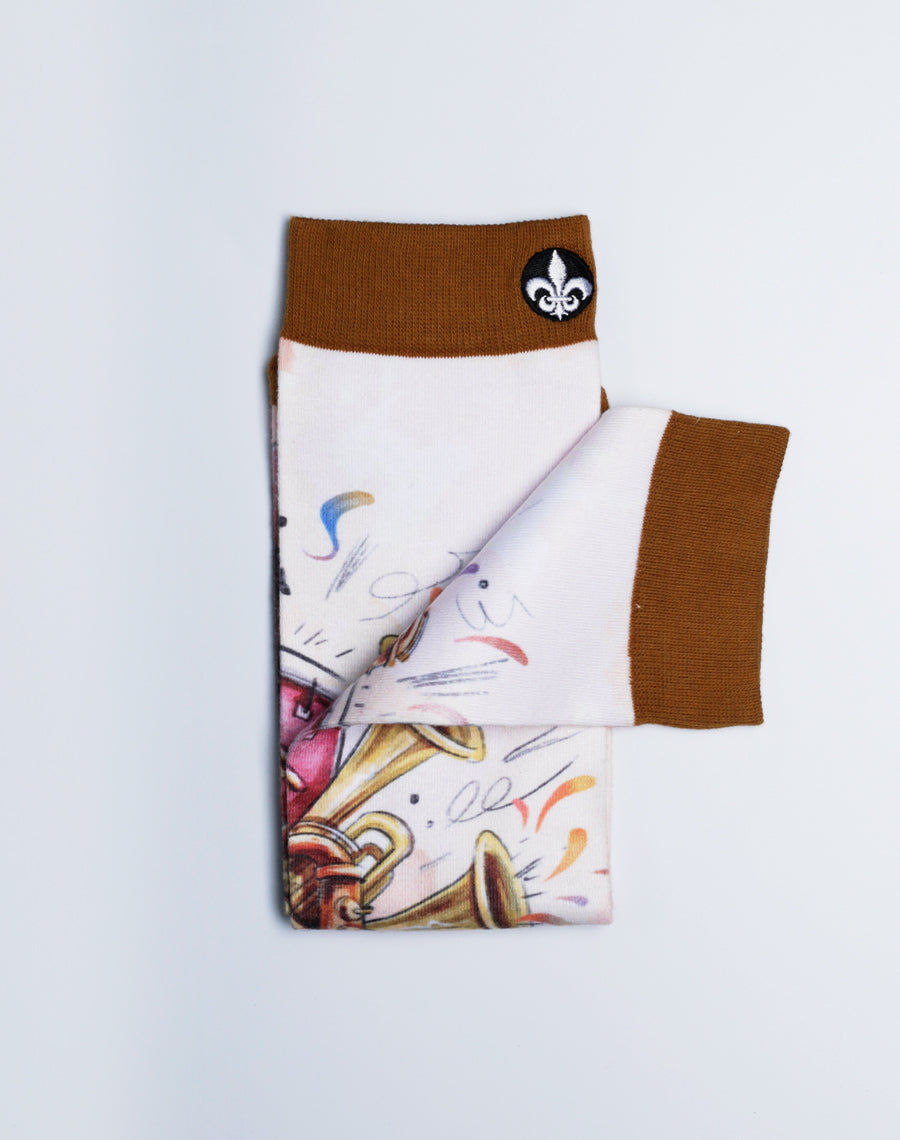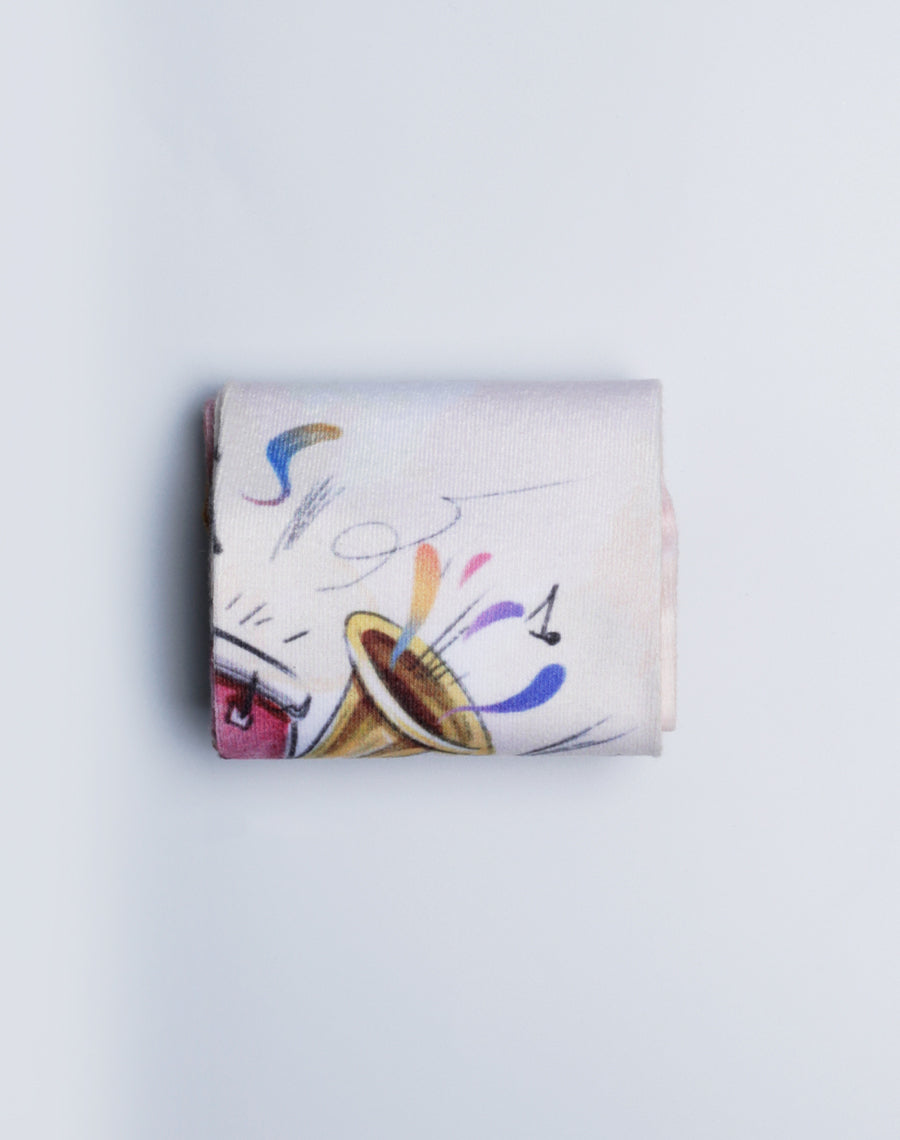 Unisex Back Beat Jazz Instrument White Printed Crew Socks
Jazz up your wardrobe with our Back Beat Jazz Instrument Printed Crew Socks, a unique gem from Just Fun Socks' NOLA Big Easy Collection. These special edition socks are the perfect blend of music, art, and fashion, making them a must-have accessory for all the creative souls out there.

Each sock is thoughtfully designed with a soft beige-cream color scheme that draws inspiration from delicate watercolor paintings. The blend of hues creates a backdrop for the explosion of brass and jazz instruments scattered across the fabric. These designs create a visual melody, capturing the vibrant energy of a jazz ensemble and embodying the spirit of New Orleans.

A premium Fleur de Lis embroidery adorns the ribbed cuff, adding a touch of sophistication and a nod to classic craftsmanship. This intricately designed element complements the crew sock's overall style, while the ribbed cuff ensures a snug fit, comfortably keeping your new socks in place throughout the day.

Recognizing the importance of durability alongside style, these socks feature a reinforced heel and toe. This enhancement strengthens the socks' structure, promising longevity even with regular, daily use.

Our Back Beat Jazz Instrument Printed Crew Socks are unisex and come in a versatile S/M size. Although they are suitable for everyone, they fit best on women and individuals with medium sized feet. This makes them an excellent choice for personal use or as a thoughtful, distinctive gift for the music lover in your life.

Stride into comfort and melody with these artfully designed socks from our NOLA Big Easy Collection. They're not just about keeping your feet cozy; they're about infusing every step with a touch of New Orleans' rich jazz heritage.

 

Features of Unisex Premium Printed Crew Socks:

Ultra-soft and comfortable material blend
Lightweight for any season
Moisture wicking to keep feet dry and blister free
Premium pineapple embroidery on cuff
Reinforced heel and toe for added durability
Ribbed, stay-up cuff
Machine washable
Exclusive printed design
Fits women's shoe size 7, 8, 9, 10, 11 & 12
Fits men's shoe size 6, 7, 8, 9 & 10
Beige color socks

 

Why choose NOLA Premium Printed Crew Socks from Just Fun Socks?

Why choose Back Beat Jazz Instrument Printed Crew Socks from Just Fun Socks? These printed crew socks are designed for everyday wear, making them the perfect comfort accessory for any outfit. With our 30-day refund and return policy, you can be confident that you will love your new socks. If you are shopping for more premium socks for yourself or for others, check out other favorites like Mardi Gras Mystique and New Orleans Skyline and receive free shipping on your order over $35!

Not only are these socks stylish, but they are also durable and easy to care for. The material is breathable, ensuring your feet stay cool and comfortable throughout the day. They are machine washable, making them perfect for everyday wear. The ribbed cuff keeps them up, and the 4-way stretch design allows one size to fit most!

Just Fun Socks creates premium socks, casual socks, music socks, and New Orleans socks, but all our socks are designed to bring fun and joy. Shop for socks online with us today, and we will pack up jam session and get your new musical socks to your door ASAP!
SIZING:

Women - Fits U.S. Shoe Size 6-10

Men - Fits U.S. Shoe Size 9-13

Kids - Fits Shoe Size 1-5, Ages 6-10

MATERIALS

Woven - Cotton, Nylon & Spandex Blend

Printed - Cotton & Polyester Blend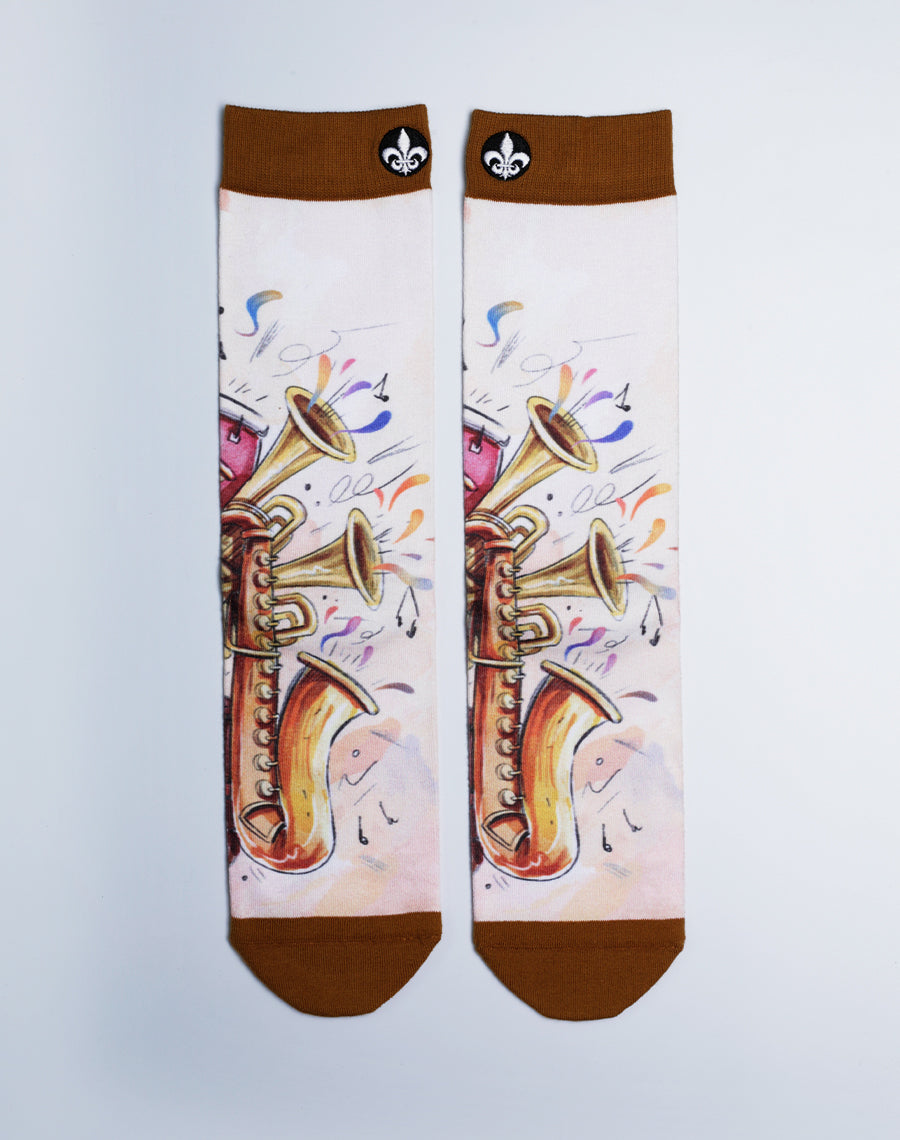 Testimonials
Great selection of socks. Variety of sizes and colors that you don't see at other shops!
I love the socks! They're super comfy and have creative designs. If you're looking for socks as gifts, this is the perfect place.
I purchased the Cowprint and the Corgi Love socks. So cute and comfy!
Such an amazing experience. Definitely coming back.
Not just funny socks, but funny socks that fit very, very well.
Tons of options... Found exactly what I was looking for!
Yes, it's just socks and they are fun! I found a pair for each of my family of four as stocking stuffers.
I can't wait to come back and get more socks