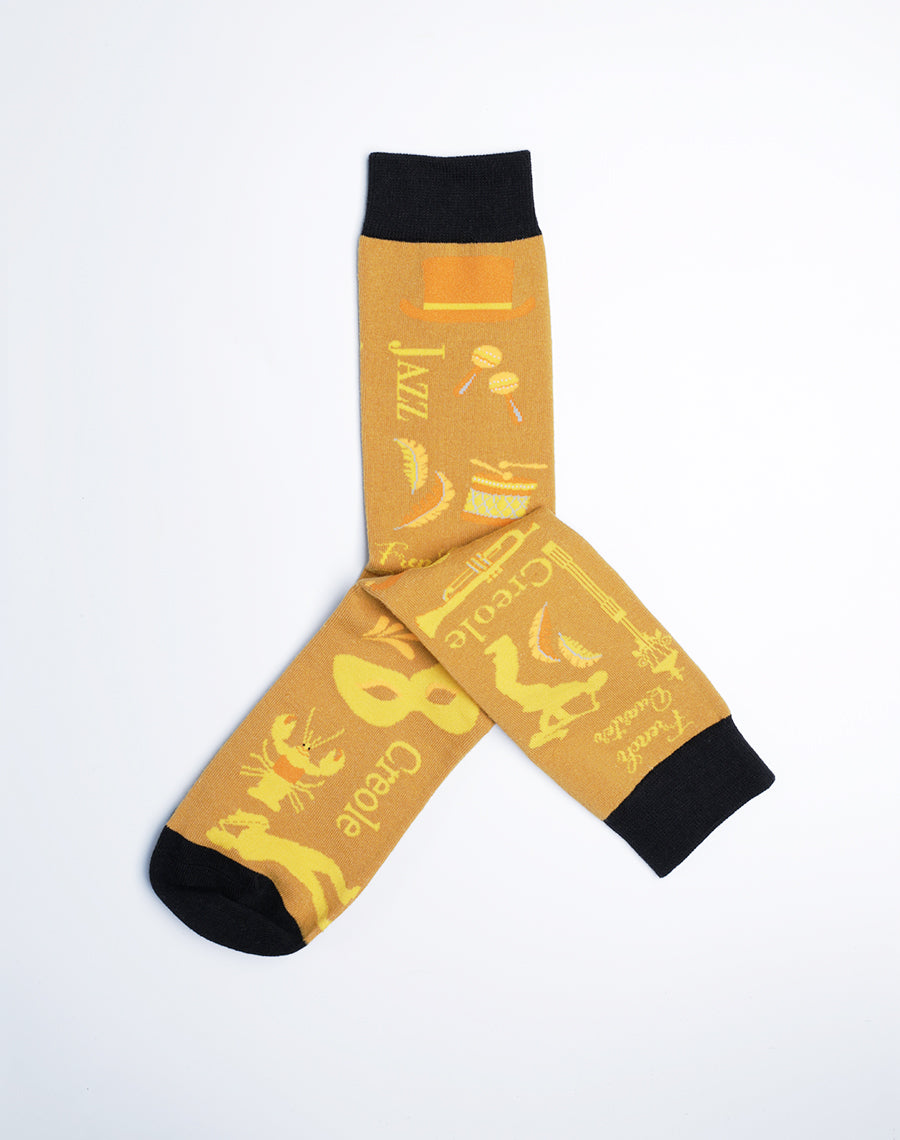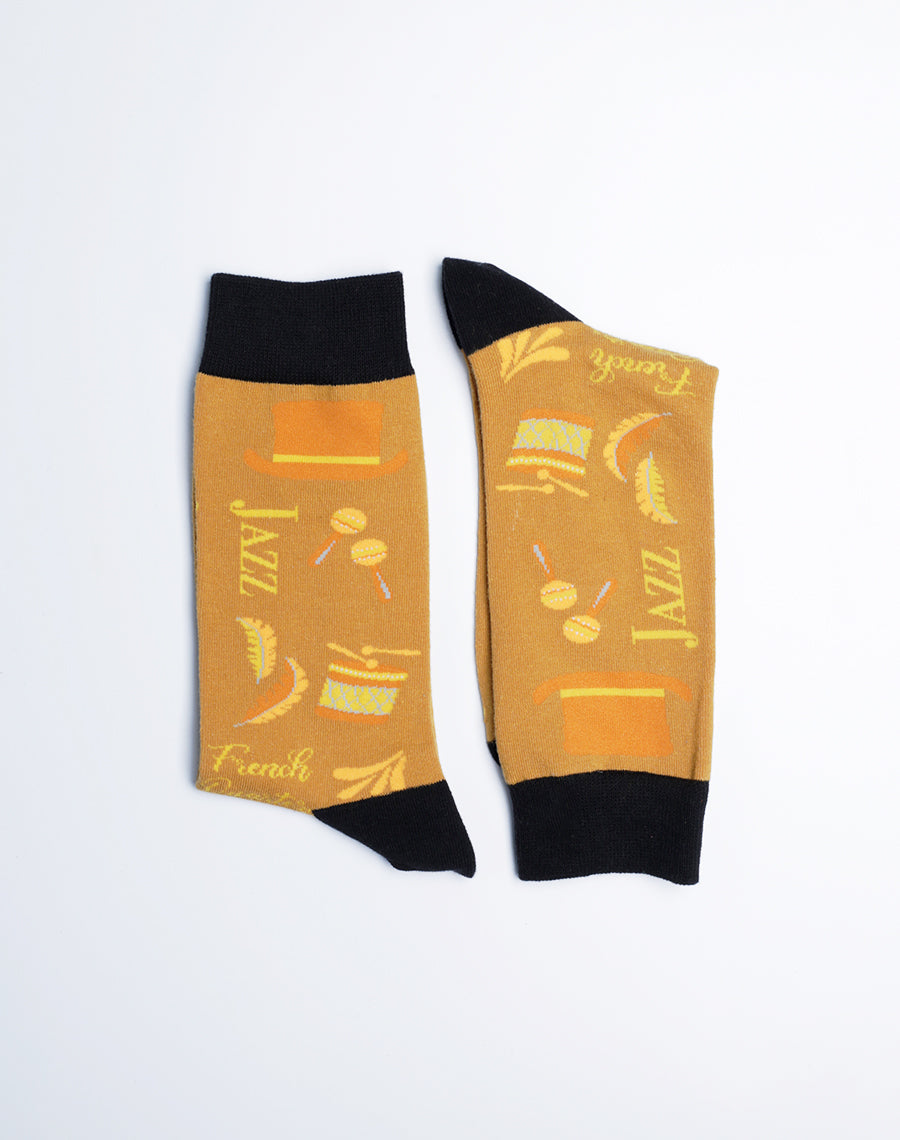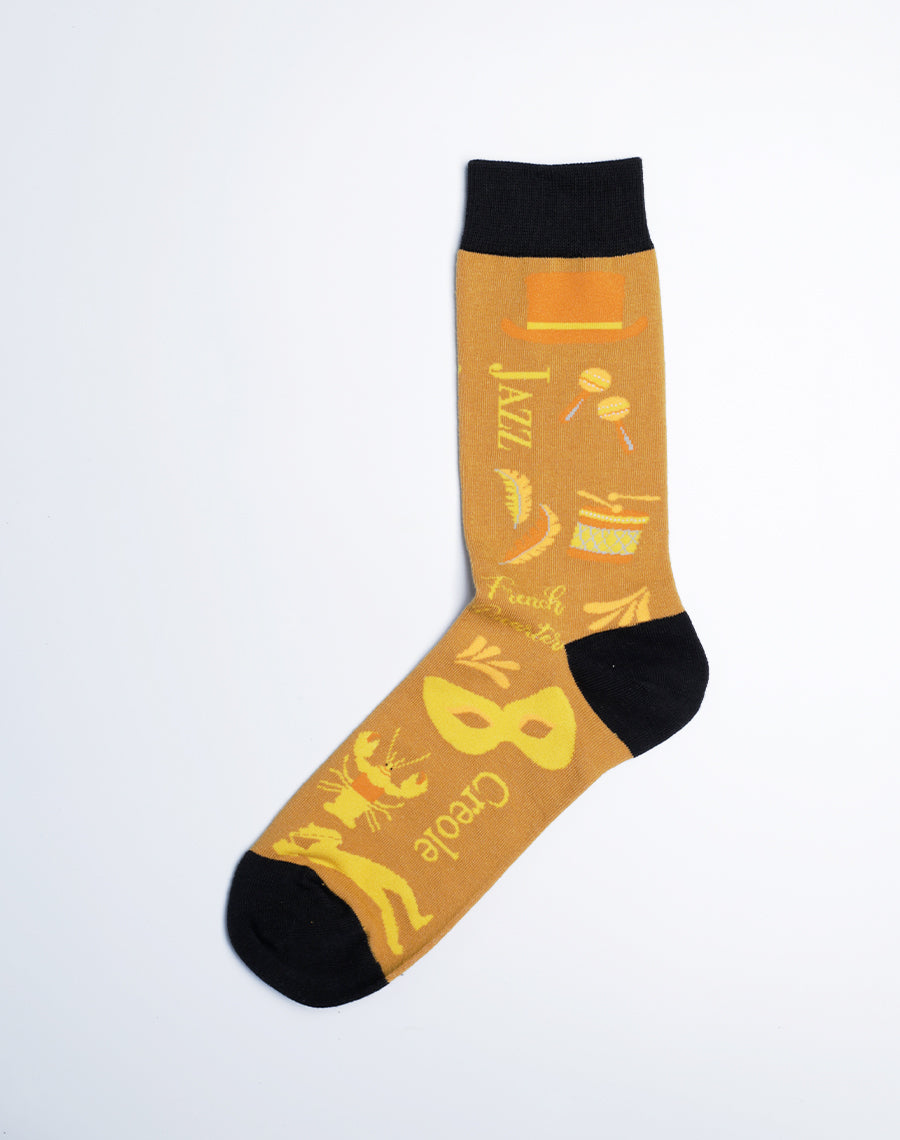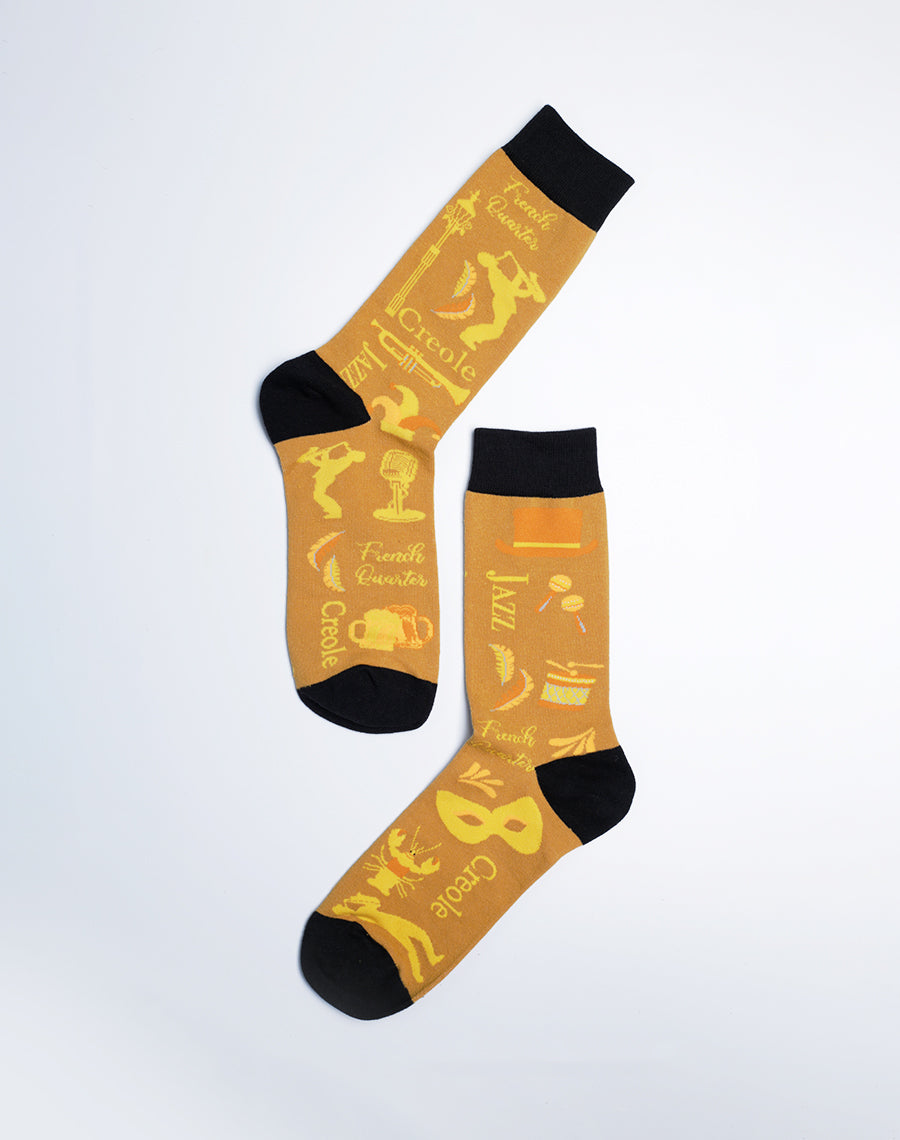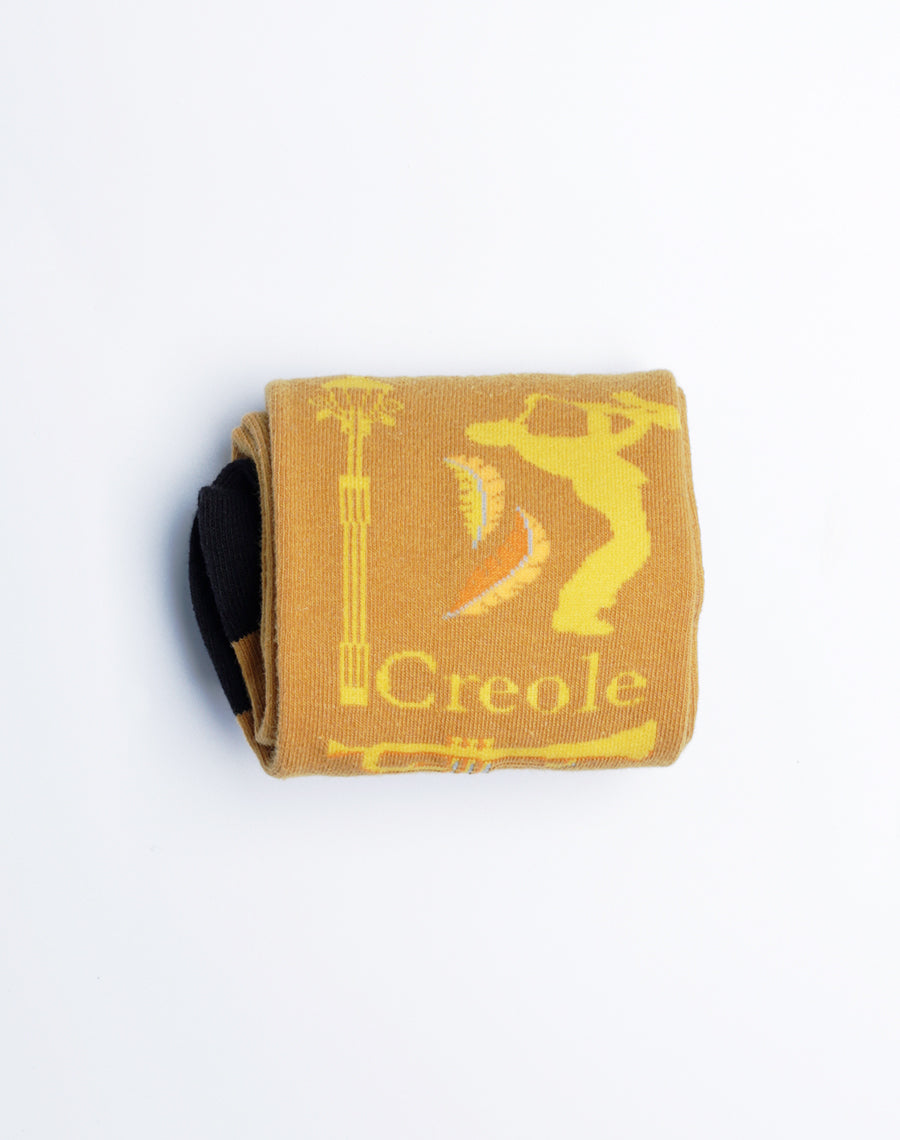 Men's Old School NOLA Crew Socks
Step into the vibrant world of New Orleans with the Men's Old School NOLA Crew Socks from Just Fun Socks.  Covered in New Orleans symbols, items, and words like Creole, Jazz, French Quarter, these rust colored socks are perfect for any and all NOLA lovers. 

These crew socks provide ample coverage, making them a perfect choice for both dressy and casual occasions. The reinforced heel and toe ensure durability and longevity, while the gold hue allows you to stand out from the crowd.

Time to kick your feet up, old school New Orleans style. Exclusively from our NOLA Big Easy Collection.

Features of New Orleans (NOLA) Crew Socks:

Ultra-comfortable & breathable material blend
200-needle stitching for advanced detail & design
Reinforced heel & toe for additional wear-resistance
Non-slip, 'stay-up' cuff
Seamless toe to prevent rubbing and blistering
Comfortable thickness, suitable for every season
Exclusive and unique patterns
Machine washable
Fits men's US shoe size 9, 10, 11, 12 & 13
Gold/Yellow Color Socks with Black Stitched Design

Why Choose New Orleans Crew Socks (NOLA) from Just Fun Socks?

Our Old School NOLA socks are sure to satisfy your style and comfort needs, and with our 30-day return and exchange policy, you can be confident you'll love them almost as much as you love a trip to New Orleans!  Add these multicolor socks to your cart along with other Louisiana favorites like New Orleans Jester Drum and Gator Gator and receive free shipping on your order over $35.  

These colorful socks are crafted from a premium cotton blend designed to keep your feet comfortable and stylish all day long.  Woven into the fabric, the pattern is long-lasting for many wears to come.  Our premium blend ensures a perfect fit so one size fits most shoe sizes.  Plus, the ribbed cuff design keeps your socks in place whether you're heading to work, the French Quarter, or just lounging at home.

Just Fun Socks makes themed socks, funny socks, colorful socks, and comfy socks, but rest assured, all our socks are fun socks.  These fun crew socks for men are sure to pair with your favorite dress shoes or sneakers and get you a few compliments out on Bourbon Street too.  Order online now and we'll hop on a streetcar and get these cool crew socks to your door ASAP!
SIZING:

Women - Fits U.S. Shoe Size 6-10

Men - Fits U.S. Shoe Size 9-13

Kids - Fits Shoe Size 1-5, Ages 6-10

MATERIALS

Woven - Cotton, Nylon & Spandex Blend

Printed - Cotton & Polyester Blend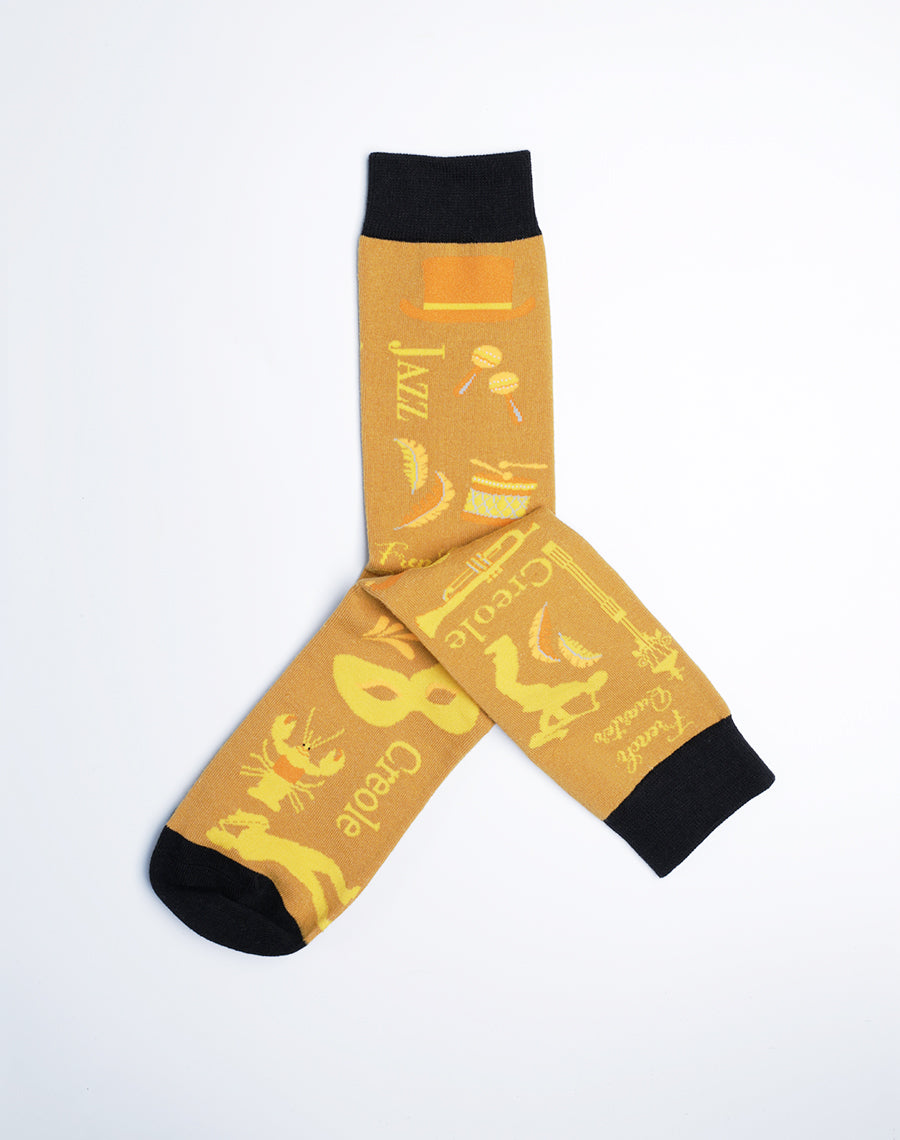 Testimonials
Great selection of socks. Variety of sizes and colors that you don't see at other shops!
I love the socks! They're super comfy and have creative designs. If you're looking for socks as gifts, this is the perfect place.
I purchased the Cowprint and the Corgi Love socks. So cute and comfy!
Such an amazing experience. Definitely coming back.
Not just funny socks, but funny socks that fit very, very well.
Tons of options... Found exactly what I was looking for!
Yes, it's just socks and they are fun! I found a pair for each of my family of four as stocking stuffers.
I can't wait to come back and get more socks