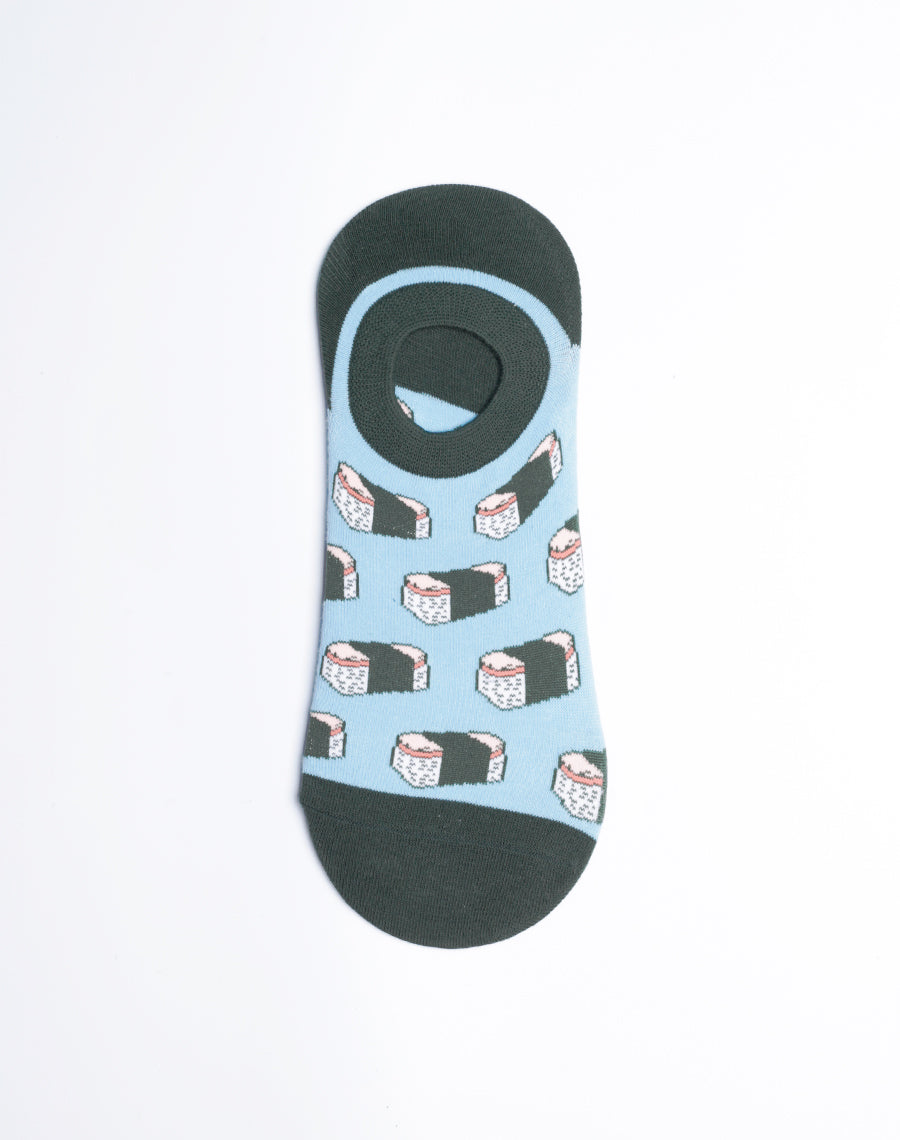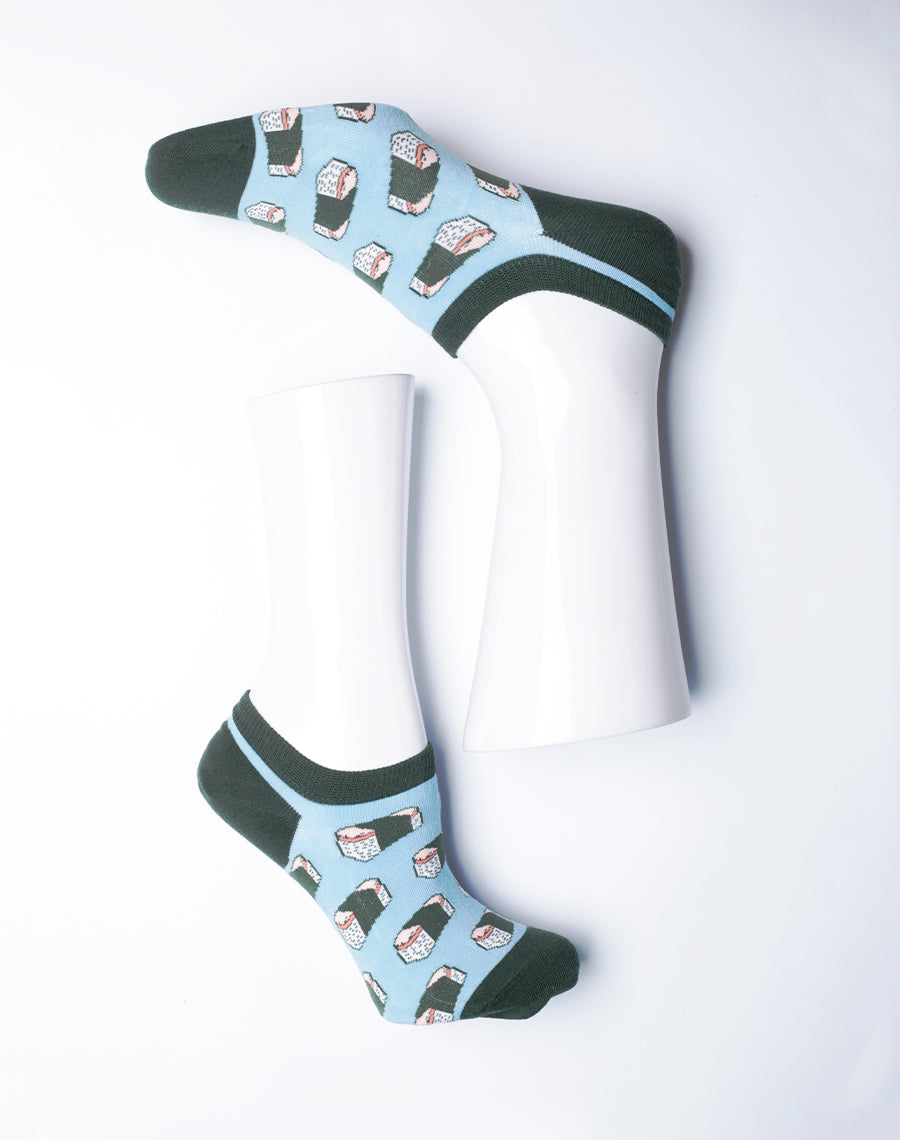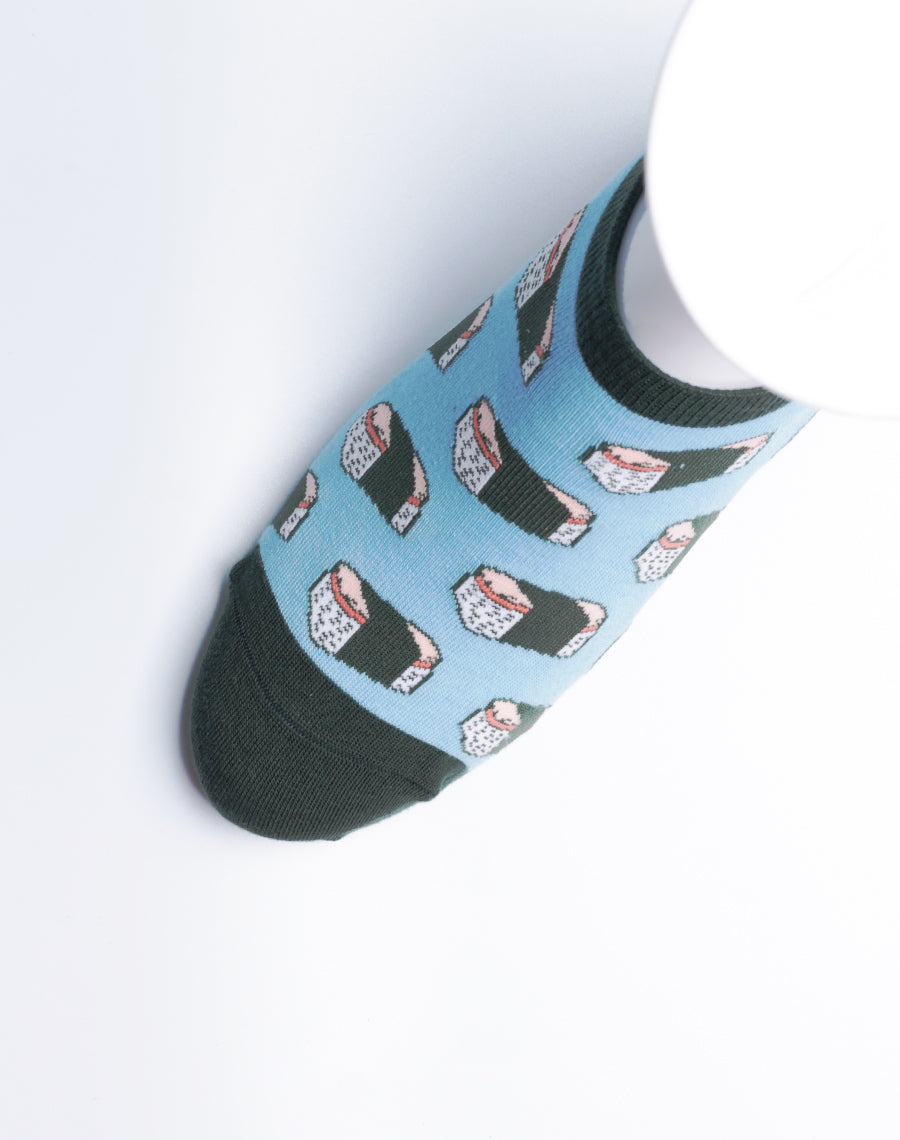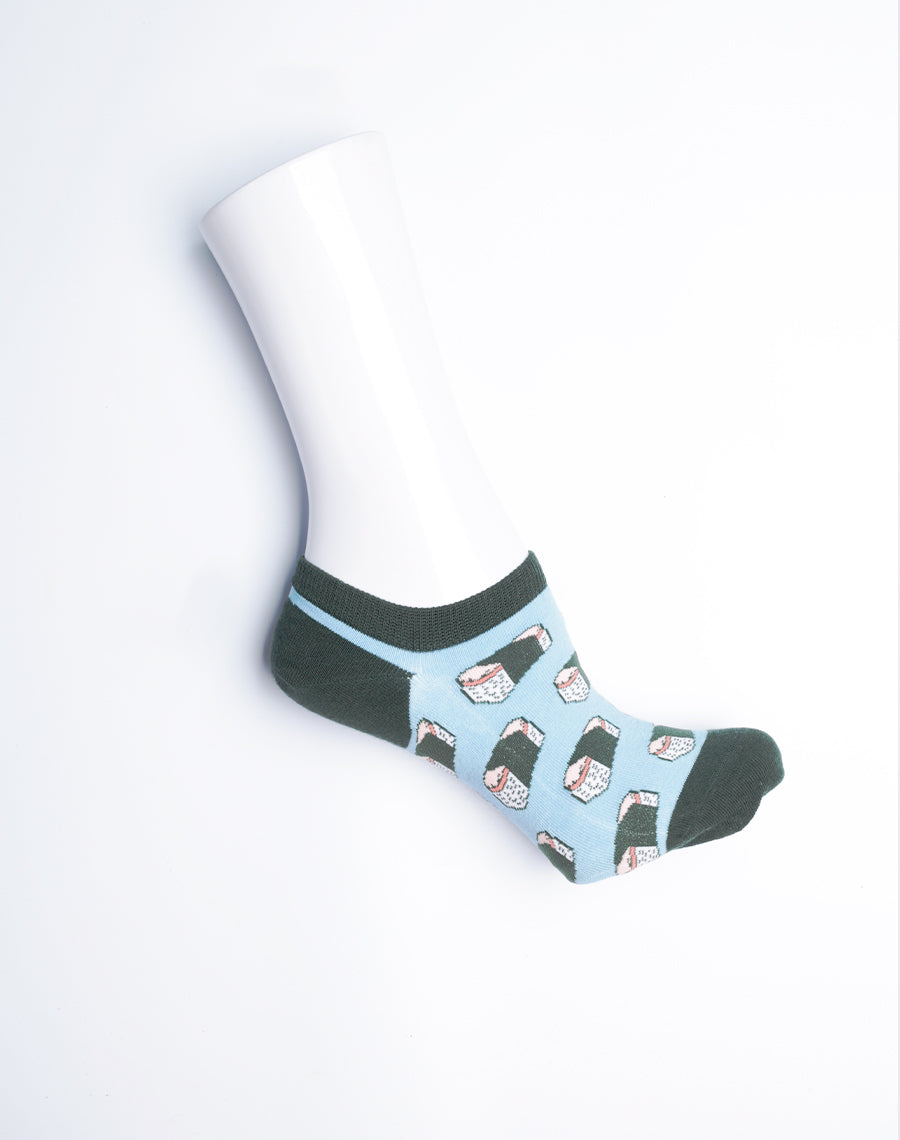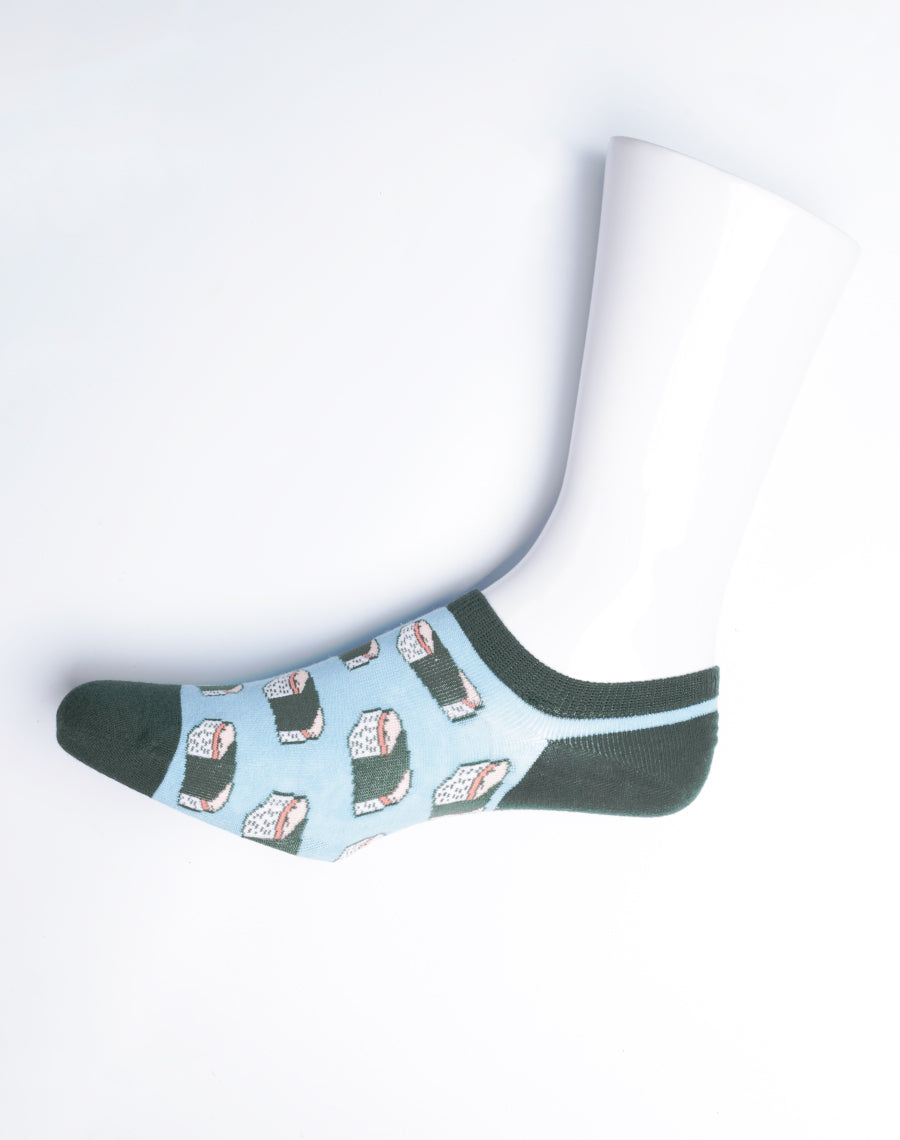 Men's SPAM Musubi No Show Socks
Presenting the Musubi No-Show Socks, inspired by the universally loved Hawaiian delicacy, SPAM Musubi. A staple of Oahu, SPAM Musubi is a versatile treat savored at breakfast, lunch, or dinner, and now, our personal favorite, on your feet! Infuse a taste of Hawaiian culture into your everyday style and flaunt your affection for this iconic Hawaiian dish, hidden within your shoes.

Whether you're adventuring through Hawaii's lush jungles or simply in search of a unique and fun pair of socks, our Musubi no-show socks are an excellent choice. The light blue hue offers enough versatility to complement any outfit, while the concealed Musubi pattern injects a dose of fun and flair.

Remember, you are what you eat, so why not subtly transform into a walking Musubi with these Musubi No-Show Socks from our Hawaii Island Collection. Also available in a women's pale yellow crew sock and a Men's blue crew sock. Mahalo!

Features of Hawaiian Food No Show Socks:

Ultra-comfortable & breathable material blend
No show, no slip heel

Reinforced heel & toe for additional wear-resistance
Seamless toe to prevent rubbing and blistering
Exclusive and unique patterns
Machine washable
Fits Men's US shoe size 9, 10, 11, 12, and 13
Blue color socks with multi-colored design

Why Choose Hawaiian Food Musubi No Show Socks from Just Fun Socks?

These light blue food-themed no-show socks for men are designed to cater to your style and comfort needs, and with our 30-day return and exchange policy, we guarantee you'll be coming back for more. Add these unobtrusive tropical treats to your cart along with other leading now show sock designs like Tribal Turtle No Show, and receive free shipping on your U.S. order over $35.

Just Fun Socks are crafted from a superior blend of materials, ensuring comfort and breathability with each wear. The design, cleverly woven into the sock fabric, promises longevity, while our versatile material blend offers a one-size-fits-most perfect fit, even though they're out of sight.

At Just Fun Socks, we produce a variety of socks, including food socks, funny socks, Hawaiian socks, and colorful socks, but all our socks share one common factor - they're all fun socks! These tropical no show socks for men are sure to draw compliments from fellow Musubi lovers. Place an order online now, and our team will put their beach day on hold to rush these food-themed socks to your doorstep ASAP!
SIZING:

Women - Fits U.S. Shoe Size 6-10

Men - Fits U.S. Shoe Size 9-13

Kids - Fits Shoe Size 1-5, Ages 6-10

MATERIALS

Woven - Cotton, Nylon & Spandex Blend

Printed - Cotton & Polyester Blend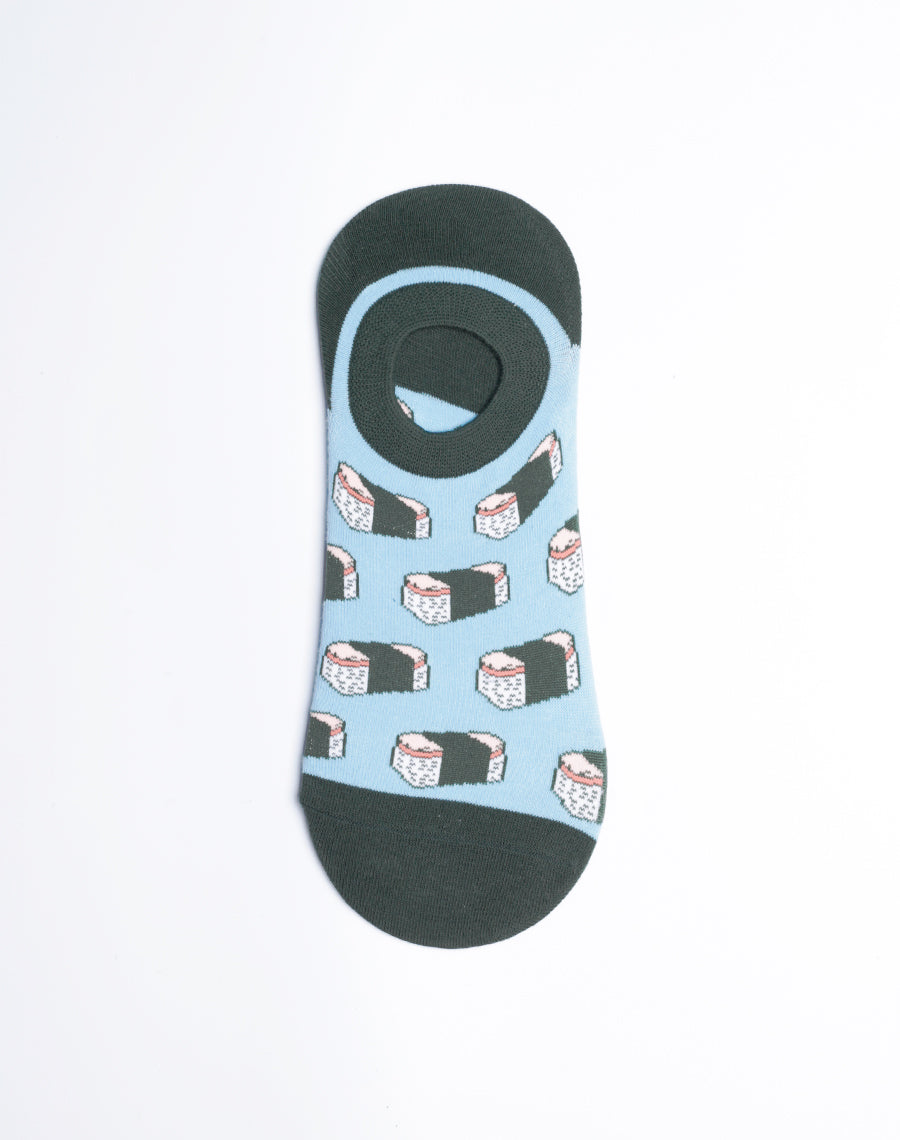 Testimonials
Great selection of socks. Variety of sizes and colors that you don't see at other shops!
I love the socks! They're super comfy and have creative designs. If you're looking for socks as gifts, this is the perfect place.
I purchased the Cowprint and the Corgi Love socks. So cute and comfy!
Such an amazing experience. Definitely coming back.
Not just funny socks, but funny socks that fit very, very well.
Tons of options... Found exactly what I was looking for!
Yes, it's just socks and they are fun! I found a pair for each of my family of four as stocking stuffers.
I can't wait to come back and get more socks