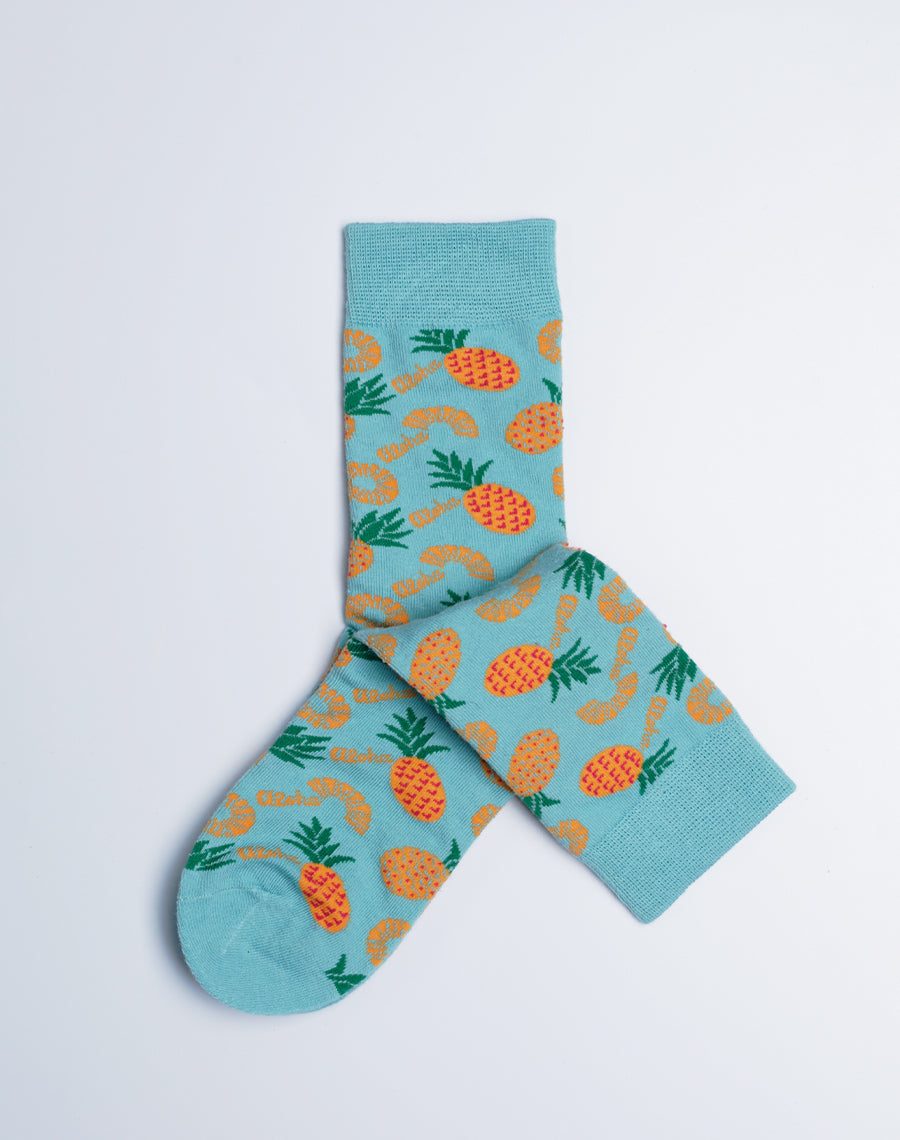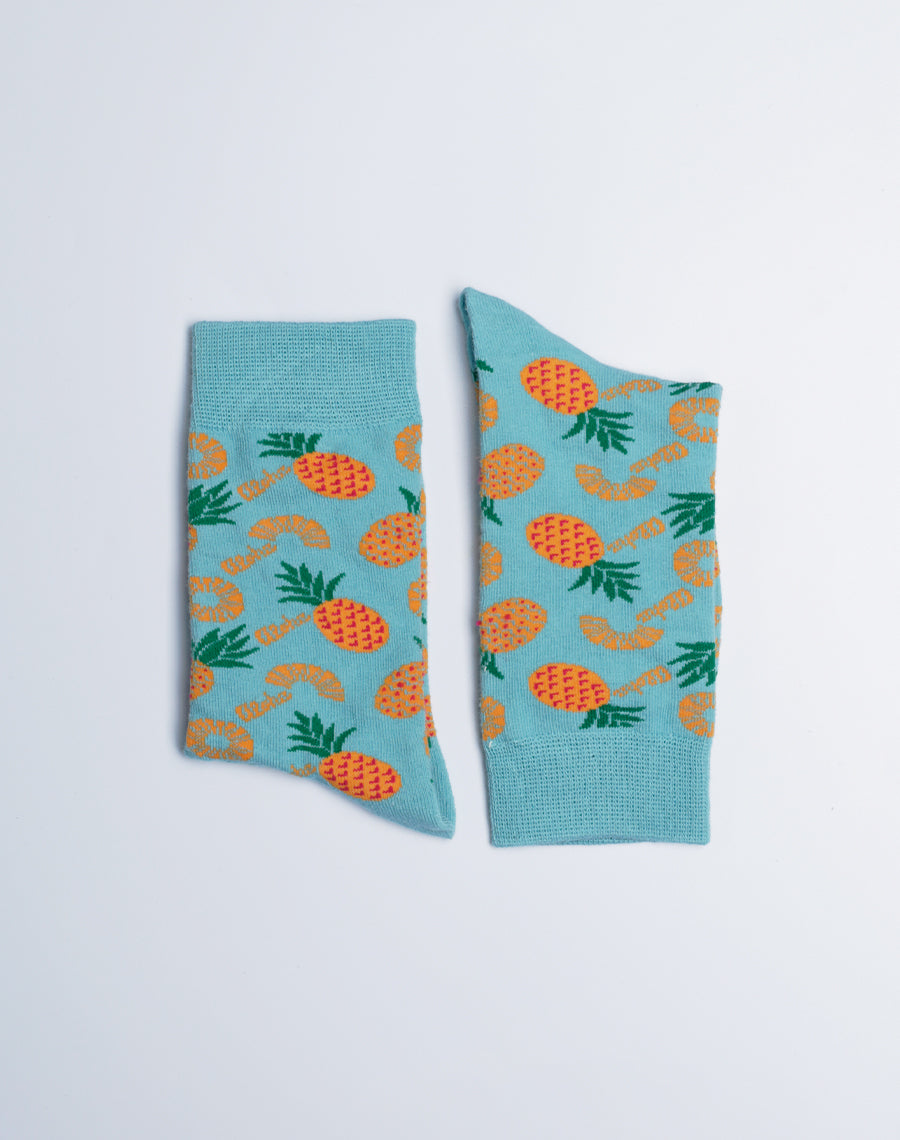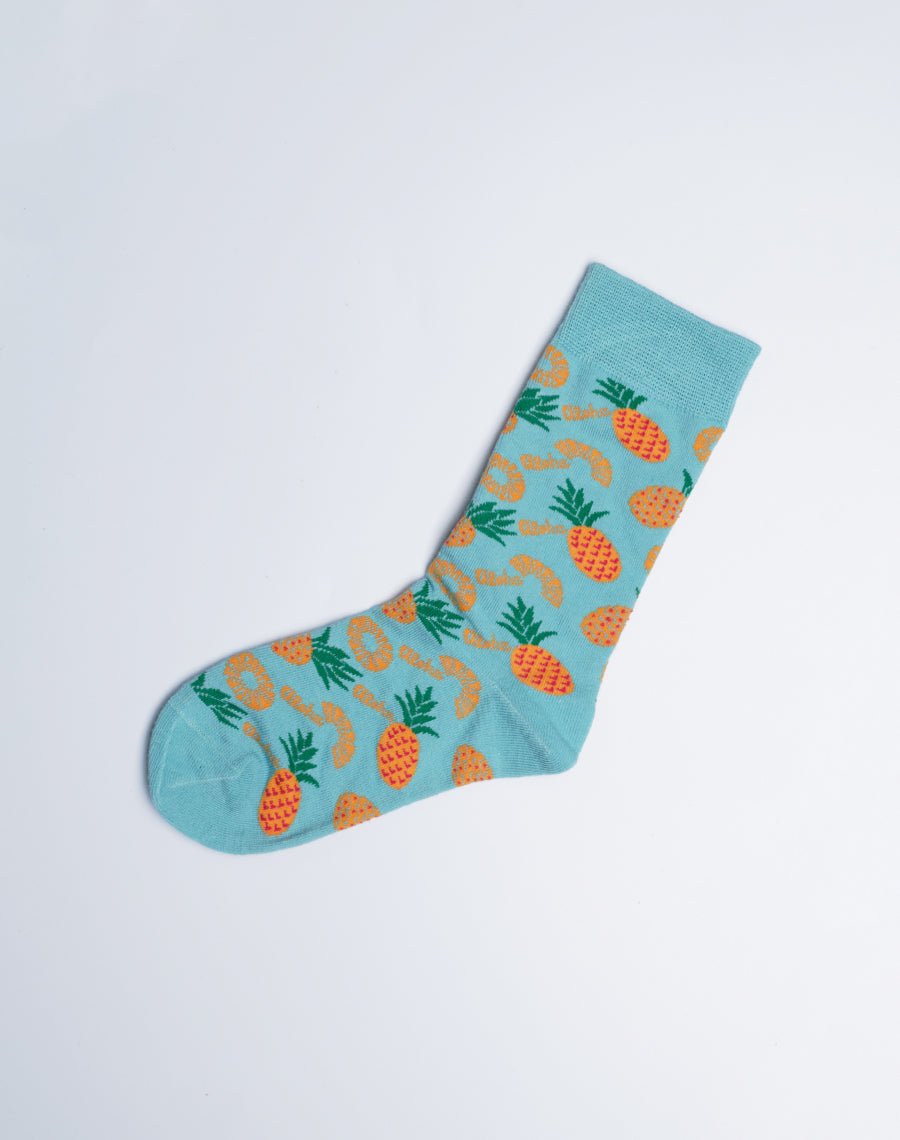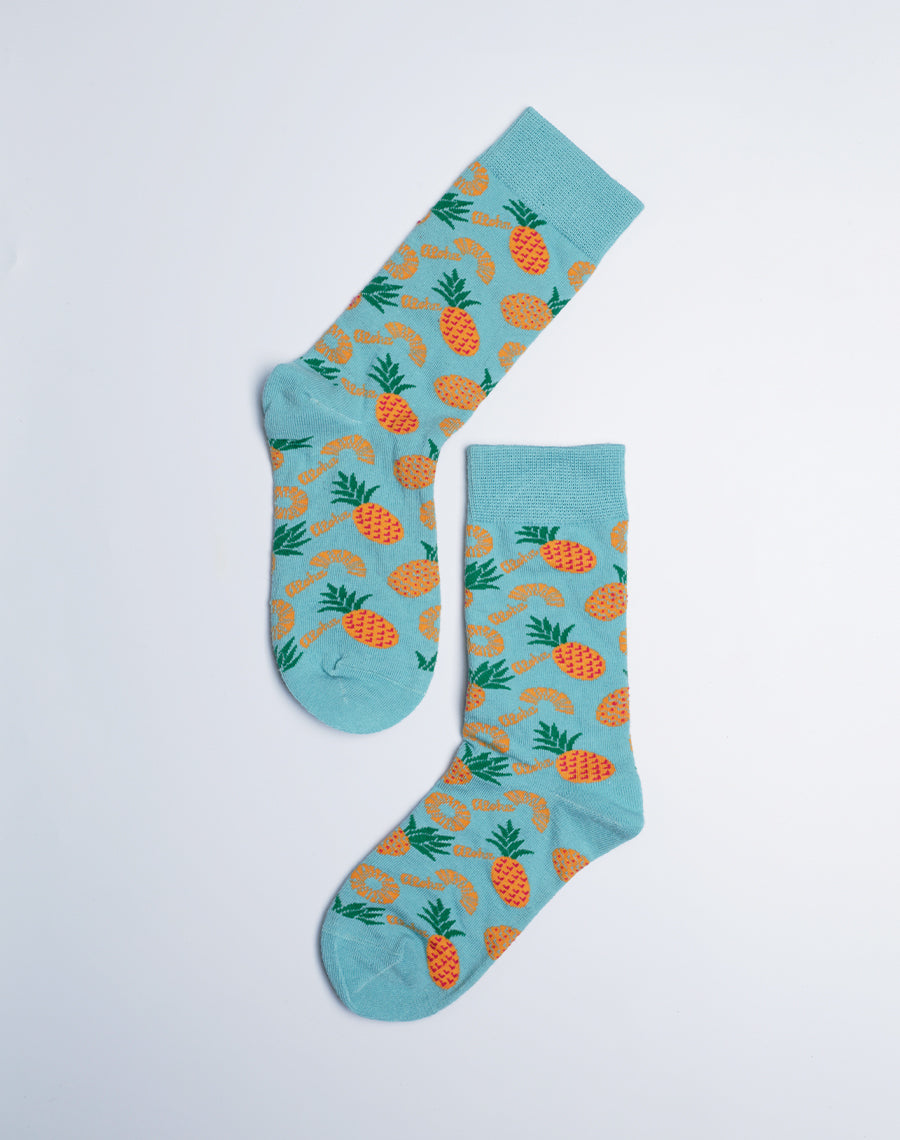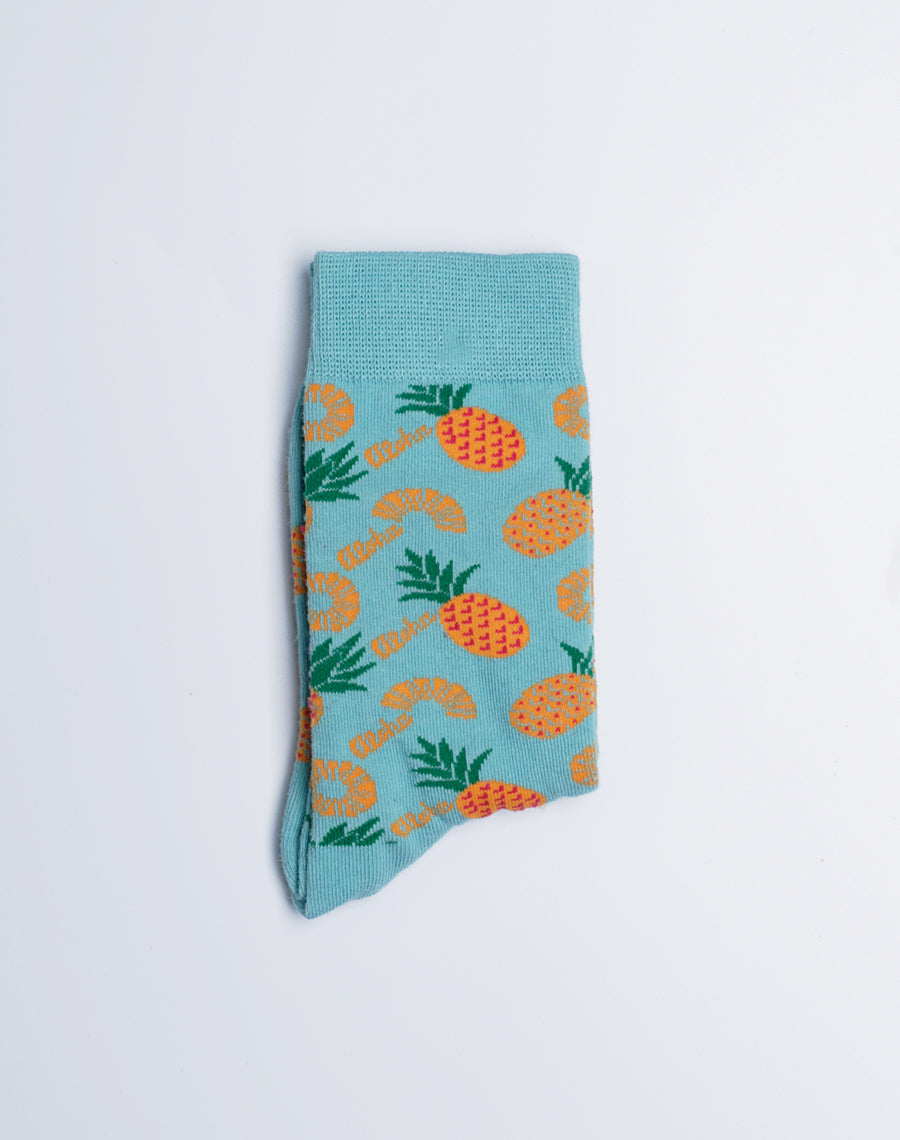 Kids Aloha Pineapple Tropical Crew Socks
Like father, like mother, like child rings true when it comes to our Kids Aloha Pineapple Crew Socks. This wildly popular pineapple sock is now available in a children's sock so the whole family can match!

These ocean blue socks are sure to excite (like a trip to Hawaii but at a fraction of the cost) and feature a playful pattern of yellow pineapples, adorned with the word "aloha" in fun cursive letters. 

Crafted from high-quality materials, these fun socks for kids are soft, comfortable, and durable, making them perfect for all-day wear. With a universally loved color & pattern, these pineapple socks are one-size-fits most making them great as boys crew socks or girls crew socks. They can withstand even the most active little ones, while the breathable fabric blend helps keep feet cool and dry.

Available in a Men's Blue and Women's Pink size. Exclusively from the Just Fun Socks Hawaii Island Collection.

 

Features of Kids Pineapple Crew Socks:

Super-comfy blend of cotton, nylon, and spandex
Non-slip cuff
Premium weaving & stitching
Fun & unique patterns
Machine washable
Fits kids US shoe size 1, 2, 3, 4, 5 (ages 6, 7, 8, 9, 10)
Blue color socks

 

Why Choose Kids Pineapple Crew Socks from Just Fun Socks?

These patterned kids socks are the perfect comfort accessory for any kid's outfit, adding a touch of fun and personality to their style. With our 30-day return and exchange policy, you'll be sure to love these socks almost as much as your kids love pineapples and the beach.  If you're shopping for little ones, try these other favorites like Kids Tribal Turtle and Kids Big Wave Pineapple and receive free shipping on your U.S. order over $35. 

Made from high-quality materials, these kids socks are soft, comfortable, and durable.  The colorful pineapples and cheerful "Aloha" message make these socks the perfect accessory for any kid's outfit, adding a touch of fun and personality to their style. They're also one size fits most, so you they will continue to fit quickly growing feet up to about 10 years old. 

Just Fun Socks makes girls crew socks, boys crew socks, playful socks, and colorful socks, but all our socks are fun socks.  Order online now and team of parents will get these socks to you ASAP!
SIZING:

Women - Fits U.S. Shoe Size 6-10

Men - Fits U.S. Shoe Size 9-13

Kids - Fits Shoe Size 1-5, Ages 6-10

MATERIALS

Woven - Cotton, Nylon & Spandex Blend

Printed - Cotton & Polyester Blend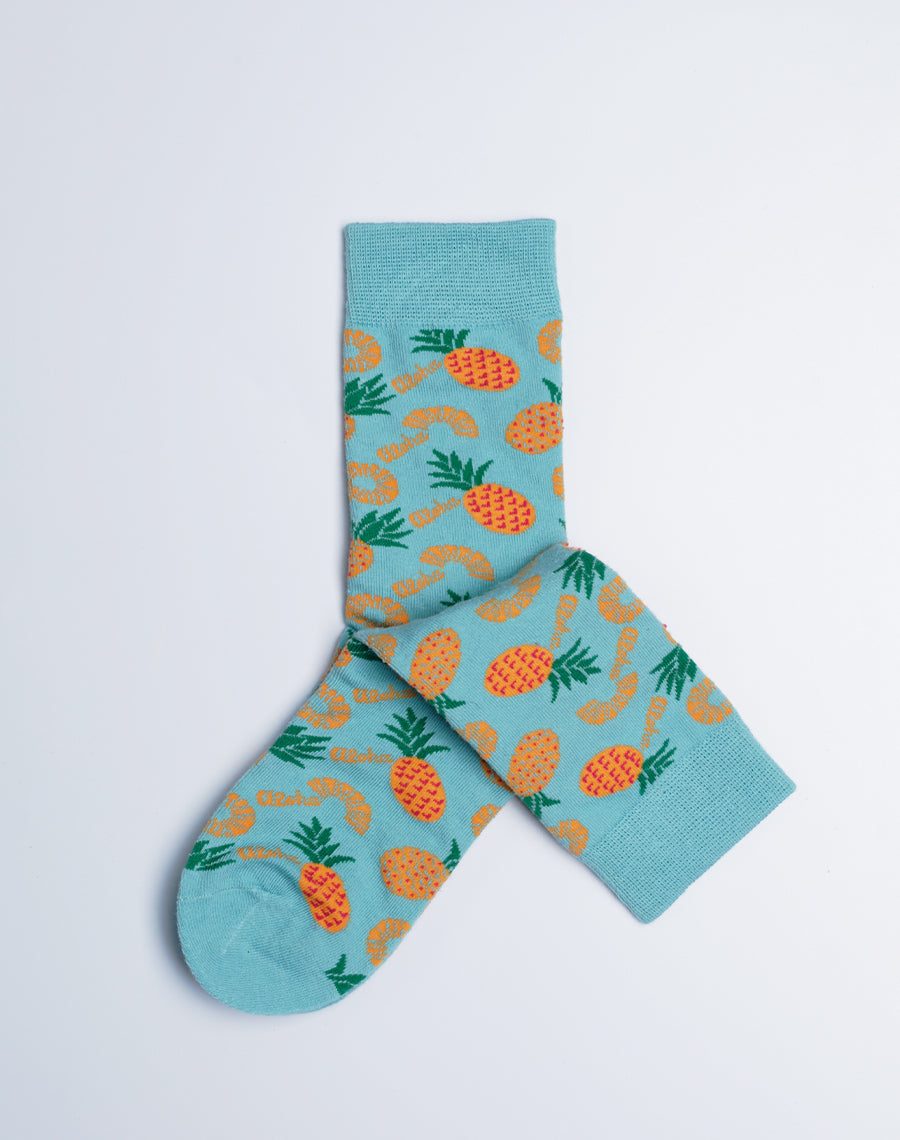 Testimonials
Great selection of socks. Variety of sizes and colors that you don't see at other shops!
I love the socks! They're super comfy and have creative designs. If you're looking for socks as gifts, this is the perfect place.
I purchased the Cowprint and the Corgi Love socks. So cute and comfy!
Such an amazing experience. Definitely coming back.
Not just funny socks, but funny socks that fit very, very well.
Tons of options... Found exactly what I was looking for!
Yes, it's just socks and they are fun! I found a pair for each of my family of four as stocking stuffers.
I can't wait to come back and get more socks