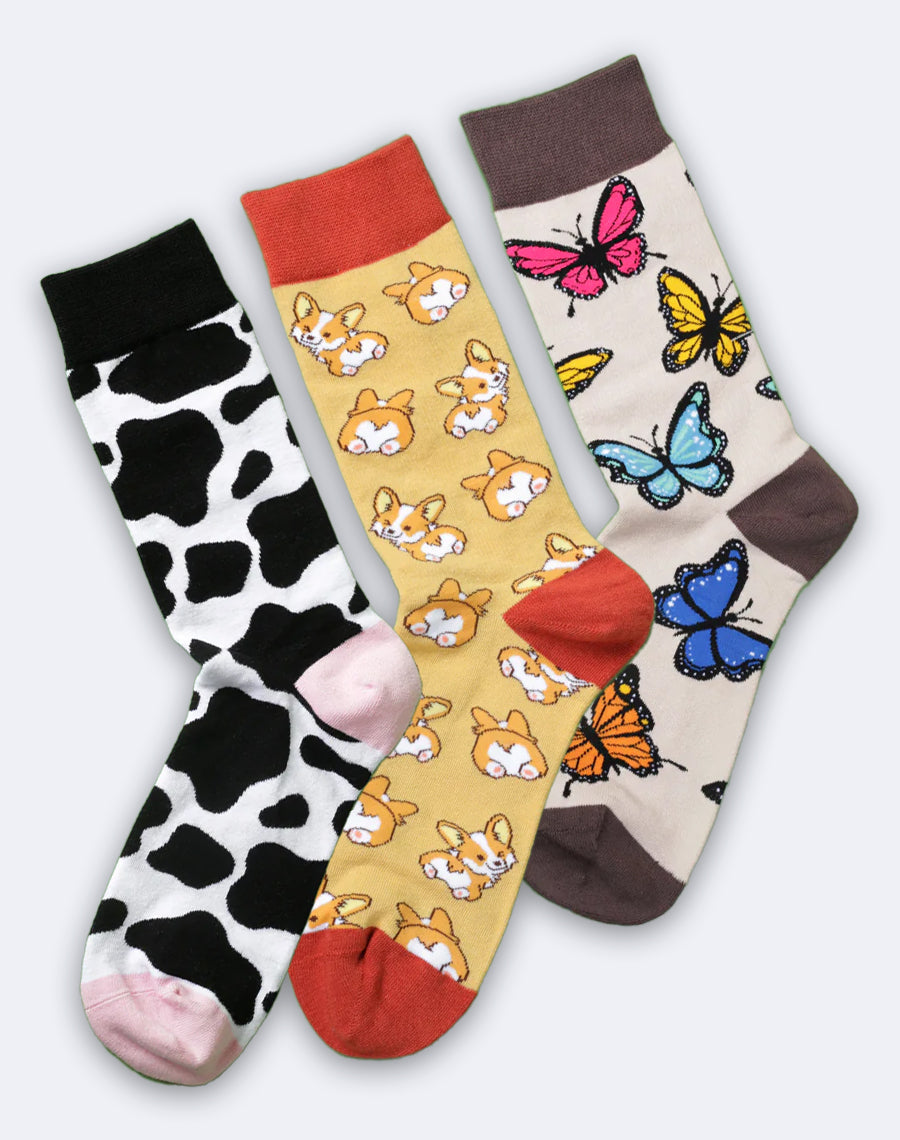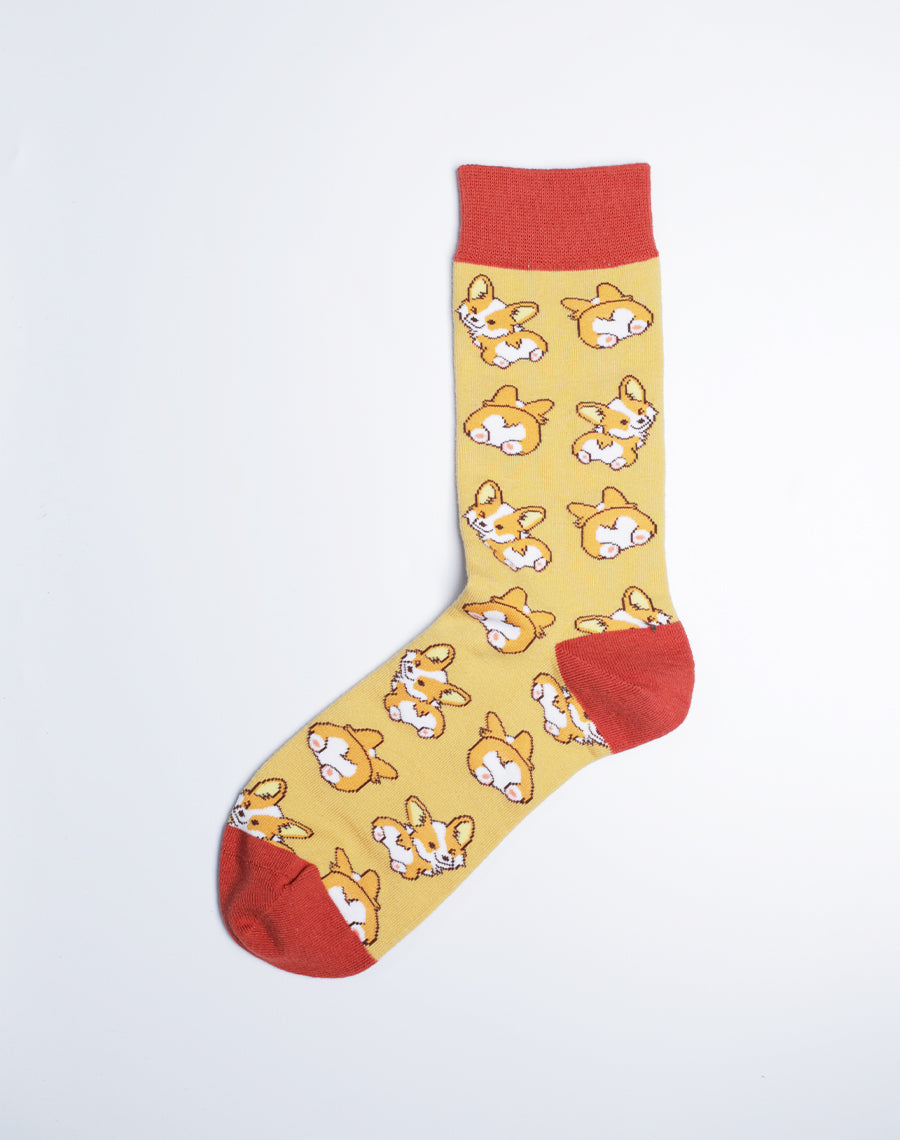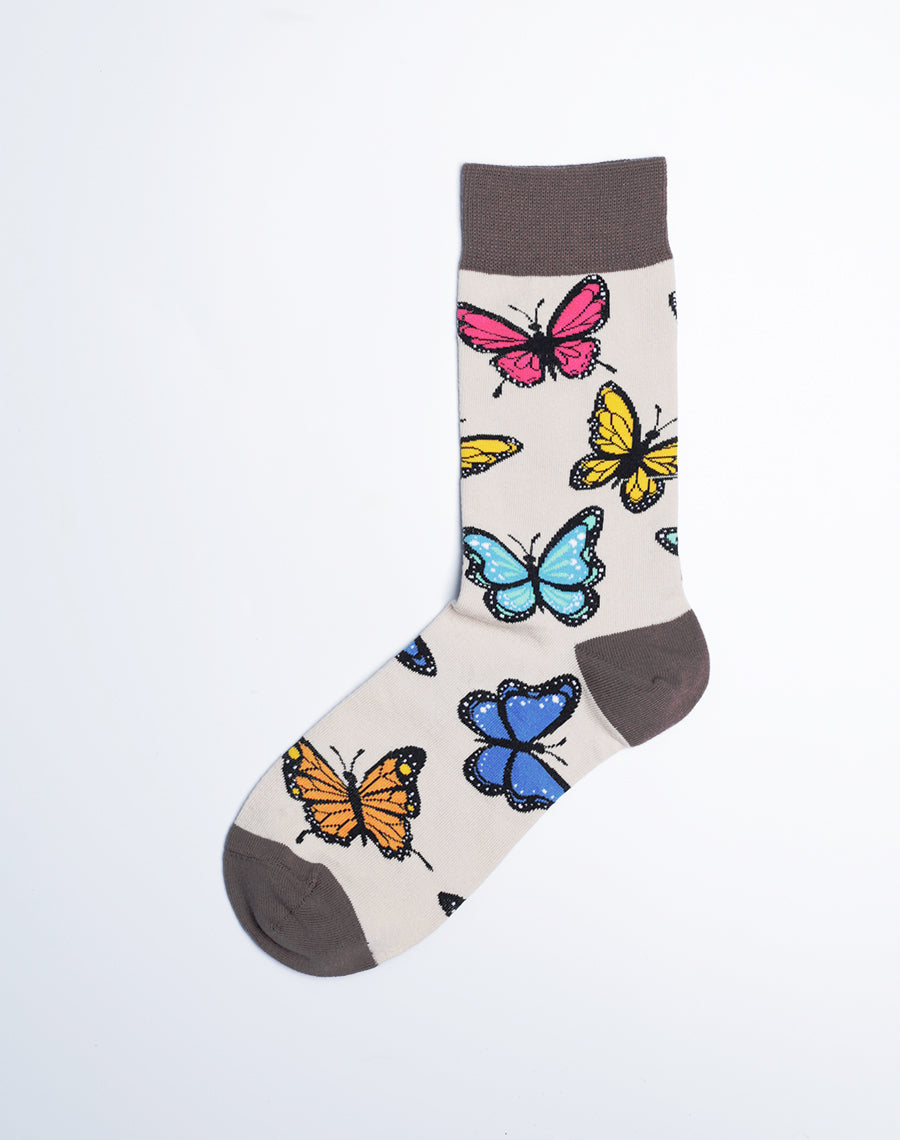 Women's Creatures and Cuteness Animal Crew Socks Pack | 3-Pair Bundle
Introducing the Creatures & Cuteness Animal Socks Bundle Pack from Just Fun Socks: A delightful mix of adorable and enchanting animal-themed socks that add a touch of whimsy and joy to your sock drawer. This captivating bundle showcases a captivating mix of patterns inspired by a beloved dog breed, an iconic farm animal, and the delicate beauty of fluttering butterflies.

 

Women's Cowprint Animal Crew Socks (Black & White): Embrace your wild side with these eye-catching cow print animal crew socks. The bold cow print pattern adds a sense of fun and style to any outfit, while the comfortable blend of materials ensures your feet stay cozy and supported throughout the day. Make a statement with these unique and fashionable socks.
Women's Corgi Love Dog Crew Socks (Gold): Show off your affection for these lovable canines with these adorable Corgi Love Dog crew socks for women. Featuring a cute corgi pattern in a vibrant gold, yellow, and red color palette, these socks are perfect for dog lovers or anyone seeking a dash of playfulness.
Women's Bunches of Butterflies Crew Socks (Beige): Add some nature to your wardrobe with these enchanting Bunches of Butterflies crew socks. Featuring a beautiful and colorful butterfly pattern in a warm beige and brown color scheme, these ladies socks are ideal for anyone who appreciates the grace and beauty of these delicate creatures.

 

Upgrade your sock collection with the Creatures & Cuteness Animal Sock Bundle and enjoy a delightful blend of comfort, charm, and style. Order now and let your feet express your fun-loving personality with every step you take!




Features of Animal Crew Socks Pack:

Ultra-comfortable & breathable material blend
200-needle stitching for advanced detail & design
Reinforced heel & toe for additional wear-resistance
Non-slip, 'stay-up' cuff
Seamless toe to prevent rubbing and blistering
Comfortable thickness, suitable for every season
Exclusive and unique patterns
Machine washable
Fits women's US shoe size 6, 7, 8, 9, & 10
Three socks of various colors and stitching patterns





Why Choose the Animal Crew Sock Bundle from Just Fun Socks?

Our 3-pair bundled crew socks are sure to satisfy your style and comfort needs. Not only is this bundle better value than our individual socks, but it also qualifies for free shipping over $35 and our 30-day return and exchange policy - shopping for socks online has never been so easy!

Crafted with care from top-quality materials, these crew socks for women are as durable as they are fashionable. Our stretchy and breathable fabric ensures a perfect fit so one size fits most.  Plus, the non-slip design keeps your socks in place, no matter what your day looks like. 

Just Fun Socks makes dog socks, farm socks, nature socks, and colorful socks, but all our socks are fun socks.  Order online now and get your new favorite women's crew socks delivered at your door ASAP!
SIZING:

Women - Fits U.S. Shoe Size 6-10

Men - Fits U.S. Shoe Size 9-13

Kids - Fits Shoe Size 1-5, Ages 6-10

MATERIALS

Woven - Cotton, Nylon & Spandex Blend

Printed - Cotton & Polyester Blend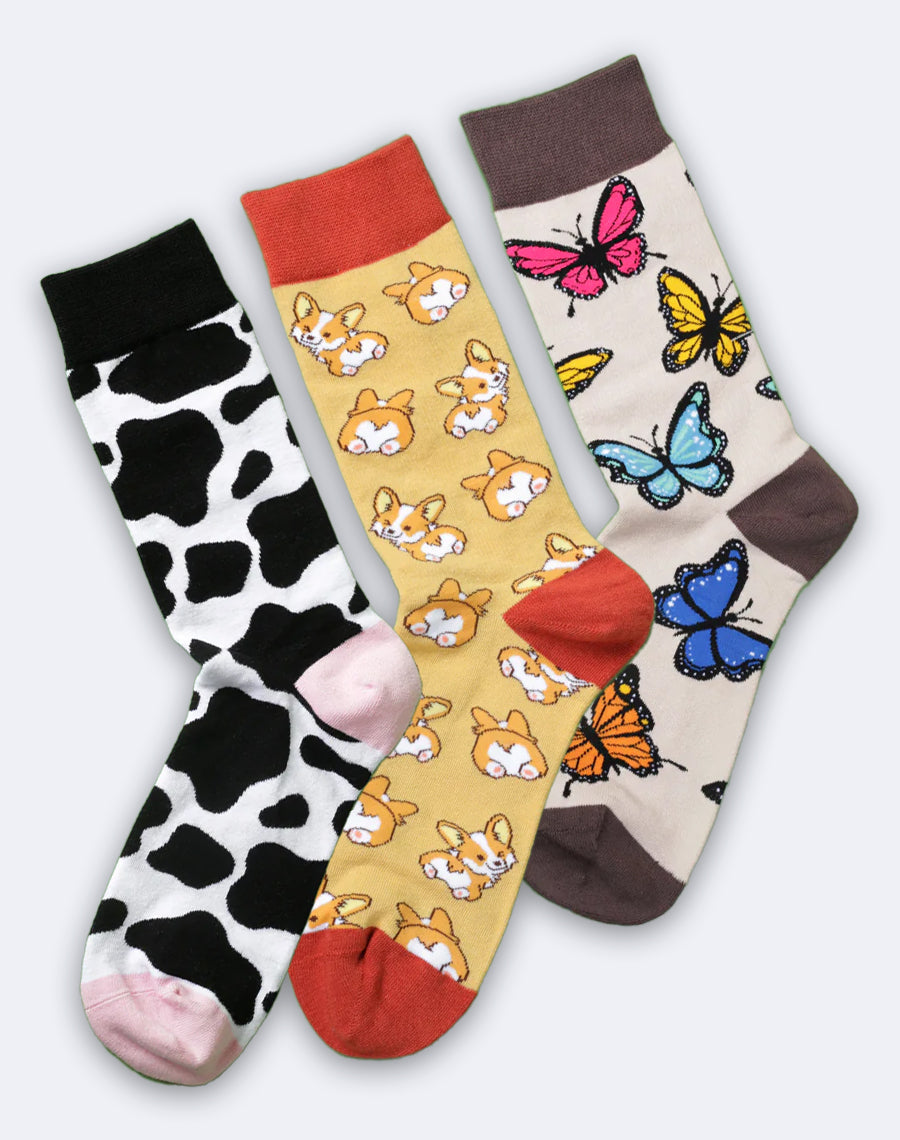 Testimonials
Great selection of socks. Variety of sizes and colors that you don't see at other shops!
I love the socks! They're super comfy and have creative designs. If you're looking for socks as gifts, this is the perfect place.
I purchased the Cowprint and the Corgi Love socks. So cute and comfy!
Such an amazing experience. Definitely coming back.
Not just funny socks, but funny socks that fit very, very well.
Tons of options... Found exactly what I was looking for!
Yes, it's just socks and they are fun! I found a pair for each of my family of four as stocking stuffers.
I can't wait to come back and get more socks