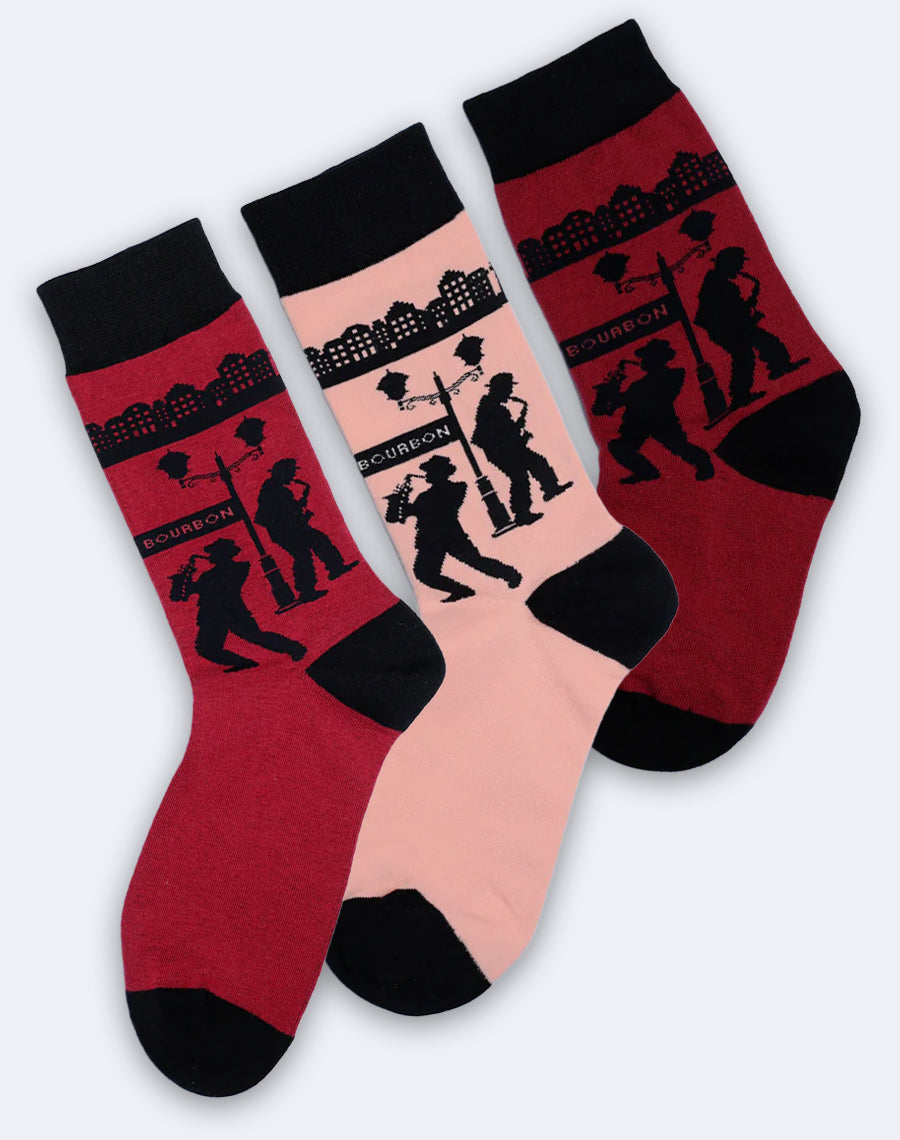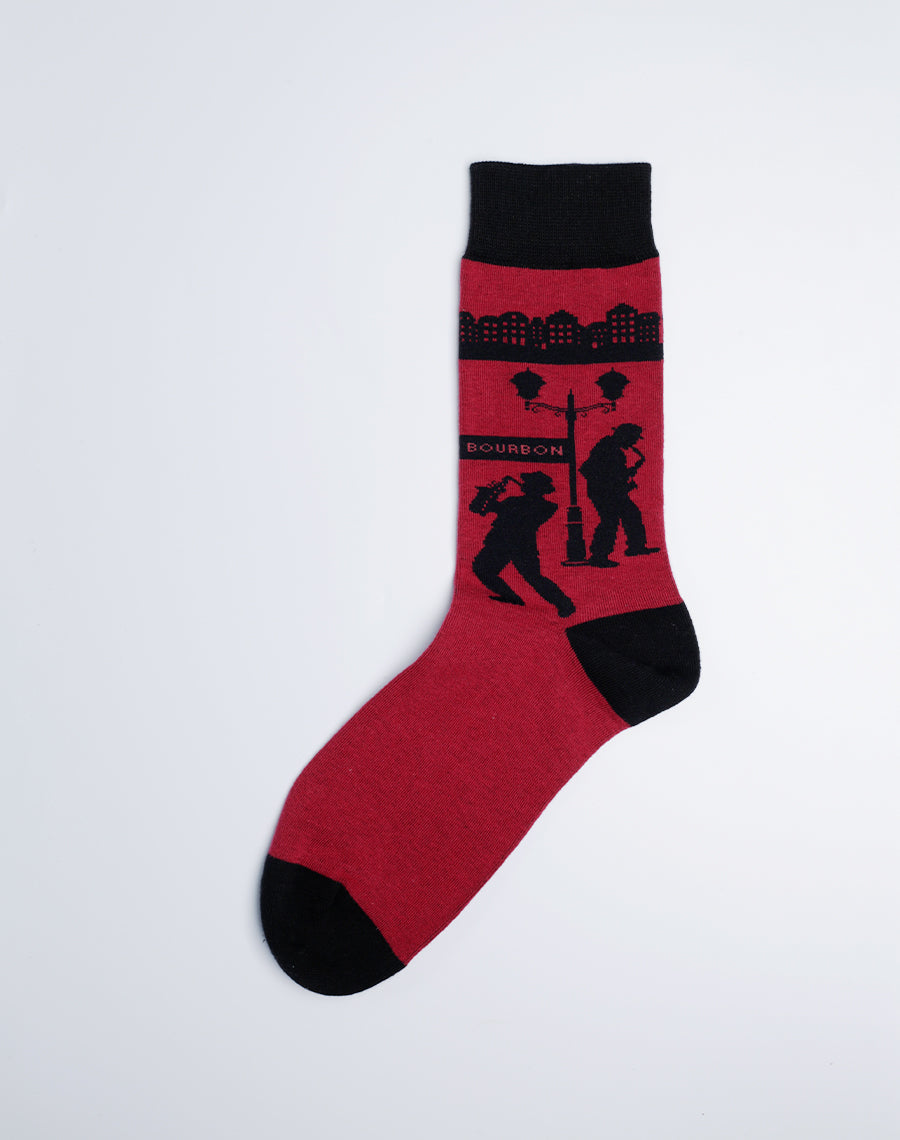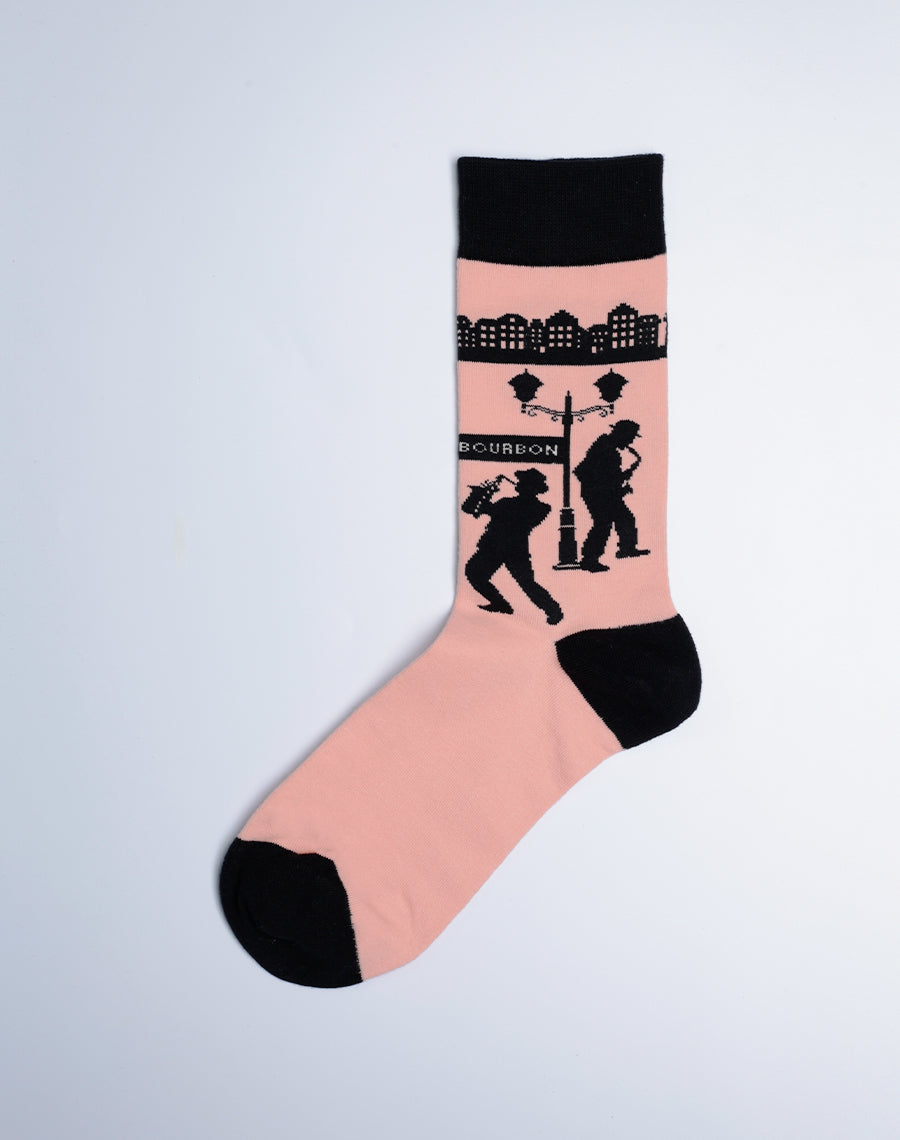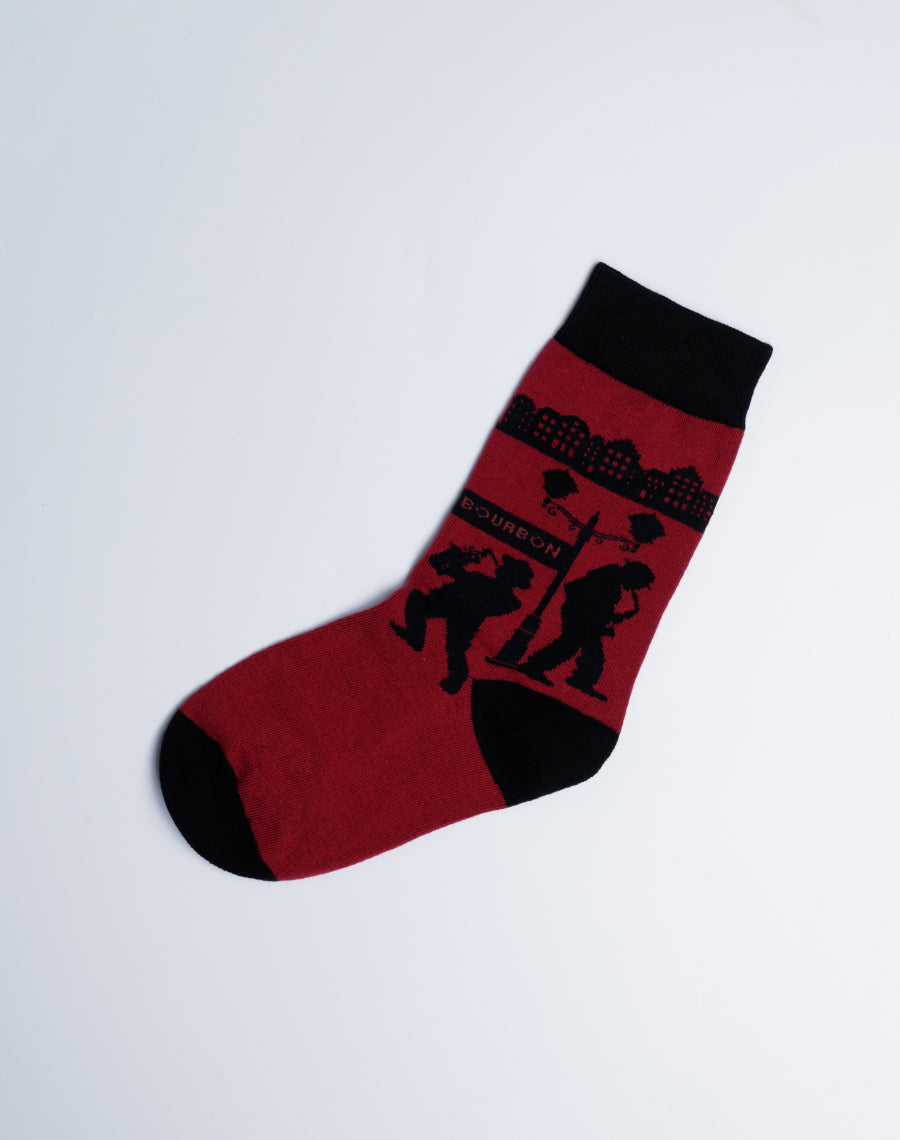 Family Bourbon Street Jazz Matching Crew Socks | 3-Pair Bundle
Step into the rhythmic vibes of New Orleans with our Bourbon Street Jazz Family Sock Bundle for men, women, and kids!

Introducing the Bourbon Street Jazz Family Sock Bundle, a melodious collection that brings the lively and rhythmic spirit of New Orleans jazz to your family's feet! This family sock bundle features a trio of jazz-themed socks for men, women, and kids, ensuring that every family member can step out in coordinated, fun, and stylish fashion. The crew socks vibrant colors and playful jazz patterns are sure to add a dash of musical joy and unity to your family outings, casual days, and cozy nights in. Crafted from comfortable cotton and available in various sizes, these musical socks promise a comfortable fit for everyone.

For the Dads: Immerse yourself in the musical spirit with the Men's Bourbon Street Jazz Crew Socks in a rich burgundy color. These socks for men, suitable for shoe sizes 9-13, are not only a visual melody but also ensure comfort with their cotton make. These men's socks are machine washable and come with free shipping in the US.

For the Moms: Dance through the day with the Women's Bourbon Street Jazz Crew Socks in a vibrant pink and black color scheme. Crafted from cotton, these socks for women ensure a cozy fit for shoe sizes 5-10 and bring the lively spirit of jazz to your steps.

For the Little Musicians: Let the kids join the band with the Kids Bourbon Street Jazz Crew Socks in a harmonious burgundy color. These children's socks are suitable for boys or girls with US shoe sizes 1-5.

 

Features of Family Crew Sock Packs:

Ultra-comfortable & breathable material blend
200-needle stitching for advanced detail & design
Reinforced heel & toe for additional wear-resistance
Non-slip, 'stay-up' cuff
Seamless toe to prevent rubbing and blistering
Comfortable thickness, suitable for every season
Exclusive and unique patterns
Machine washable
Fits men's US shoe size 9, 10, 11, 12, & 13
Fits women's US shoe size 5, 6, 7, 8, 9 & 10
Fits kids US shoe size 1, 2, 3, 4, 5 (ages 6, 7, 8, 9, 10)
Three socks of various colors and sizes





Why Choose The Bourbon Street Jazz Family Sock Bundle from Just Fun Socks?

Our 3-pair bundled crew socks are sure to satisfy you and your family's style and comfort needs. Not only is this bundle better value than our individual socks, but it also qualifies for free shipping over $35 and our 30-day return and exchange policy - shopping for socks online has never been so easy!

 

Crafted with care from top-quality materials, these mens crew socks, women's crew socks, and kids crew socks are as fun as they are fashionable. Our stretchy and breathable fabric ensures a perfect fit so one size fits most.  Plus, the ribbed crew design keeps your fun socks in place, no matter where your family vacations and family adventures take you.

 

Just Fun Socks makes colorful socks, crazy socks, vacation socks, and matching family socks, but all our socks are fun socks.  Order socks online now and we'll get to packing!

 
SIZING:

Women - Fits U.S. Shoe Size 6-10

Men - Fits U.S. Shoe Size 9-13

Kids - Fits Shoe Size 1-5, Ages 6-10

MATERIALS

Woven - Cotton, Nylon & Spandex Blend

Printed - Cotton & Polyester Blend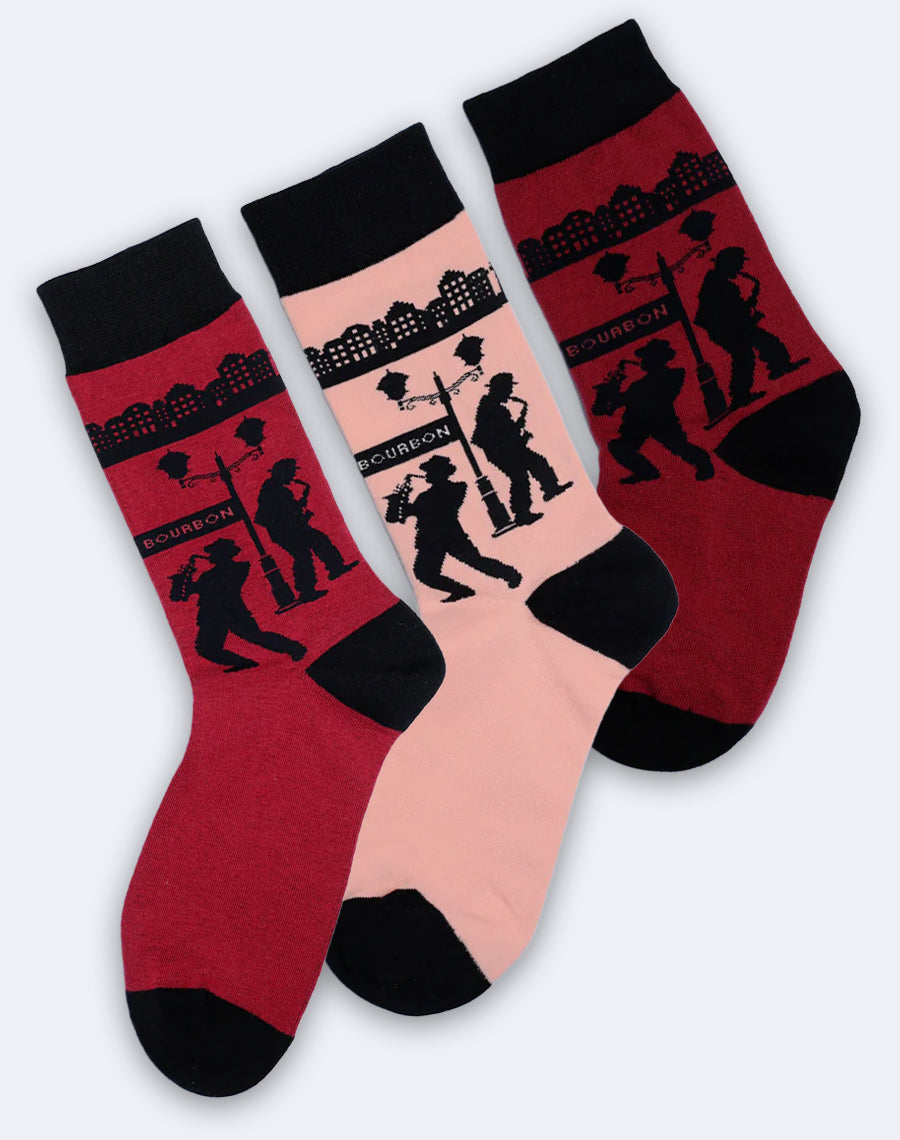 Testimonials
Great selection of socks. Variety of sizes and colors that you don't see at other shops!
I love the socks! They're super comfy and have creative designs. If you're looking for socks as gifts, this is the perfect place.
I purchased the Cowprint and the Corgi Love socks. So cute and comfy!
Such an amazing experience. Definitely coming back.
Not just funny socks, but funny socks that fit very, very well.
Tons of options... Found exactly what I was looking for!
Yes, it's just socks and they are fun! I found a pair for each of my family of four as stocking stuffers.
I can't wait to come back and get more socks