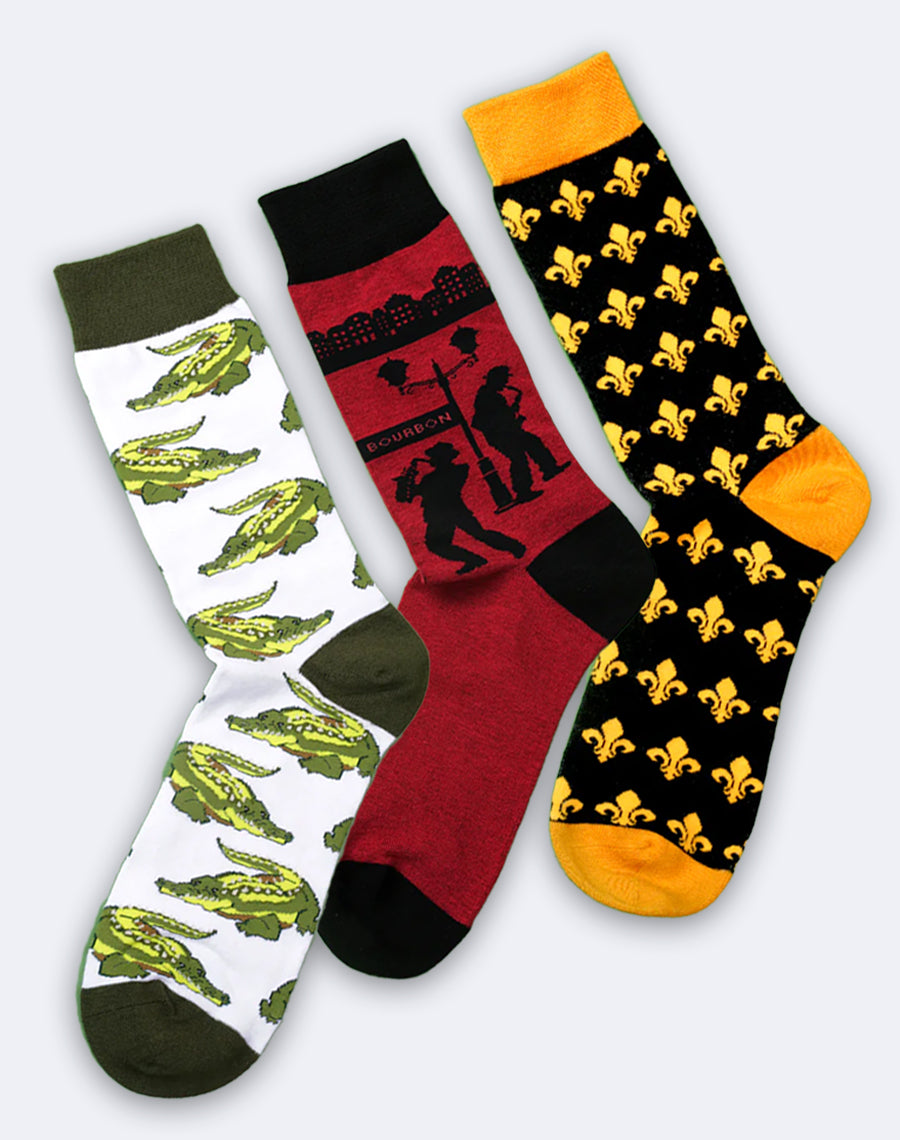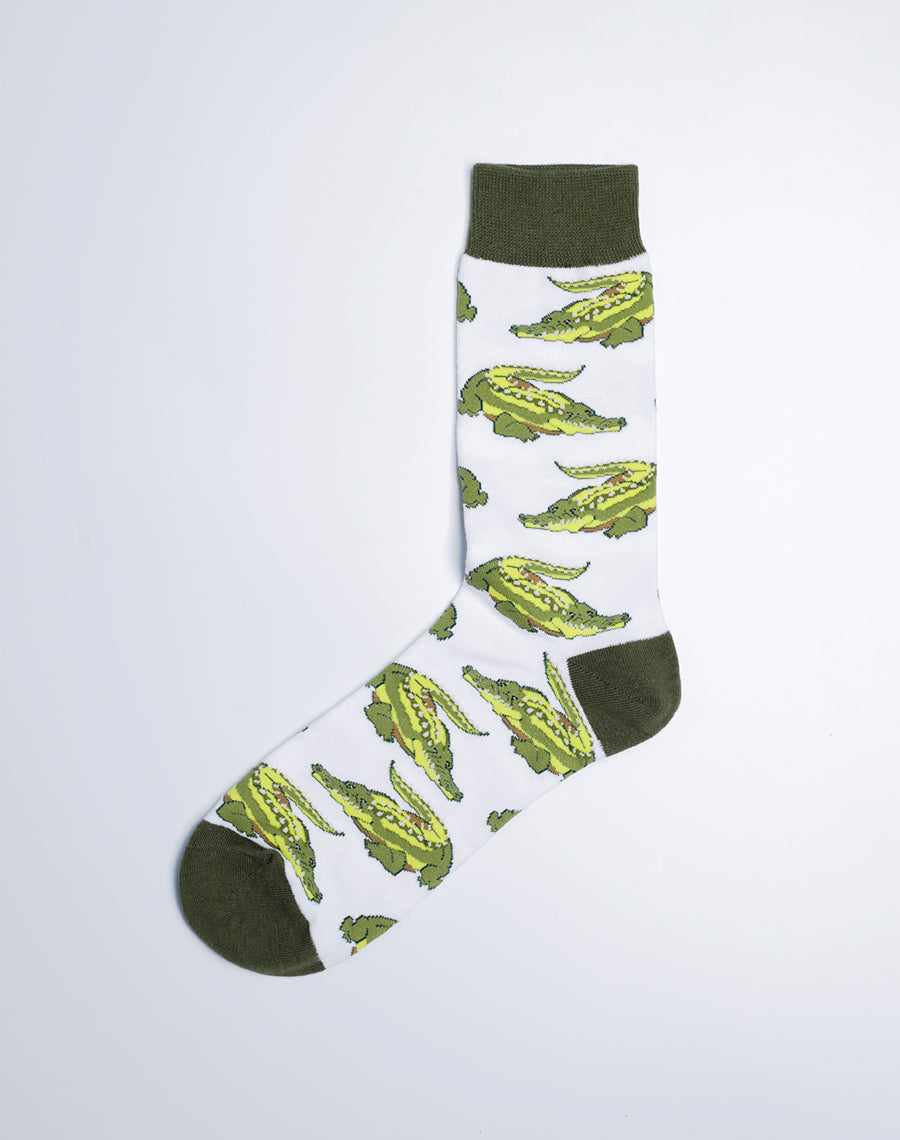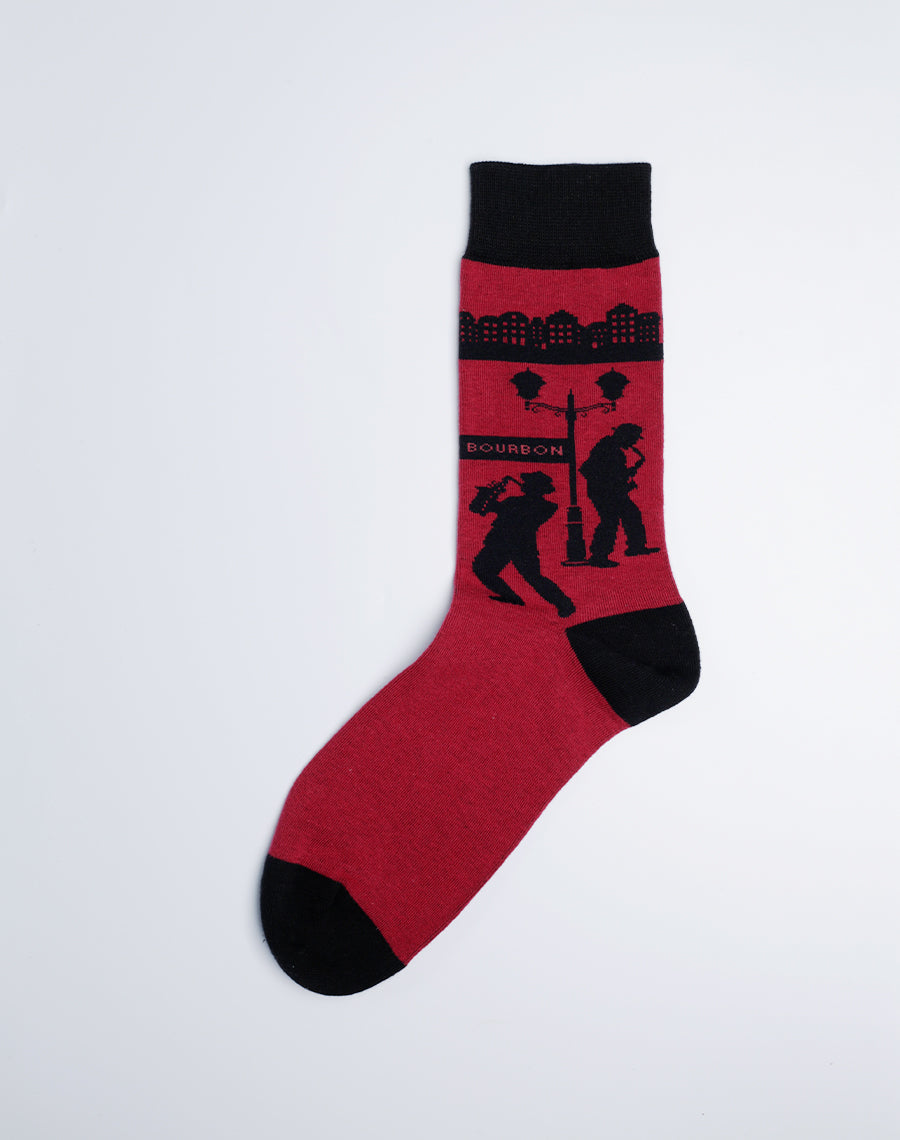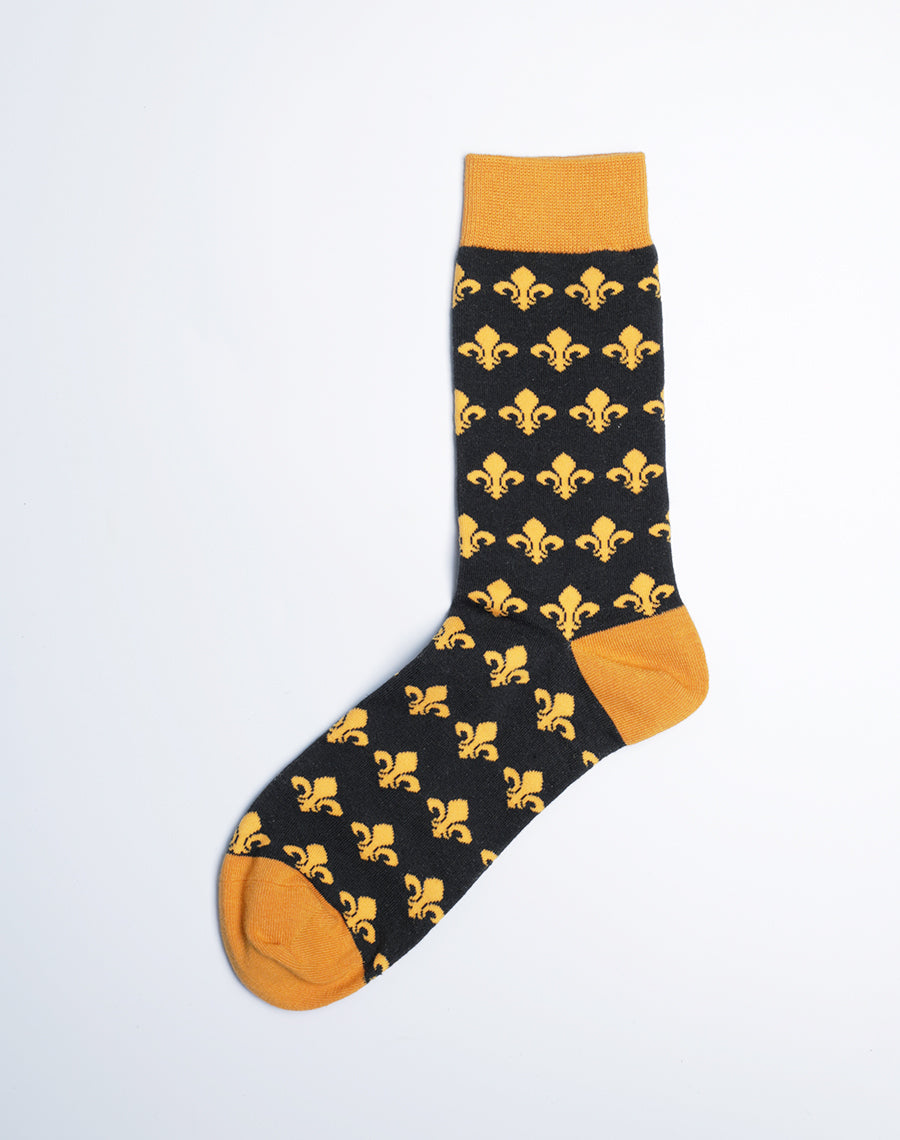 Men's New Orleans Classic Crew Socks Pack | 3-Pair Bundle
Introducing the Just Fun Socks Exclusive New Orleans Trio Bundle – our best selling men's crew socks from our NOLA Big Easy Collection bundled up as one. This collection of three colorful New Orleans inspired socks brings the spirit of the Crescent City right to your feet. Each pair of socks is crafted with a comfortable blend of materials, ensuring a cozy and snug fit that will keep your feet feeling great all day long.

 

Gator Gator Crew Socks (White): Embrace the wild side of the bayou with these playful Gator Gator Alligator Crew Socks. Featuring a white background patterned with energetic alligator designs, these socks are both fun and fashionable. They're perfect for adding a pop of personality to your outfit, whether you're a gator enthusiast or simply enjoy unique sock designs.
Bourbon Street Jazz Crew Socks (Burgundy): Step into the rhythm of New Orleans with these lively Bourbon Street Jazz Crew Socks. The deep burgundy background sets the stage for an intricate design featuring musical instruments and the backdrop of New Orleans architecture, capturing the essence of the city's vibrant jazz scene. These socks are perfect for music lovers and those who want to add a touch of flair to their wardrobe.
Fleur-De-Lis Crew Socks (Black): Showcase your love for the iconic symbol of New Orleans with these elegant Fleur-De-Lis Crew Socks. The black background contrasts beautifully with the bold golden fleur-de-lis pattern, making for a sophisticated and stylish statement. Whether you're dressing up for a night out or simply looking to add some class to your everyday wear, these socks are sure to impress.

 

With the Just Fun Socks New Orleans Trio Bundle, you'll be able to celebrate the rich culture and history of this amazing city, one step at a time. Order your set today and bring the spirit of the Big Easy to your sock drawer!




Be sure to check out our Women's New Orleans Bundle to match with that special someone who also loves the Big Easy!

 

Features of New Orleans Crew Socks Pack:

Ultra-comfortable & breathable material blend
200-needle stitching for advanced detail & design
Reinforced heel & toe for additional wear-resistance
Non-slip, 'stay-up' cuff
Seamless toe to prevent rubbing and blistering
Comfortable thickness, suitable for every season
Exclusive and unique patterns
Machine washable
Fits men's US shoe size 9, 10, 11, 12 & 13
Three socks of various colors and stitching patterns





Why Choose the New Orleans Crew Sock Bundle from Just Fun Socks?

Our 3-pair bundled crew socks are sure to satisfy your style and comfort needs. Not only is this bundle better value than our individual socks, but it also qualifies for free shipping over $35 and our 30-day return and exchange policy - shopping for socks online has never been so easy!

Crafted with care from top-quality materials, these men's crew socks are as durable as they are fashionable. Our stretchy and breathable fabric ensures a perfect fit so one size fits most.  Plus, the non-slip design keeps your socks in place, no matter where your adventures take you.

Just Fun Socks makes alligator socks, fleur de lis socks, jazz socks, and other New Orleans socks, but rest assured, all our socks are fun socks.  Order online now and we will parade your new socks down Bourbon Street and to your door ASAP!
SIZING:

Women - Fits U.S. Shoe Size 6-10

Men - Fits U.S. Shoe Size 9-13

Kids - Fits Shoe Size 1-5, Ages 6-10

MATERIALS

Woven - Cotton, Nylon & Spandex Blend

Printed - Cotton & Polyester Blend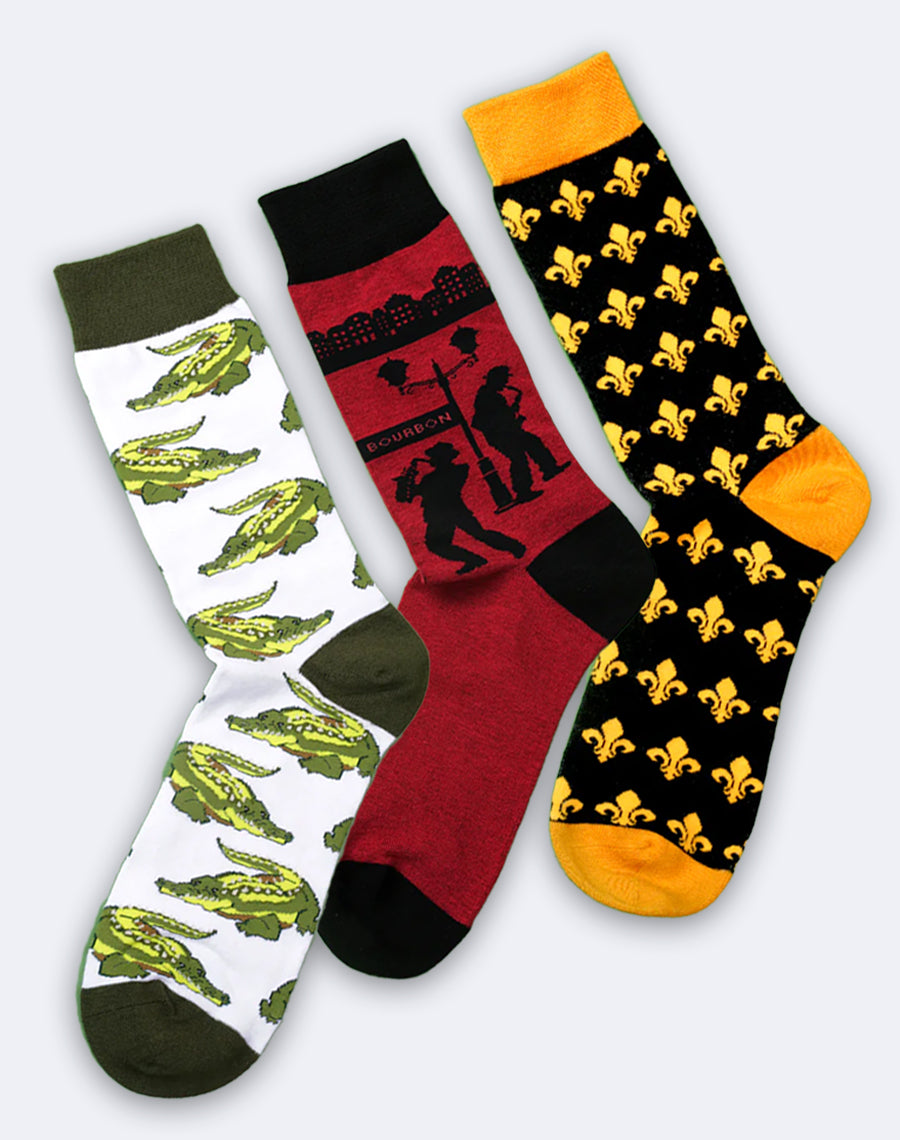 Testimonials
Great selection of socks. Variety of sizes and colors that you don't see at other shops!
I love the socks! They're super comfy and have creative designs. If you're looking for socks as gifts, this is the perfect place.
I purchased the Cowprint and the Corgi Love socks. So cute and comfy!
Such an amazing experience. Definitely coming back.
Not just funny socks, but funny socks that fit very, very well.
Tons of options... Found exactly what I was looking for!
Yes, it's just socks and they are fun! I found a pair for each of my family of four as stocking stuffers.
I can't wait to come back and get more socks